Curation Module
Curated content to support all students
uConnect has created a collection of curated content kits to enable career leaders to leverage best-in-class resources and provide nuanced support for students with varying identities, circumstances and interests.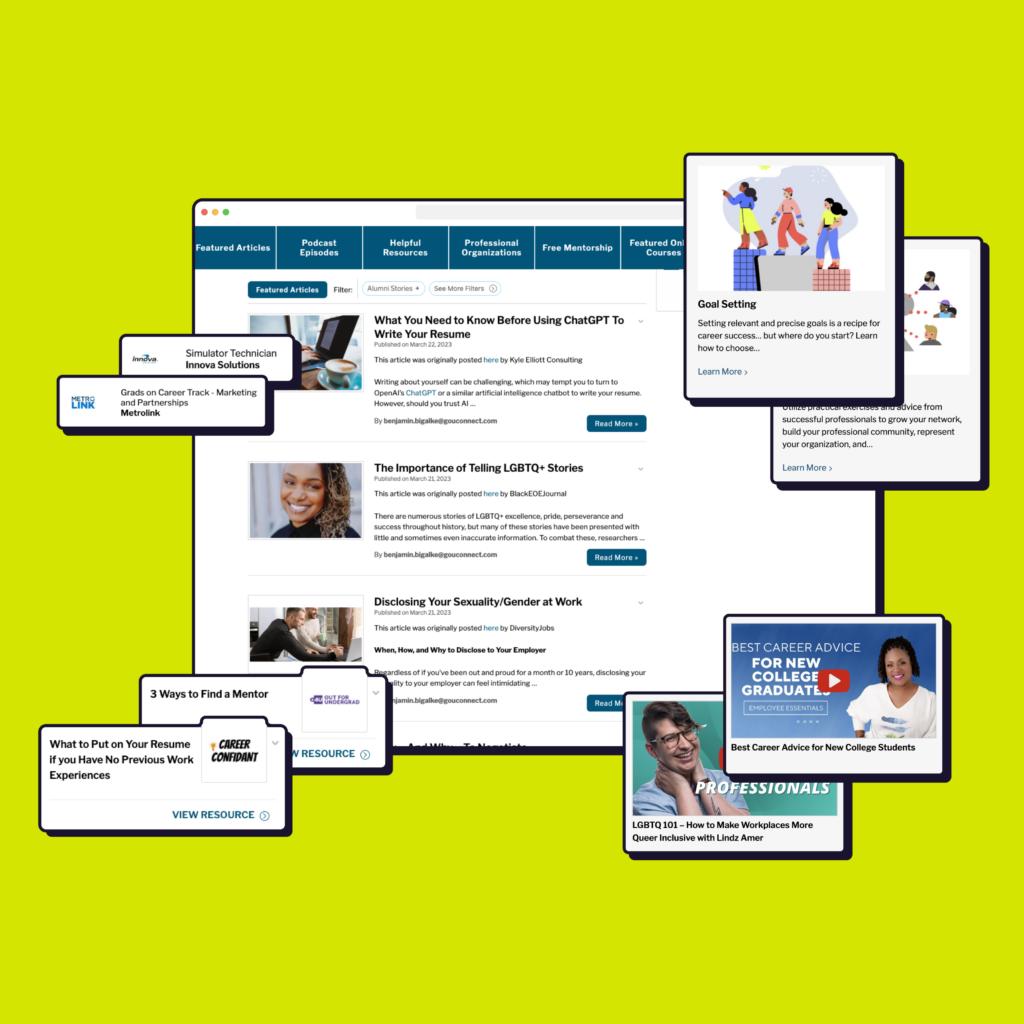 The Problem
Career centers don't have time to provide specialized career resources for all students with varying backgrounds and interests
Career leaders want to support all students in the ways that are unique to them but lack time and capacity to source and curate those resources that span all student identities, interests, and needs. The time required to research and maintain a library of content and resources is typically nonexistent. This leaves career centers unable to meet their goals of serving all students.
The Solution
Offer self-guided access to vetted and curated resources, connections, and opportunities aligned to how students identify and the interests they have
We've done the heavy lifting of sourcing and partnering with expert content providers whose sole purpose is to support the specific populations you're working with. We've built the technical integrations to perfectly format and promote their content within your uConnect platform. Just turn on the kits, set your workflow preferences, and watch as a continuous stream of curated content fills your dashboard, ready for you to publish with a single click (or no clicks, through our auto-publish workflow!).
Features
Provide truly equitable access by proactively engaging all students with curated career resources from trusted partners.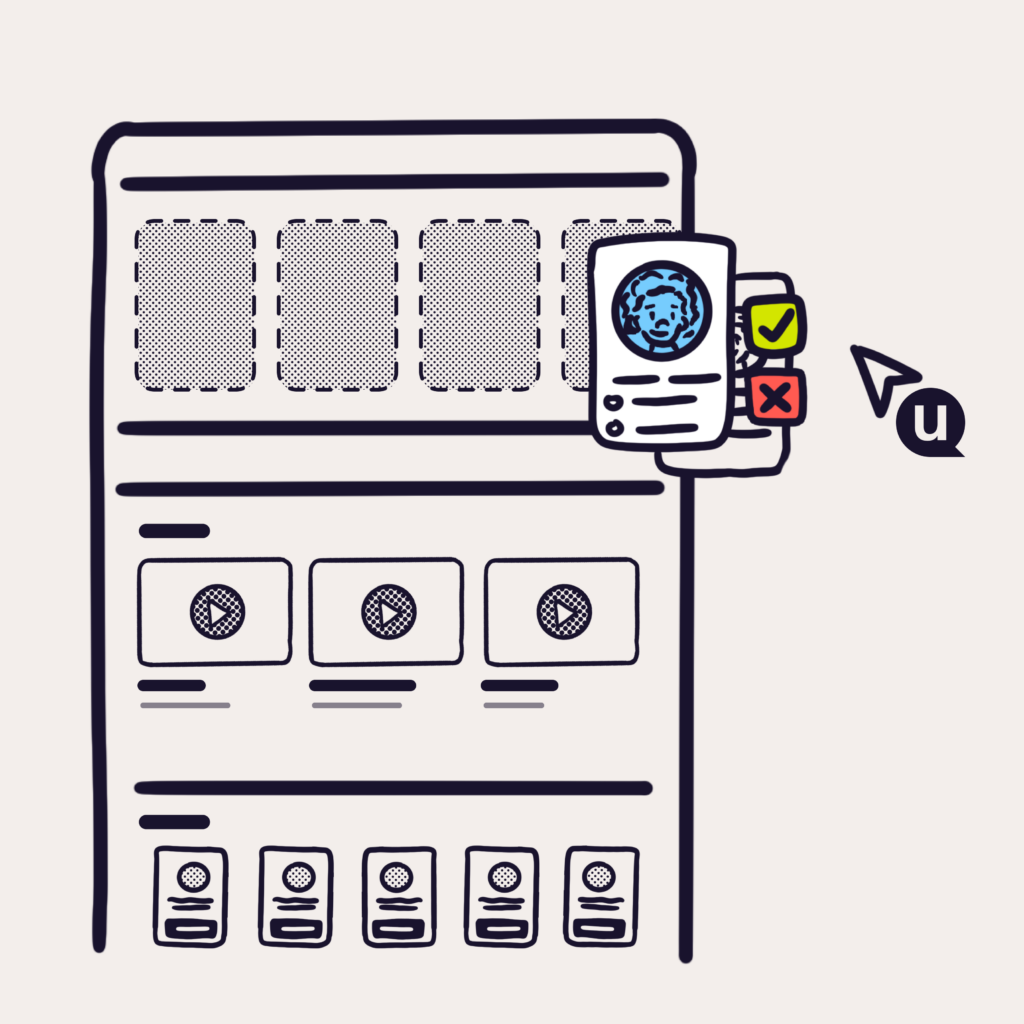 Content and support relevant to serving the unique needs of specific populations
You'll find individual content kits aimed at supporting the unique needs of specific student populations, from students who identify as LGBTQ+ to those interested in artificial intelligence. We've rigorously vetted our content providers to ensure they're focused on serving the needs of each unique student population or interest area. Identify where additional support is needed and leverage the kits that will enhance the resources students need to persist and succeed.
Customizable content preferences to align with your vision for student experience
We've built partnerships with providers who create a variety of content, from half-day job simulations and online skill development courses to full-time jobs and virtual career fairs. Pick and choose the types of content that align with the experience you'd like to create for your students. You can craft your kits to fit your vision for student success.
Adjustable workflow settings to align with your preferred level of control
If you'd like to review all partner content before it's published to your platform, we've got you covered. If you're a one-person team and prefer to auto-publish specific provider feeds, we can do that too. You can control these settings straight from your dashboard, and change them at any time.
Curation Module: Kits
Check out the kits currently available and what's forthcoming!
Frequently asked questions
Don't see your question here? Reach out and we'll get back to you shortly!
What kits are currently available from the Curation Module at this time?
Currently, Identity Kits are available as part of the Curation Module. We are working to expand to include additional content kits, stay tuned!
Do I have to have the virtual career center to purchase the Curation Module?
The Curation Module consists of a collection content kits, all of which are add-ons to the virtual career center. If you don't currently have the virtual career center, we can implement both at the same time!
Do the kits within the Curation Module replace pages that are already created within my virtual career center?
Each kit can be mapped to feed into your pre-existing community pages to act as a supplement, and ensure they always have a fresh feed of content available!
Do I need IT's involvement to set up the module?
Nope! We've designed this module so that the entire configuration process can be done from your admin dashboard, without any IT involvement necessary. As always, the uConnect team is happy to help should you have questions about the configuration process.
What criteria is used to evaluate partners and specific pieces of content?
We're leveraging our extensive experience in evaluating, partnering, and curating content from third-party career sites to ensure we're partnering with top-tier providers. In doing so, we consider several factors, including if they are a leader in their field and/or subject area, if they have a positive reputation and are backed by reputable organizations, if they are seen as an expert in the world of student affairs and/or career development, and if they provide high-quality content on a regular basis and in a format students would respond to.
To determine the quality of each piece of content, we consider relevance, the reputation and identity of the author/creator, how easy the content is to absorb and understand, if the content looks professional, and if the speaker or author is engaging in an audio/video/written context (based on the content format).
I thought that I was already getting curated content with my virtual career center, how is the Curation Module different?
Content fed in through the Curation Module is specifically targeted to the topics of each kit, whereas the free external blog library currently provided is comprised of general professional development content, which will not contain resources on those topics specifically.
Interested in adding curated content and resources to your virtual career center?
Fill out the form to learn how to activate the Curation Module within your virtual career center.