Product
The first all-in-one virtual career center
Engage students and alumni at scale by integrating all of your existing resources into a single hub for 24/7 interactive career exploration.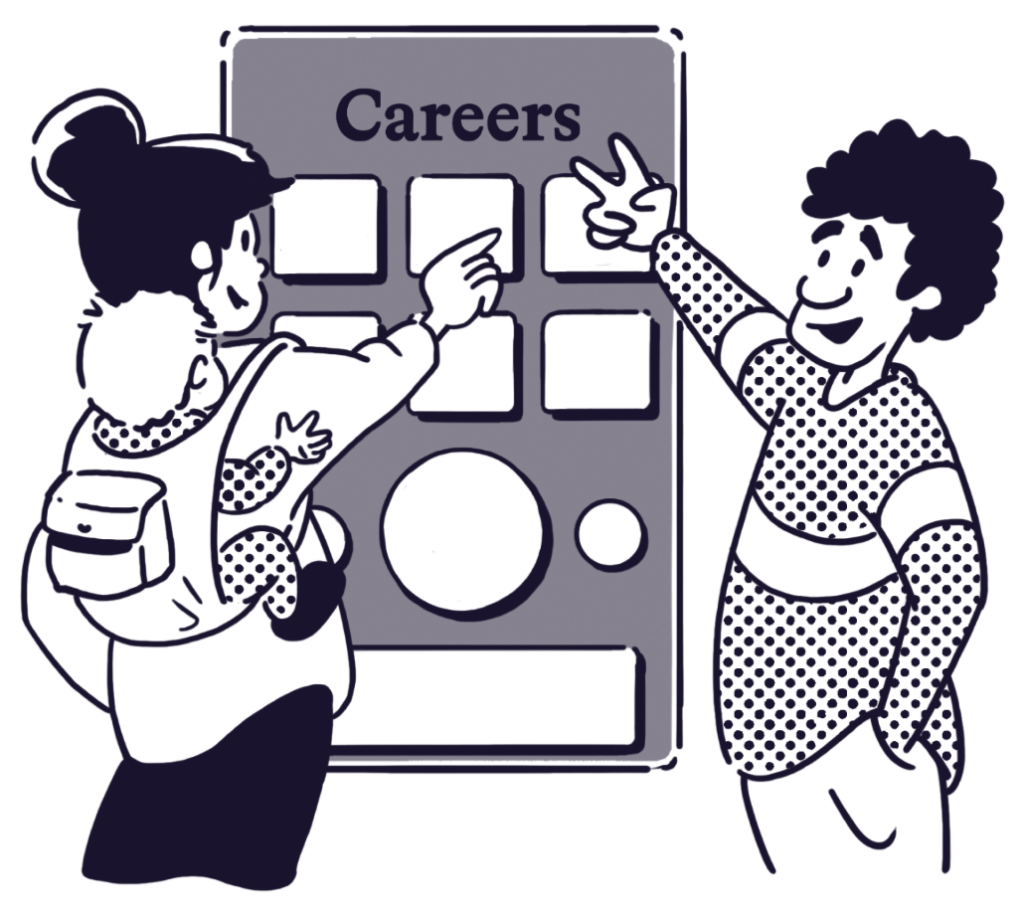 Make virtual engagement easier
You offer a mountain of transformational career resources, but students, alumni, faculty, and other stakeholders can't always find them or engage with them easily. We solve that problem.
Branded
Every uConnect virtual career center comes with a customizable brand template to match your institution's brand standards and web guidelines to ensure seamless integration with your broader institutional website.
Customize logos, fonts, colors, and more
We'll work with you to customize your uConnect platform so it matches the look and feel of your existing website to keep your virtual career center on brand—from header to footer.
Control your digital presence
uConnect makes it easy for you to update key parts of your site in minutes—without bothering your marketing or IT teams. And if you have questions, our support team is happy to help.
Create a seamless digital experience
From a custom URL to creative navigation options to local search, uConnect makes it easy for visitors to seamlessly navigate between your virtual career center and the rest of your institution's website.
Enjoy ongoing creative support
Have a new podcast coming out? Want to highlight an upcoming event or an employer sponsor? Our onboarding and support teams offer creative support to help you showcase your most important work.
Integrated
uConnect combines the best career tools used in higher ed with the most acclaimed career resources across the web to fill in gaps, scale your work, and create a one-stop virtual career center.
Career services tech integrations
We integrate with all major career services technologies, including Handshake, Symplicity, Anthology, PeopleGrove, and more.
Increased ROI of your current tech stack
We bring your existing tools out from behind authenticated logins to make them more accessible to end users and more valuable for you.
Extensive content library
Pipe in high-quality career blogs, videos, guides, etc. from our growing library of free content from respected partners like Forage, the Muse, Firsthand, and more.
Real-time updates
All of your integrated tools, data, and content feeds will be automatically updated on a daily basis in the uConnect virtual career center, freeing you up to work on other tasks.
Integrations
We integrate with all the tools you already use
Curated
Scale engagement and the impact of your career resources by providing curated recommendations at scale.
Personalized tagging
Put the right content in front of the right people, at the right time, through an automated tagging system that matches your users with the content that matters most to them.
Automated newsletters
Dynamically generated newsletters automatically send updates about the most relevant content to students at the intervals they choose—and have industry-leading open rates.
Custom communities
Create digital communities based on how your students identify, and use our tagging system to pipe only the most relevant content into each community.
Specialized content
We've vetted and partnered with content creators that specialize in resources for students of color, international students, veterans, first-gen students, and more.
Measured
Ready to increase engagement? uConnect will equip you with the tools and data you need to quantify your impact, measure ROI, and report on your work.
Platform engagement
Use our built-in engagement analytics to see where and how your students are engaging.
Capture activity
See top-performing content and analyze user behavior to understand what matters most to your users, and recreate that experience across your entire platform.
Prove ROI
Monitor traffic from your uConnect platform to your valued tools and resources to show how exposure in the platform increases engagement with your resources.
Sharpen your digital strategy
Pinpoint the resources users overlook, and give them the star treatment to increase their visibility and inspire students to engage.
Career Center Add-Ons
Add these modules to inform and inspire meaningful career advancement
Use cases
uConnect's virtual career center ties career services to your institution's high-level goals.
Inspire enrollment
Showcase career services to differentiate your institution and attract prospective students and families.
Embed career into the classroom
Make it easy to connect academics and career by putting career resources at the fingertips of faculty and staff.
Proactively engage underrepresented populations
Create custom digital communities with 24/7 access to resources curated by student identities, interests, and needs.
Extend career support for recent grads and alumni
Combine skill-building courses, curated opportunities, and networking tools to help students succeed long after graduation.
Implementing uConnect
Bringing the virtual career center to life is a low-lift for everyone involved. Learn more about the process of onboarding and support and check out helpful resources for key stakeholders.
Frequently asked questions
Don't see your question here? Reach out and we'll get back to you shortly!
Budget is tight. Am I out of luck?
Nope! We offer flexible pricing options based on your goals, the size of your team, your budget, and more. Contact us here, and we can give you a personalized quote.
How long will it take to set up my uConnect virtual career center?
Setup can take as little as four weeks, but typically takes an average of eight to 10 weeks.
How do the integrations work?
You can find more information about our integrations and the setup process on our integrations page.
How do I manage the platform?
Every uConnect platform comes equipped with a full admin dashboard to make management of your content and digital experience easier than ever before.
What if I'm a team of one? Can I still make good use of uConnect?
Yes! We have several clients who are teams of one or two (hear from one of them here). Our customer success team offers ongoing, high-touch service to make sure you have everything you need to succeed with our platform. Many of our clients describe us as a partner, rather than a vendor.
What if we don't have a lot of content or the ability to create it?
We've vetted and partnered with dozens of content providers who regularly create specialized articles, videos, blogs, job simulations, and more for a variety of audiences. All of their content is available in the back end of our virtual career center for you to manually or automatically add to your site.
Can I buy just the LMI or ODV modules? Or do those only come with the virtual career center?
Both the LMI and ODV modules can be purchased as standalone products. You do not need the virtual career center to embed them on your website (or any website across campus, including admissions, program pages, alumni pages, etc.).
I don't control my website. Can I still use uConnect?
Can I use uConnect to collaborate with other offices on campus?
Yes! Our virtual career center automatically makes your resources more visible to all stakeholders, including your partners in enrollment, alumni relations, employer engagement, faculty and staff, and more.