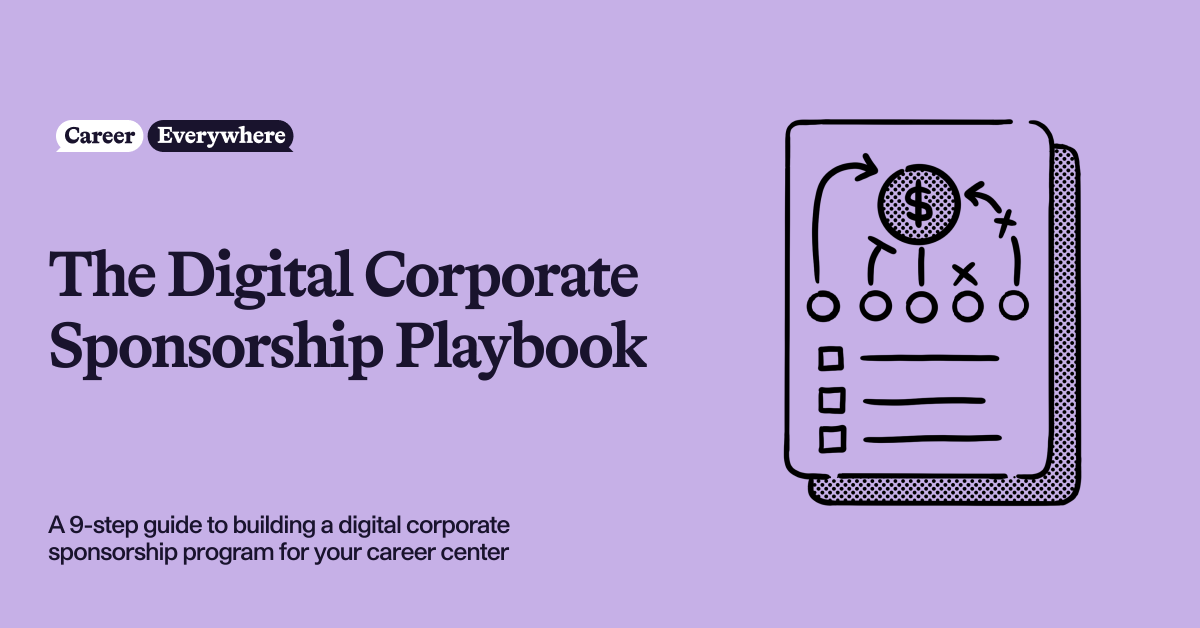 With institutions across the country facing funding cuts, many career services leaders are reinforcing their budgets by getting digital corporate sponsors for their career centers.
And employers, increasingly struggling to connect with the next generation of talent, are eager to participate.
For example, Spelman College's career center was sponsored by Carrier, Salesforce, Wells Fargo, and Zynga. University of Washington's is sponsored by Alaska Airlines, AT&T, BECU, Starbucks, and Coca-Cola. Langston University's is sponsored by Dell, Boeing, Hormel Foods, Paycom, and more.
Corporate sponsorship programs are not new to many career centers, with employers traditionally sponsoring in-person events like career fairs, info sessions, and interview rooms. But with the continued emphasis on digital engagement—and more schools investing in expanding their digital presence—now is the perfect time to launch a digital corporate sponsorship program.
Learn how two career services leaders at Spelman College and Langston University built digital corporate sponsorship programs for their career centers in this episode of the Career Everywhere podcast.
What is a digital corporate sponsorship program?
A digital corporate sponsorship program is a modern way for companies to sponsor a college or university's career center. Typically, the company donates a certain amount of money in exchange for sponsoring virtual events and/or having a digital presence in the physical career center (monitors, TV screens, etc.), on the website/virtual career center, or social media.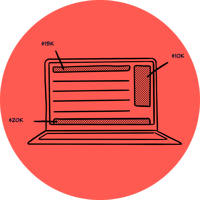 While traditional in-person event sponsorships are great, they only give the employer 24-48 hours of brand visibility. Plus, events can only happen so often (and require significant work from career services staff), which limits the amount of revenue a career center can drive from those sponsorships. Digital sponsorships, on the other hand—especially through a virtual career center—give employers 24/7 brand visibility.
Many career centers offer a variety of sponsorship tiers or packages, with different benefits and price points for each. Some have limits on how many sponsors they'll accept, while others will accept any sponsor who wants to participate.
While it can take time to get a digital corporate sponsorship program up and running, the overall time commitment is far less than managing frequent on-campus visits, career fairs, and other elements of traditional corporate sponsorships. (Especially if you have a lot of sponsors).
For small teams, digital sponsorships are a way to drive revenue, engage more students, potentially offload programming, and offer more value to employers in a less time-intensive way.
Why should career centers have a digital corporate sponsorship program?
Corporate sponsorship programs are a huge benefit to every party involved and offer a structured way for companies and institutions to partner to help students connect their education to great jobs.
Here are a few reasons why corporate sponsorships are a win-win-win:
Career services teams get the additional funding they need to scale their impact, reach more students, and offer more resources. In many cases, this includes investing in a virtual career center platform like uConnect's. This can be especially critical for small career center teams with budget and personnel constraints.
Employers can connect with the next generation of talent (and get on the radar of faculty and staff). In some cases, digital corporate sponsorship also allows employers to differentiate themselves from a large crowd of other companies looking to recruit the same students. For example, that's why Spelman College, a women's liberal arts HBCU in Atlanta, only accepts a handful of sponsors every year. Plus, digital sponsorships for career centers can sometimes be tax deductible, which is a huge perk for employers.
Students get exposed to a variety of employers early in their college careers. Not only will they see the companies' logos located strategically throughout the virtual career center, but they'll also see those companies' jobs in Handshake, Symplicity, 12Twenty, etc. And for career centers that use uConnect's virtual career center platform, those jobs and internships will be piped into the platform, so everything lives in one place.
Learn how Spelman College earned $60,000 in annual revenue through their digital corporate sponsorship program.
9 steps to build a digital corporate sponsorship program for your career center
Ready to start building a digital corporate sponsorship program for your career center? Here's a step-by-step guide to help you get started:
Step 1: Decide on your goals
This might seem like an overly simple first step, but before you go any further it's important to set your North Star goals. Why are you launching a digital corporate sponsorship program? What are you hoping to achieve?
Are you hoping to drive revenue for your office? If so, how much? And what are your plans for spending that revenue? Perhaps you're looking to grow your team, upgrade your website, expand programming, purchase new tools and technologies, etc.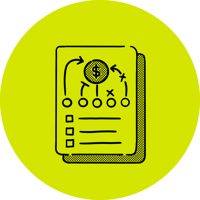 Are you hoping to drive stronger relations with employers? If so, which ones? Think about how you'd like to use your digital corporate sponsorship program to engage with employers throughout the year.
Are you looking to offload any programming? For example, Leonelle Thompson, former Director of Career and Professional Development at Langston University (and a one-woman team), invited her sponsors to help conduct mock interviews and resume reviews—tasks she'd normally do. If you have a small team, this could be an immensely helpful part of your sponsorship program. Plus, it offers high visibility and meaningful brand value for employers.
Step 2: Establish what you can offer prospective sponsors
Now that you've established goals, it's time to zero in on what you can offer your potential sponsors. To hone your pitch, first determine what's special about your school, curriculum, students, etc.
Next, consider what kind of exposure you can offer sponsors, and what will provide them the most value.
If you have a standard career center website, you could incorporate sponsor names and logos throughout your site. You could also put sponsor info on any monitors or TVs in your physical career center, include them in emails, and do regular features on your career center's social media pages.
However, keep in mind that it can be challenging to quantify the results of putting sponsor information on TVs in your career center. You can't measure "impressions" or "views" like you can with a website (via Google Analytics), social media, or a virtual career center.
Speaking of virtual career centers, if you have the uConnect platform, there are several built-in options for showcasing and integrating digital sponsors in the platform:
Company name and logo on the homepage (in a hero image at the top, a ticker, and/or a section in the footer).
Company name and logo on a sponsors page.
A "learn more" page dedicated to their company, including a company description, video, job links, social media feeds, etc.
Company name and logo in relevant career community pages. For example, Wells Fargo's logo is on Spelman College's financial services community page.
Blog posts and other career-related content submitted by sponsors through uConnect's guest contributor portal.
Company name, logo, and call-to-action in custom emails. You could put sponsor logos in a header image, highlight open jobs from sponsors, create a "brought to you by [Sponsor]" section, and more.
Pro tip: If you have uConnect, you can ask your customer success manager (or email support@gouconnect.com) to help you pull data about how many visitors are on your site every month. This can help you prove ROI as you recruit and retain sponsors.
Step 3: Design your sponsorship program
This is where we get into the nitty-gritty. How many levels/tiers of sponsorships do you want to offer and for how much? And what should be included in each level? As you'll see in the four examples later in this article, there can be a wide variety of price points, packages, and a la carte options.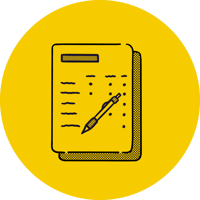 First, we need to consider what we talked about in the first two steps: goals and offering. This can help determine price points and how many sponsors you want to take on. For example, if you have a lot of employers looking to recruit your students (like Spelman College does), one of your goals might be exclusivity to help sponsors stand out in a large crowd. In this case, you'd likely want fewer sponsors (maybe 5-10).
If you're looking to engage as many employers as possible and drive a large amount of revenue, open your program to any sponsor who wants to participate.
Pro tip: If you have a large group of sponsors, consider building an advisory board. (See how the Bauer College of Business at the University of Houston does this in the examples section).
Here are a couple ways we've seen digital corporate sponsorship programs structured:
One main sponsorship package and a la carte options. The main package is the big-ticket item with a higher price point and all-encompassing benefits, like free registration for career fairs, year-round advertising of the sponsor's logo on multiple platforms, inclusion in student career events and workshops, and more. Then there are smaller a la carte options at a lower price, like sponsoring one-off professional development workshops or "Ask Me Anything" career chats. (See how Langston University uses this structure in their sponsorship PDF).
Sponsorship package tiers/levels. Usually, this includes 3-5 sponsorship tiers, from least to most expensive. Some schools will come up with special names for each tier, while others use "bronze," "silver," "gold," and "platinum" labels. Each tier builds on the previous one, offering more benefits for a higher price. For a great example of what to include in each tier and how to display the options in a clear way, check out this sponsorship PDF from the Bauer College of Business.
Step 4: Research potential sponsors
If you're not quite as lucky as Spelman College, which has dozens of employers knocking on their doors, you'll likely need to do some outreach. But first, you'll want to research the employers who would A) be most likely to want to sponsor your career center, and B) be the best fit for your students.
Here are a few things to keep in mind as you research:
Which companies hire your graduates? Theoretically, if these companies have already had success in hiring from your institution, they'll be more inclined to sponsor and increase their recruiting efforts. Your institution's first-destination survey would be a great place to start your research!
Which companies are hiring for roles that align with your school's top programs? For example, if you're an agricultural school, look for companies that are hiring in that field. LinkedIn can be a great tool for this.
What employers are in your school's region, and are they hiring? Companies located near your school are more likely to want to establish a talent pipeline from your institution. (For example, three out of five of University of Washington's digital corporate sponsors are based in the Seattle area.)
Where do your students come from? For example, if many of your students hail from the West Coast, look into companies that are headquartered on the West Coast.
Does your school's institutional advancement team have a campus-wide sponsorship program that you can piggyback off of? Or do they have any suggestions on companies to reach out to? (In general, it's definitely not a bad idea to loop in your colleagues in advancement).
Step 5: Determine if sponsorships can be tax deductible
Speaking of advancement, check with your school's advancement and/or legal teams to determine if sponsorship donations could be considered tax deductible. We're not legal experts on this topic, but some corporate sponsorships can be tax deductible, which is an important selling point for employers.
For example, one career services leader told us they tried to offer their sponsors discounts, but employers wanted to pay the full fair market value because it was tax deductible. However, not all sponsorship donations are tax deductible, and like anything tax related, there's a lot of fine print. So be sure to check with your institution's advancement and/or legal teams before mentioning that to employers.
Step 6: Outreach
Once you have your list of prospective sponsors, it's time to reach out. If you have a small team or you're strapped for time, you might consider hiring student interns to help with this.
There are many ways to do outreach, with phone, LinkedIn, or email being key ones. However, here are a few ideas to make your outreach stand out:
Include in your email a screen capture video (Loom is a great tool for this) walking your potential sponsor through your virtual career center. Show them all of the resources that are included, how students engage with your content, and where company names and logos would be displayed.
Attach a PDF of your sponsorship packages and pricing. (Check out these examples from Langston University and the University of Houston for inspiration).
Organize virtual (or in-person) meetings where employers can learn more about sponsorship opportunities, and include a registration link in your outreach. Be sure to record the virtual meetings, so you can also include those in outreach and follow-ups.
Step 7: Integrate sponsors into your career center
You've signed your sponsors, and now it's time to add them to your career center. Congrats! Work with your staff (and if you're a uConnect user, your CSM) to add company names and logos throughout your website or virtual career center, including on career community pages.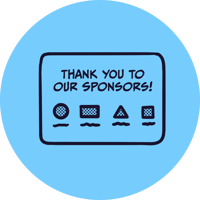 Consider building specific web pages for each of your sponsors, where students can learn more about the company and view any open jobs or internships. If you have uConnect, these pages are built into your platform. All you need to do is add the information, videos, and links you want. You can see how Spelman College built out pages for two of their sponsors: Carrier and Wells Fargo.
If you're planning to showcase sponsors on TVs, monitors, or social media, you'll likely need some graphic design. Consider hiring student interns to help you with this, or if you have a marketing team, assign this task to them. Canva is also a great free tool for graphic design.
Next, tell your students about your sponsors, what they do, if they're hiring, where students can learn more, when any on-site visits will occur, etc. If you're planning to integrate sponsors into your emails, this is a great time to start.
Step 8: Prove ROI
Proving ROI for a digital corporate sponsorship program can be challenging—especially if a sponsor also gives money to other departments on campus or the university as a whole. How do you know if an employer's sponsorship of your career center (vs. their sponsorship of the MBA program or the LGBTQ+ student organization, etc.) is what led to the company hiring your students?
If you're unable to tie hires directly to your digital sponsorship program, here are a few other ideas to prove ROI:
Use Google Analytics to show pageviews, average time-on-page, etc. for sponsor pages, sponsored career communities, and more. (If you're a uConnect user, your CSM can pull and organize this engagement data for you).
Track impressions and engagement on posts about sponsors on your social media pages.
Monitor open rates and click-through rates for emails that highlight sponsors.
Step 9: Collect feedback
It's important to regularly gather feedback from your sponsors to gauge how they're feeling about your sponsorship program. Do they feel like they're getting their money's worth? Are they seeing an uptick in interest from students? Are they happy with the sponsorship options, pricing, and process?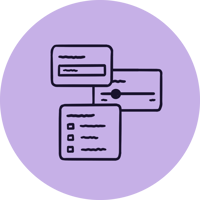 You can gather feedback in several ways. You might simply tell sponsors they are welcome to give feedback to your team at any time. Or you could send an annual survey via Google Forms. Or you could do what the University of Houston Bauer College of Business does and form an advisory board and ask for feedback during semiannual board meetings. (Learn more in the examples section below.)
Regardless of your methods, the relationships you build with your sponsors will likely determine the quality of your feedback. Make sure your staff is equipped to offer great customer service to every sponsor.
4 examples of digital corporate sponsorship programs for career centers
While each career services team does things a little differently, those who have virtual career centers powered by uConnect have several built-in options for corporate sponsorship. Here are a few examples of schools (three uConnect users and one non-uConnect user) that have built successful digital corporate sponsorship programs for their career centers.
Note: Sponsors may have changed since the publication of this article.
1. Spelman College
As we noted earlier, Spelman College only accepts a handful of digital corporate sponsors every year. And that's largely because there are so many companies trying to recruit at Spelman that Harold Bell, Director of the Office of Career Planning and Development, knew he needed to keep the sponsorship program exclusive. That way, sponsors can stand out from the rest of the crowd and get even more value out of their sponsorship.
Last year, Spelman's virtual career center was sponsored by Carrier, Wells Fargo, Salesforce, and Zynga for a total of $60,000. That amount paid for the uConnect virtual career center platform, plus add-ons like the labor market insights module, outcomes data visualization module, LinkedIn Learning integration, Candid Career videos integration, and more.
Spelman's new virtual career center not only scaled the career service team's impact, but it also created a one-stop-shop for students to get career resources and learn about potential employers through the sponsorship program. Investing in this career hub gives Spelman the digital real estate it needs to engage employer sponsors in perpetuity.
Speaking of real estate, here's how Spelman integrates their sponsors into the virtual career center:
1. Put their premier sponsor's logo on the bottom of all main pages
Carrier is Spelman's premier sponsor and has committed to giving $20,000 a year for five years ($100,000 total). As a result, the Carrier logo is at the bottom of almost every major page.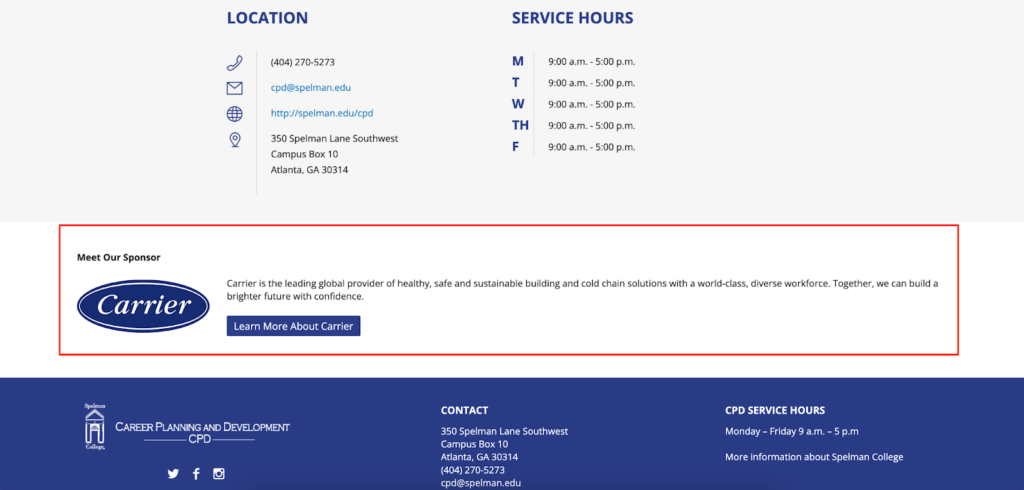 2. Sponsors button on the homepage/sponsors page
On the top right of the homepage, there's a "Sponsors" button that takes visitors to a sponsors page listing all the current digital sponsors.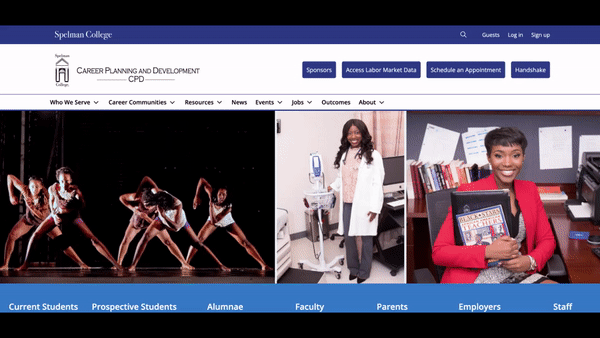 3. "Learn more" pages for each sponsor
From the sponsors homepage, visitors can click on each sponsor box to find more information about that sponsor—including a company description, videos, links to open jobs, benefits information, social media feeds, and more.
4. Sponsored career community pages
Perhaps the most innovative way Spelman incorporates sponsors into their virtual career center is by having them sponsor career community pages related to their industry. For example, Wells Fargo currently sponsors the financial services career community, and Salesforce sponsored the technology career community last year.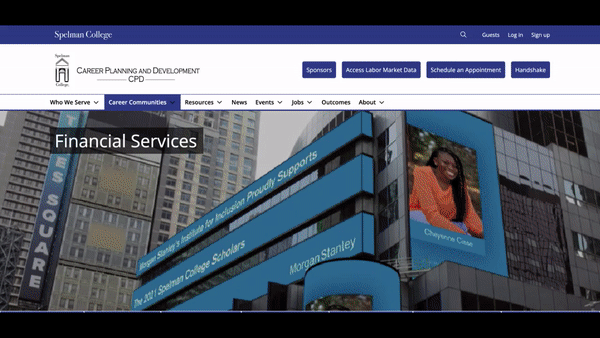 For more details on how Spelman College uses their uConnect virtual career center platform for digital sponsorships, read our latest case study.
2. Langston University
Like Spelman College, Langston University's career center team limited the number of corporate sponsors to 10. Leonelle Thompson, former Director of Career and Professional Development at Langston, was a one-woman team when she launched the sponsorship program for the career center in 2021. She knew she could only manage 10 sponsors, at most—especially since all or most sponsors would want to do an on-campus visit at some point during the year.
Leonelle put together a PDF of sponsorship options that can be found on the "Employers" section of Langton's virtual career center. Options range from $750 one-off sponsorships to an all-inclusive $5,000 package.
To get the program started, Leonelle researched dozens of potential employer sponsors based on if they hired Langston graduates, were located near Langston's location in Oklahoma, were hiring for roles that aligned with Langston's top programs, and more.
Then she invited them all to an employer summit in July 2021, with options to attend in person ($50 fee) or virtually ($25 fee). At the summit, Leonelle gave an overview of the sponsorship options and benefits, and successfully signed 10 sponsors.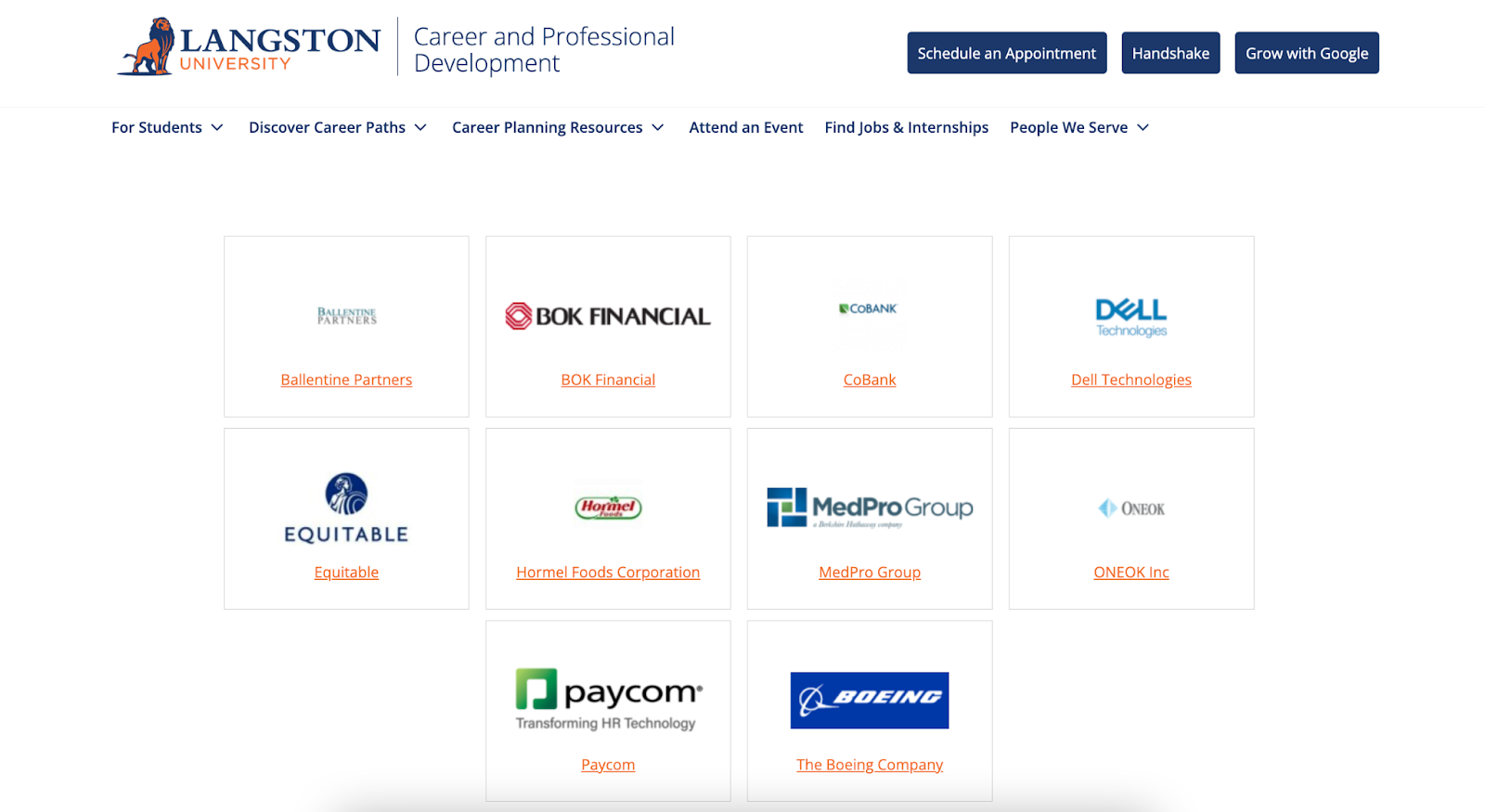 For more details on how Leonelle set up Langston's digital corporate sponsorship program, watch the recording of our recent sponsorship webinar.
3. Bauer College of Business at the University of Houston
For more than eight years, the University of Houston Bauer College of Business has integrated corporate sponsors into their career center. In that time, they've built a sophisticated and successful corporate sponsorship program that now includes 20 sponsors, over $100,000 dollars in annual revenue, a new virtual career center, and an advisory board.
Raji Aiyer, Director of Employer Relations, said there's no limit to the number of sponsors. And the main point of contact from every sponsoring company also joins the college's advisory board, which meets twice a year (in January and June) to review the past semester and talk about the upcoming one. In these meetings, Aiyer and her colleagues ask the board members what hard and soft skills they're looking for, how they are changing their interview process (e.g. leaning into virtual interviews), how they're recruiting, and more.
Aiyer said the college takes an organic approach to employer sponsorships. If they're having a conversation with a company and the company asks how they can support the career center, Aiyer and her staff show them a PDF with different sponsorship tiers ranging from $2,000-$20,000.
Like Spelman and Langston, the Bauer College of Business gives their sponsors prime real estate on their virtual career center. For example, on the homepage, there's a running ticker of sponsor logos and a large hero image in the image carousel at the top of the page.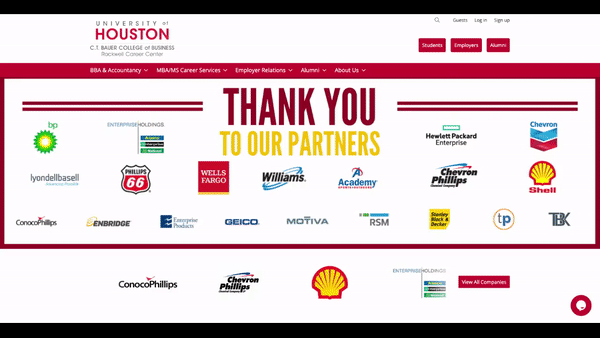 Rather than pitching their sponsorship program, Aiyer said her team focuses on building great relationships with employers and providing such a good experience for them at career fairs, resume reviews, mock interviews, and other programming that employers want to support the career center. This includes having four people on the employer relations team, each of whom focus on different industries.
"Every company is a valued partner, regardless if they're a sponsor, because they want to hire our students. We treat them all with a high level of care, whether they're a one-person company or a Fortune 500 company," Aiyer said.
4. Oregon State University College of Business
The Oregon State University College of Business is a great example of how to structure a digital corporate sponsorship program with a traditional career center website. Their sponsors currently include Sherwin Williams, Enterprise Holdings, Cintas, Fisher Investments, CED, Aflac, Paycom, and more.
They offer three sponsorship levels, ranging from $2,500 to $10,000, and including benefits like:
Logo placement on the College of Business website
Inclusion in student newsletters
Priority digital placement on screens throughout the business building
Featured LinkedIn posts highlighting graduates placed at the sponsor's company
Job posting email campaigns via Handshake, targeted by major
Opportunity to provide a company tour (virtual or in-person)
Virtual participation in company-branded interviewing assignments embedded in professional development courses
And more
Sponsor logos are also featured on student experience pages like OSU's Sales Academy program, which introduces sales fundamentals to students through "personal coaching from industry experts, hands-on sales simulations, and sales competitions."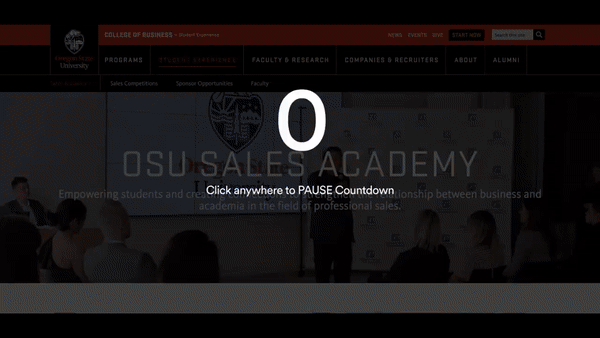 Conclusion
With economic uncertainty on the horizon, and budget constraints already a reality, career services teams across the country may need to get creative when it comes to securing funding. Building a digital corporate sponsorship program for your virtual career center is a great way to get additional funding, help companies get in front of students, and expose students to potential employers.
To learn how uConnect can help you facilitate a digital corporate sponsorship program, fill out the form below to schedule a demo.