With institutions across the country facing funding cuts, many career services leaders are reinforcing their budgets by getting digital corporate sponsors for their virtual career centers.
And employer partners, eager to connect with the next generation of talent, are stepping up.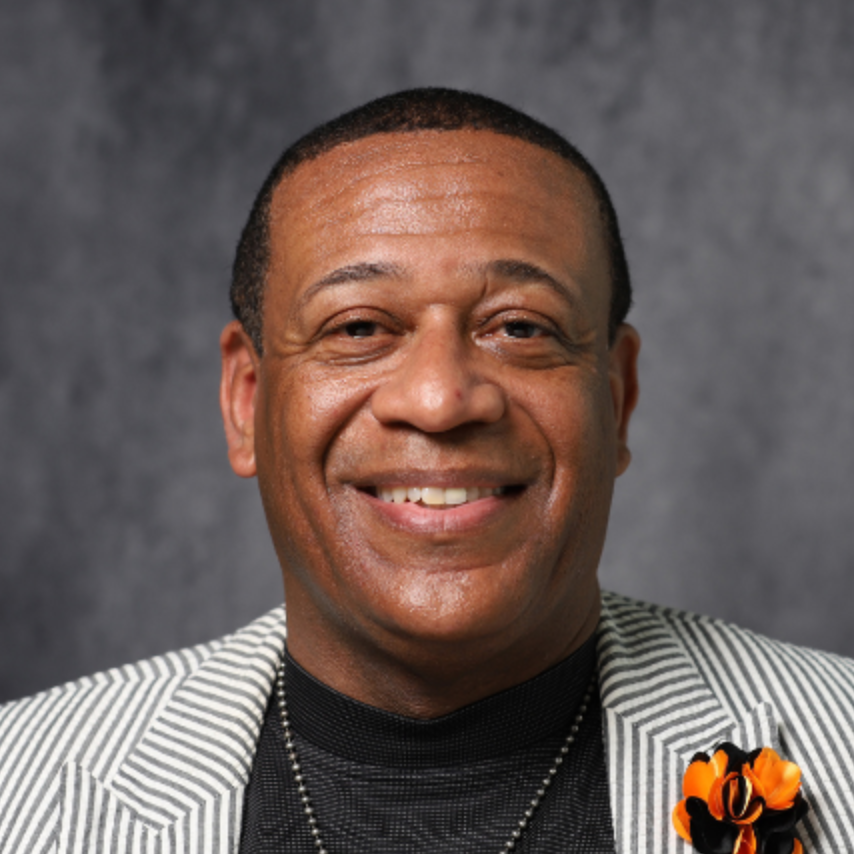 That's why Harold Bell, Director of the Office of Career Planning and Development at Spelman College, launched a digital corporate sponsorship program in June 2021. A savvy, entrepreneurial leader, Bell knew employer demand was high for the talent coming out of Spelman, a women's liberal arts HBCU in Atlanta.
In fact, so many employers (and graduate schools) were knocking on Spelman's door, that Bell described it as a "high volume, intense, and highly competitive recruiting environment."
He knew he needed to channel that demand in a more efficient and effective way that benefitted employers, Spelman students, and his small team of seven. Plus, his office needed funding for a new virtual career center.
Thus, the digital corporate sponsorship program was born.
Starting a corporate sponsorship program
Corporate sponsorship programs are not necessarily new to many career centers, with employers traditionally sponsoring events like career fairs, info sessions, and interview rooms. But the continued emphasis on digital engagement (especially in the post-COVID era) means many of those traditional programs are losing their shine.
As a result, more and more schools are investing heavily in their digital presence. In fact, Bell initially sought out corporate sponsors to help pay for Spelman's new virtual career center platform, built by uConnect.
He worked with Carrier, now the premier sponsor of Spelman's virtual career center, to secure a five-year commitment of $20,000 a year (totaling $100,000). He used the money to buy the uConnect platform, along with the popular outcomes data visualization and labor market information modules.
In return, Bell gave Carrier front-and-center real estate across the website (including their own sponsor page), which is visited by nearly 1,300 students a month, on average in 2022.
Even more impressive, this gift to Spelman's career center led to a generous gift to Spelman College as a whole—totaling $500,000.
Looking to start a digital sponsorship program for your career center? Check out our nine-step digital corporate sponsorship playbook.
Expanding the corporate sponsorship program
After successfully signing Carrier, Bell worked on fleshing out a more formalized corporate sponsorship program for Spelman's virtual career center. He knew he wanted to keep it fairly exclusive and limited it to only a handful of additional co-sponsors. That way, sponsors would stand out in what was becoming a huge crowd of competitors.
"We could have a lot of sponsors, we could do more than what I have. But the whole idea is if you're trying to distinguish yourself from the crowd, away from the traffic, let me create a space where you can do that," Bell said. "So that helps you out, and then what helps us out is we're able to sustain the virtual career center and continue to offer all the different functionalities that uConnect makes available to help make our students better."
"So you're not only investing in visibility, but you're investing in the development of the students and improving their access to career information."
Currently, Spelman's virtual career center receives $60,000 a year from four corporate sponsorships. Here's the annual breakdown:
Carrier: $20,000 (premier sponsor)
Salesforce: $15,000
Wells Fargo: $15,000
Zynga: $10,000
For the 20+ years Bell has been at Spelman, he's always worked closely with his counterpart in Spelman's Division of Institutional Advancement to share resources, ideas, and strategies—especially as it pertains to corporate sponsors. He knows the importance of building and maintaining relationships with employers.
That's why Bell hosts a virtual town hall at the beginning of every semester for employers. He invites everyone on his career fairs list and uses the time to talk to employers about recruiting at Spelman. Recently, he's also shown attendees Spelman's new virtual career center and how digital sponsors are integrated into the platform.
You can watch Bell's latest virtual town hall here. Password is: 3?#%C?9A)
Integrating corporate sponsors into the virtual career center
Bell and his team in the Office of Career Development and Planning integrate corporate sponsors into their virtual career center platform in four ways.
1. Premier sponsor gets real estate on the homepage
As the premier sponsor of Spelman's virtual career center, Carrier gets significant real estate on the site's homepage. In the screenshot below, you can see what this looks like, including Carrier's logo, a description of the company and its values, and a link to learn more. (More on that in section three). The Carrier logo also appears on the bottom of almost every other major page on the site.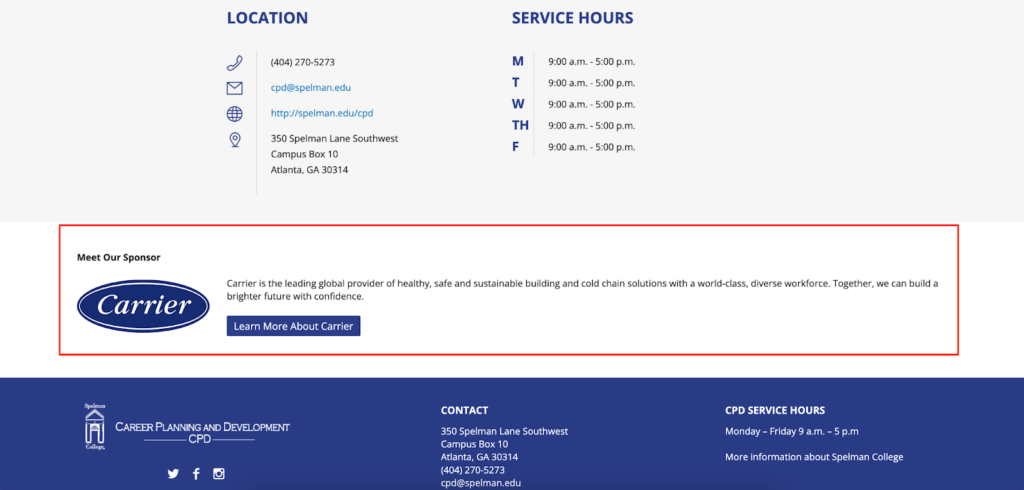 2. Sponsors button on the homepage/sponsors page
On the top right of the homepage, there's a "Sponsors" button that takes visitors to a sponsors page listing all the current digital sponsors. The button's prominent location is another way Bell and his team add value to the sponsorship for employers.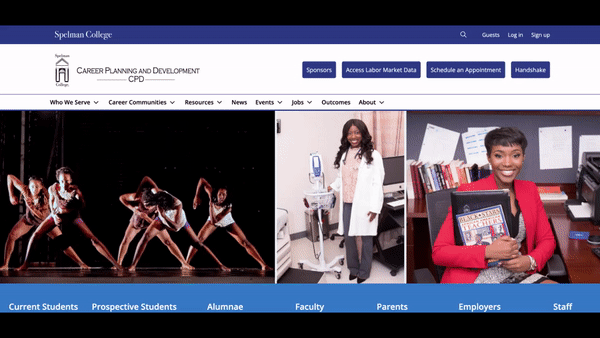 3. "Learn more" pages for each sponsor
From the sponsors homepage, visitors can click on each sponsor box to find individual pages for Carrier, Salesforce, Wells Fargo, and Zynga. Each sponsor page contains:
A company description
Company video
Links to open jobs, benefits information, career pages, etc.
Social media feeds
And more
4. Sponsored career community pages
Perhaps the most innovative way Spelman incorporates sponsors into their virtual career center is by having them sponsor career community pages related to their industry. For example, Wells Fargo sponsors the financial services career community, and Salesforce sponsors the technology career community.
This helps employer sponsors get their brand directly in front of interested soon-to-be graduates. And students get exposed to potential employers early in their college journeys. Win-win.
"I tell employers, 'You're trying to distinguish your jobs from the ocean? Well, here's a place to have your own private lake,'" Bell said.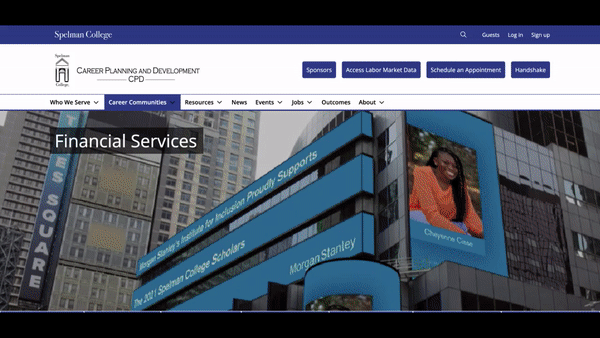 Results
Since launching the digital corporate sponsorship program a year ago, Bell and his team have enjoyed several impressive results, including:
Fully funding their uConnect platform (and additional modules) with sponsorship dollars.
Increasing the number of users on their virtual career center by 134% (comparing November 2021 to May 2022).
Creating an exclusive sponsorship program that's realistic for the career center team to manage and gives employers a valuable opportunity to differentiate themselves from competitors.
Elevating the career center's status on campus as a critical part of student success and employer relations (don't forget—the $500,000 gift to Spelman from Carrier originated with the career center!).
Exposing more students to top employers and jobs early in their college careers.
What's next for Spelman's corporate sponsorship program?
With the new virtual career center and digital sponsorship program, it's been a big year of learning for Bell and his team at Spelman. Bell said next year, he hopes to:
Diversify the types of companies that sponsor.
Better engage students and faculty with the virtual career center so they can help spread the word across campus.
Figure out how to use the uConnect platform to provide even more value to employers.
"What else can we do so companies feel like this is a worthwhile investment? I can't guarantee them hires, but I can make sure that the student experience on the site is something that could positively influence hiring," Bell said.
For more information about how Bell set up the corporate sponsorship program at Spelman—and how fellow HBCU Langston University set up theirs—check out our recent webinar: How to Build a Corporate Sponsorship Program for Your Career Center.
To learn more about how you can use the uConnect platform to facilitate a digital corporate sponsorship program, fill out the form below.