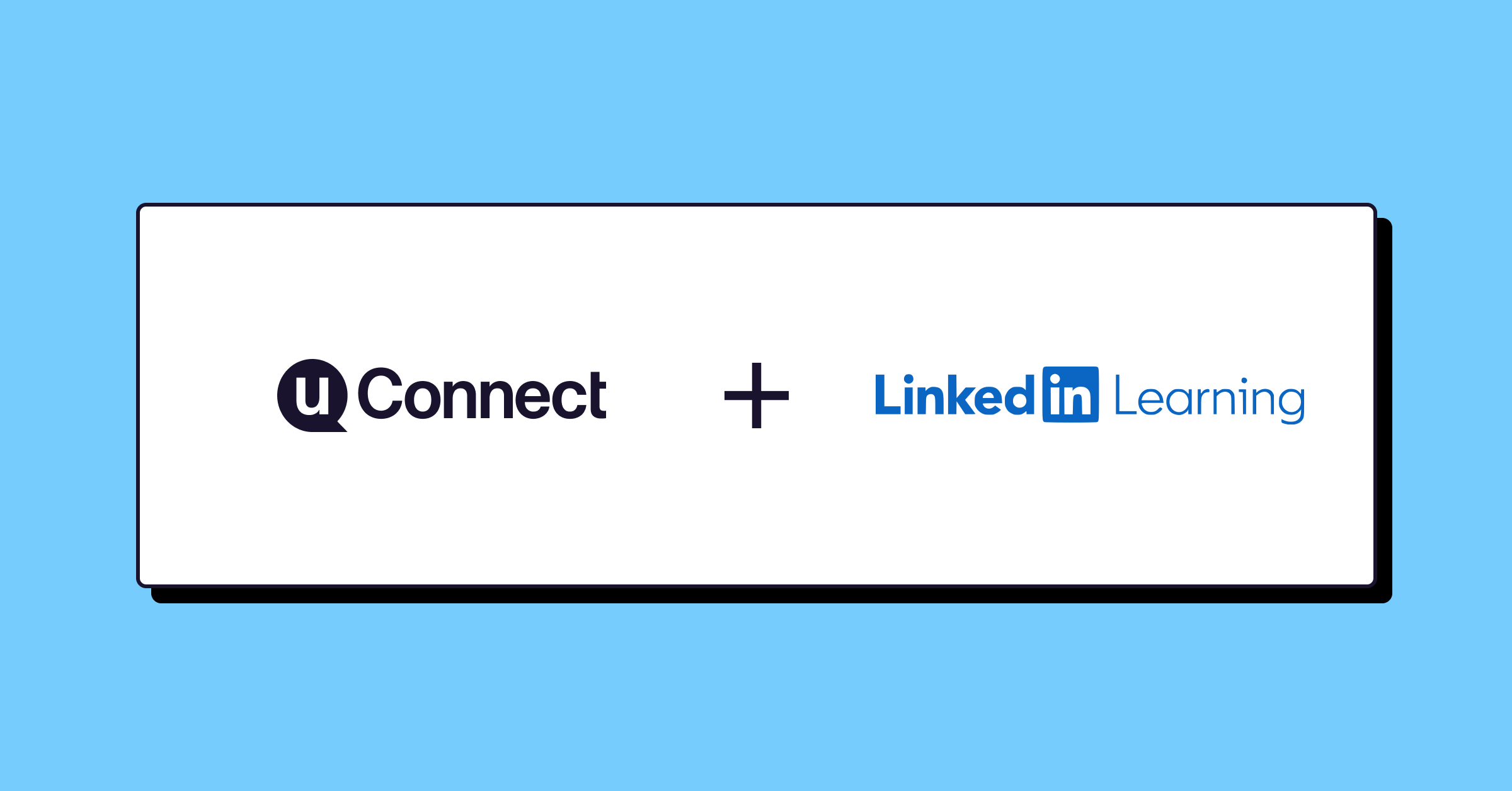 Career centers across the country have one more tool in their toolbox to help fill the skills gap thanks to uConnect's new integration with LinkedIn Learning.
With this integration, uConnect users can now choose from 17,000+ courses to curate skill-building content for students and alumni directly on their virtual career center. LinkedIn Learning is an online learning platform that enables students and employees to develop in-demand skills to achieve their goals. This empowers learners to discover the content they need with real-time skills insights and thousands of courses ranging from computer software to business and creative skills taught by industry experts in seven languages.
"We're thrilled for the opportunity to leverage LinkedIn's services to bring such high-impact content to students and alumni across our partner schools," says David Kozhuk, Founder and CEO of uConnect. "We're also excited to put these courses in the hands of career offices, faculty, and staff to further enable them in their efforts to support students at every step of their journey."
The courses from LinkedIn Learning will be curated in uConnect within thematic online digital communities alongside curated internships, jobs, alumni mentors, professionals clubs and organizations, and much more, to help students make connections between both hard and soft skills and their long-term career goals.
"I'm so excited about bringing courses from LinkedIn Learning into our uConnect platform", says Melanie Murphy, Director of Career Exploration and Campus Engagement at Denison University. "Integrating skill development courses into our students' career-planning journey will help to prepare them more effectively for the job market upon graduation."
This is particularly important because over 95% of chief academic officers in higher education believe their schools are effective at preparing students for the workforce, but only 11% of business leaders strongly agree. Clearly, there's a divide between the skills employers want and the skills graduates have when they enter the workforce.
At uConnect, we believe the answer isn't necessarily to overhaul the curriculum, which might be what many of the 95% of academics are protecting when they insist their students are prepared. The curriculum is effective in building soft skills and well-rounded individuals prepared to embark on their personal and professional journeys, which is nothing to scoff at.
To solve the problem, and potentially appease both parties, we're suggesting career services can, and should, play a much bigger role in helping students build in-demand skills—with the help of tools like LinkedIn Learning.
Career services is uniquely positioned to help fill the skills gap for students for a number of reasons:
They're continuously interfacing with employers and facilitating recruiting, mentorship, and informational programming. They engage with a wide range of employers, across many industries, and are best positioned to maintain a strong pulse on what employers are looking for from new grads. For example, see how Johns Hopkins University engages employers with thoughtful surveys, newsletters, and more to stay up-to-date on the needs of their employer partners.
The specific skills students choose to focus on should surface as a result of meaningful self-reflection, career exploration, and networking – activities that are usually facilitated by career services. It's critical that students don't just look to build skills that appear to be in-demand but seek skills that specifically apply to career pathways that interest and excite them. Meaningful engagement with the advising, programming, and resources offered by career services are designed to surface those insights for students.
As students develop new skills, they build confidence to proactively explore more career paths, and career services can help. Their job is to help students understand how their skills apply to certain industries or roles, present them effectively in their resume or portfolio, and connect with internships and jobs where they can apply those skills in the real world.
For uConnect partners, the LinkedIn Learning courses will be available directly within the admin dashboard, and appear auto-tagged into digital communities, making them easy to publish and update regularly. Clicking on the course content will take students directly to their LinkedIn Learning portal, enabling them to engage with targeted skill development frequently and seamlessly.
If you'd like to learn more about the new feature or activate it for your school, contact support@gouconnect.com.