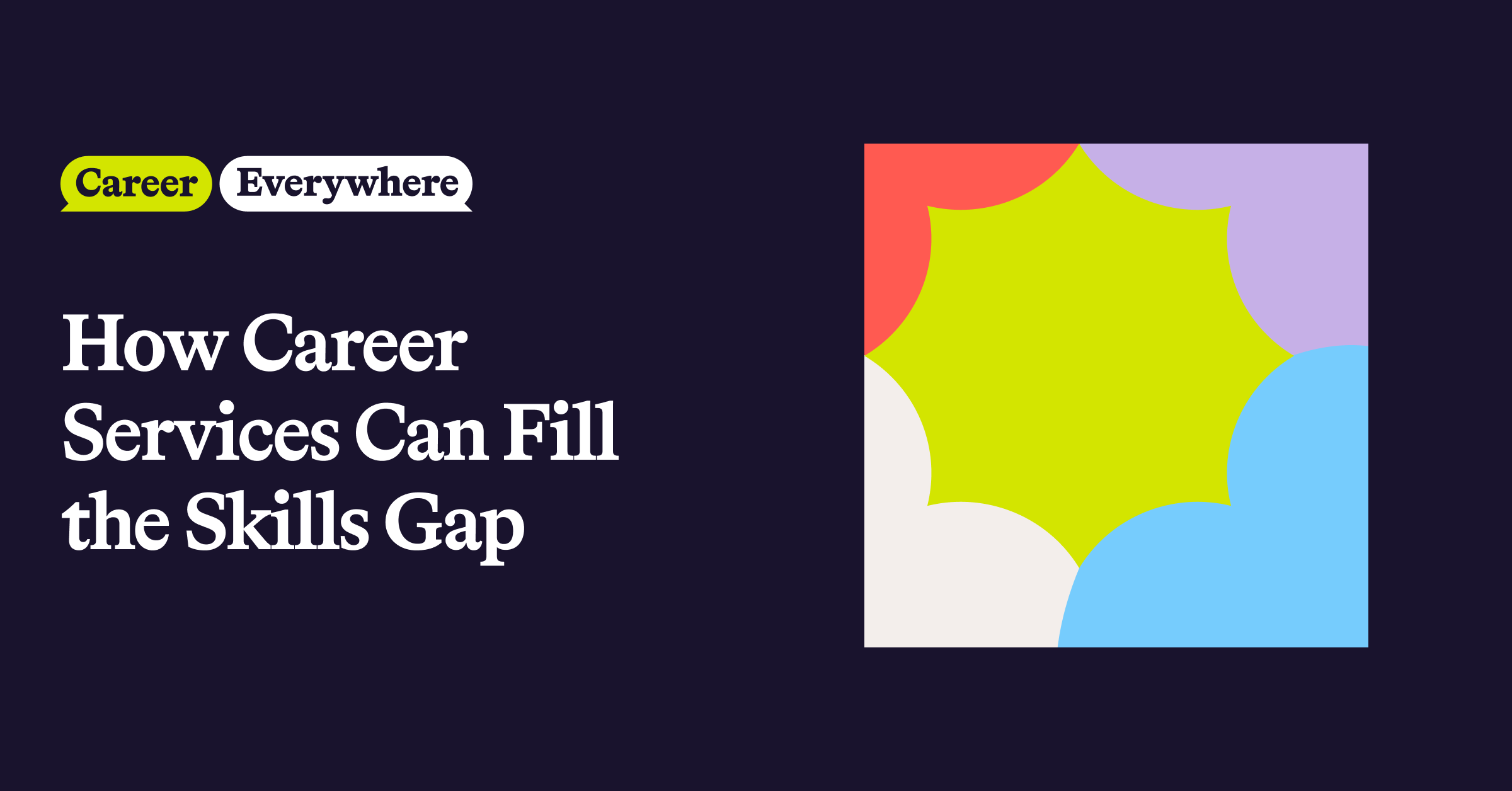 We know it's critical for students to leave college with relevant, in-demand skills that employers are looking for. In fact, 91% of students say employability was their primary or sole motivation for going to college.
And yet, many of the skills employers want most aren't taught in the classroom, largely because the labor market changes faster than most curricula can keep up with. This leaves schools scrambling for real-time skill-building solutions, while millions of students graduate without some of the key skills they need to find great jobs. Plus, it also leaves employers in the lurch, struggling to find and hire enough qualified talent.
Without intervention, the skills gap among recent college graduates will only grow wider. That's why it's so important for institutions to have a strategy for providing last-mile skill-building for students and recent grads. And no one is better suited to lead the skill-building charge in higher education than career services teams.
Why skill-building matters (and why career services should lead the charge)
Over 95% of chief academic officers in higher education believe their schools are effective at preparing students for the workforce, but only 11% of business leaders strongly agree. Clearly, there's a huge divide between the skills employers want and the skills graduates have when they enter the workforce.
And while everyone on a college campus is invested in student success and providing students with skill-building opportunities, career services teams are uniquely positioned to help close the gap.
Here's why:
They live at the intersection of talent supply (students) and demand (employers).
They engage with employers more than any other department on campus, so they know what companies are looking for right now.
Students are already coming to them for career advice.
They offer important complementary resources like job boards, resume building, mock interviews, labor market data, and more.
They keep a pulse on all the best skill-building resources, like LinkedIn Learning, Udemy, Coursera, internships, traditional college courses, and more.
Skill-building is especially important for majors with less linear career pathways, like those within social sciences or the liberal arts. Students may need to learn additional skills outside of the classroom to be competitive in the workforce.
"We've been trying to figure out how we can help students get the harder, technical skills that they need, as well as help them build the soft skills. LinkedIn Learning has been really helpful for us in that regard," said Carol Sharick, Director of Career and Professional Development for UMass Amherst's College of Social and Behavioral Sciences, during a recent uConnect webinar.
UMass Amherst is among many institutions leveraging LinkedIn Learning courses within the uConnect platform to help students (and alumni) round out their skill sets and be more competitive in today's job market.
Here are a few ways other career services teams can use it at their schools.
How to use LinkedIn Learning for skill-building
First, you'll need a subscription to LinkedIn Learning. Before you look into buying one through career services, check to see if any other departments (especially the libraries or IT) at your institution already have a subscription.
Then follow these steps:
1. Map LinkedIn Learning courses to specific communities on your website
LinkedIn Learning offers over 17,000 courses, teaching everything from Python to time management to writing business emails, and more. The best (and most efficient) way to boost student engagement with these courses is to highlight them alongside your job and internship boards, blogs, videos, mentoring tools, labor market insights, and other resources.
That way, students have everything they need in one easily accessible place.
If your website is powered by uConnect, you can take this one step further by using tags to map LinkedIn Learning courses to specific communities. For example, map accounting courses to the accounting community or media-related courses to the journalism community, and so on. This puts curated, relevant skill-building opportunities right at a student's fingertips, and in the context of other resources to help them level up.
Here's what this looks like on the UMass Amherst Isenberg School of Management's virtual career center (called IConnect). You can see in this example how only marketing-related courses show up on the marketing majors page.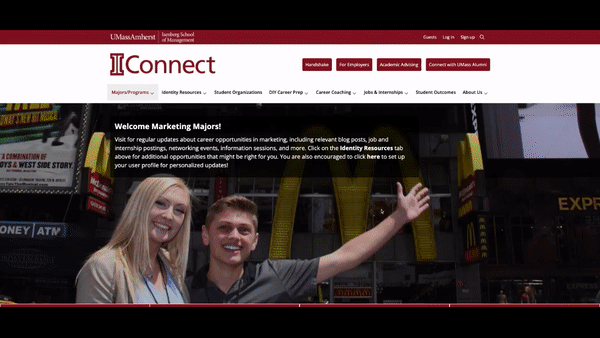 And in this example on the UMass Amherst College of Behavioral and Social Sciences virtual career center, you can see how they curated a variety of courses related to media, journalism, and entertainment. Most of them are from LinkedIn Learning, but they also listed a few UMass courses.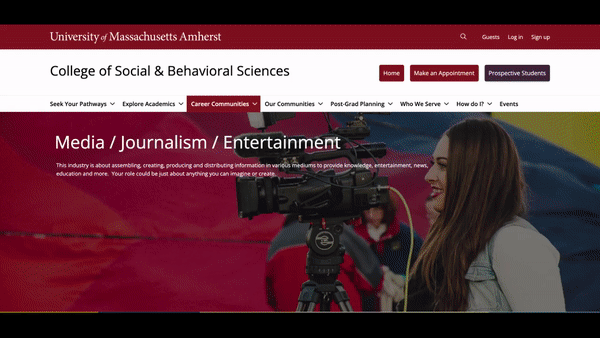 2. Use labor market insights to inform skill-building
Many schools pair uConnect's LinkedIn Learning integration with our labor market insights (LMI) module from Lightcast (formerly Emsi Burning Glass). The module pipes in job market data that students can use to find real-time information about job titles and occupations they're interested in, including the most in-demand skills (and how much they pay).
This data helps students inform their skill-building journey even more. They can use the LMI module to see exactly what technical and soft skills they'll need to be competitive for the roles they want. And then they can use LinkedIn Learning to learn those skills.
For example, the UMass Amherst Isenberg School of Management's IConnect portal integrates both LMI and LinkedIn Learning. Below, you can see what data is available for students interested in technical writing, including a list of skills.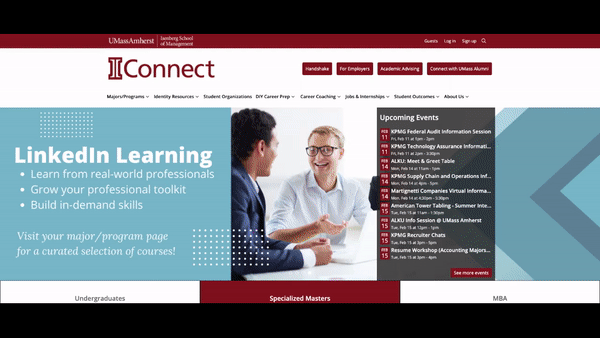 3. Share the resource with other stakeholders on campus
Career conversations should be held everywhere on campus, not just in the career center. And as a career services professional, you can help empower faculty, staff, coaches, and more to have those conversations organically with students.
So in that spirit of collaboration, be sure to share your LinkedIn Learning resources with other partners on campus. Once you have the courses integrated into your website and curated based on communities, spread the word. Show your student-facing colleagues how the LinkedIn Learning integration works so they can share it with students.
And keep the dialogue open, so faculty and staff can share with you what in-demand skills they're seeing pop up in their industry.
"We hope we'll learn more from the faculty about what they see as skills their students need, and then we also hear from recruiters. It starts a good conversation back and forth, so we can leverage LinkedIn Learning even more," said Holly Lawrence, Assistant Dean for the Office of Career Success at UMass Amherst's Isenberg School of Management.
Conclusion
With skill-building tools like LinkedIn Learning at their disposal, career services teams can have a huge, immediate impact on student success and facilitate career conversations with faculty, staff, and other key stakeholders on campus. 
To learn how uConnect can help your team scale their work and engage more students, fill out the form below to schedule a demo.