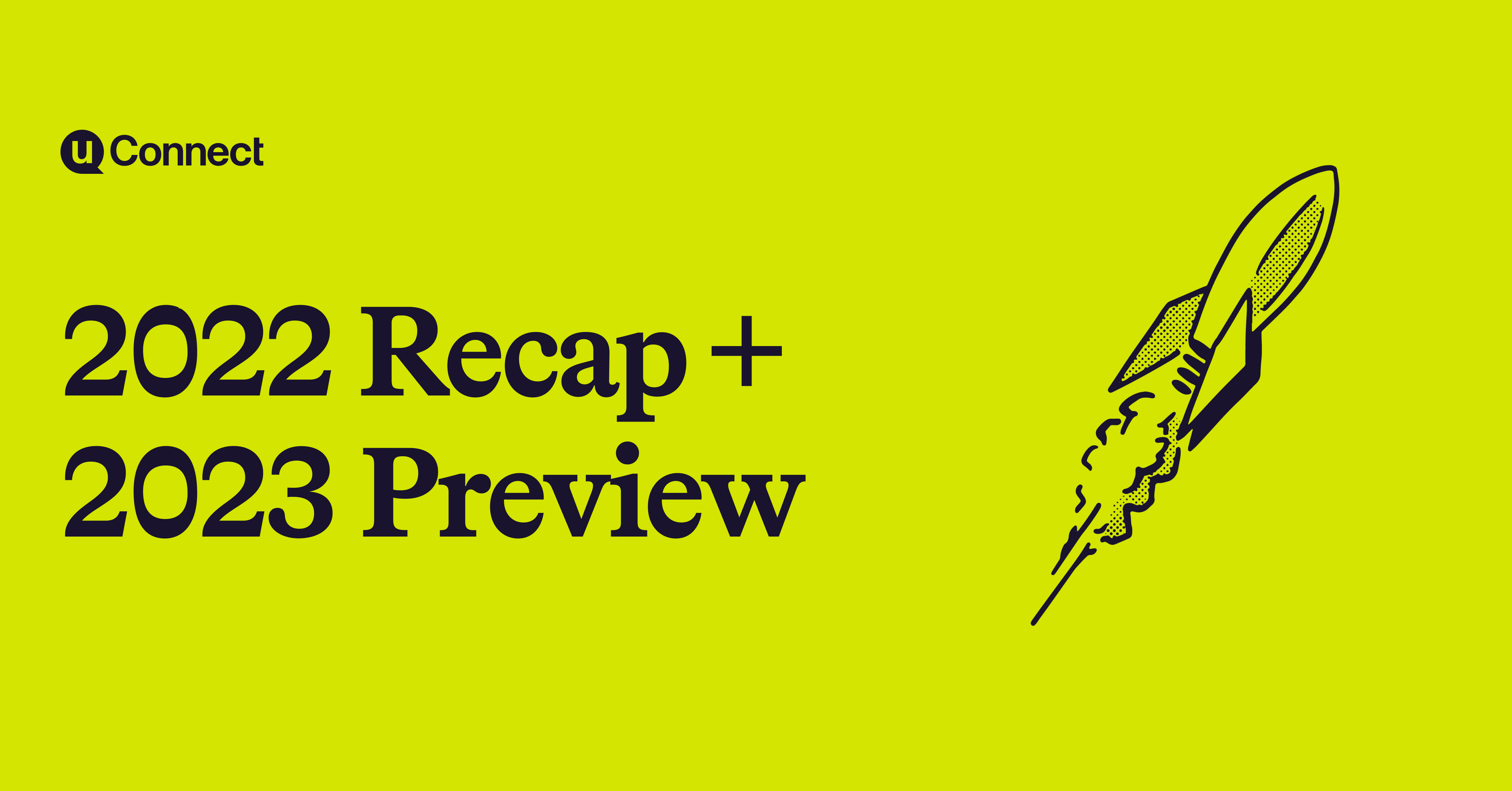 It's been a big year for us here at uConnect! Since our founding in 2013, we've worked tirelessly to support hundreds of institutions in their efforts to improve engagement with career services and build a campus culture of career readiness… or what we call Career Everywhere.
This year, we doubled down on our commitment to our customers and the career services field, as a whole. We firmly believe that investing in career services and career leaders is how we ensure the future success of higher education and develop the next generation of prepared, diverse leaders who will tackle the many systemic challenges we face, today and in the future.
2022 highlights
Here are a few of the highlights from this year:
First, we raised $8.5M from San Francisco-based Growth Street Partners and Strada Education, to expand our capabilities and support the accelerated growth of the career services field—most immediately in higher ed but, over the long term, in our communities.
Second, in the past six months, we've doubled our team and expanded our reach to more than 400 schools, from nearly every community college in Louisiana to Harvard and Yale, helping them scale the impact of the career resources, services, and opportunities they already offer.
Third, we expanded our partner network, working in collaboration with (and not against) the best-in-class providers of career tools and technologies to collectively move our ecosystem forward.
Fourth, we acquired Candid Career and their library of 8,000+ career education videos. With Candid Career videos now embedded directly in our platform, students can easily explore hundreds of career paths on their own time, at their own pace—to inspire more students to pursue fulfilling career pathways beginning early in their college careers.
Fifth, we launched a new website in December with fresh branding, improved UI/UX, and a whole host of new features, including a client directory and career services job board (where you can submit jobs for free).
Needless to say, we couldn't be more all-in career services, and eager to grow our impact on the future of the field. We're immensely proud of the strides we made in 2022, and we can't wait to continue this important work in the new year.
2023 preview
Here's a sneak peek at three major initiatives we've got planned for 2023.
1. We're offering a lower-cost, lighter-weight version of our virtual career center
At uConnect, we've built the first all-in-one virtual career center. At its core, the technology provides a single home for all the career resources, data, and information a school already offers. We've found that implementing uConnect provides 24/7/365 access to career services in a way that radically simplifies digital engagement for all. It's become must-have infrastructure for any career office seeking to meet the needs of today's learners.
Over the past 10 years, hundreds of schools have told us they'd love to adopt uConnect if it was more affordable. So in 2023, we're launching a lower-cost, lighter-weight version of our virtual career center to make it easier for more career leaders to:
Improve visibility, awareness, and access to the valuable content and resources they already offer
Effectively communicate the value of their work to students and all stakeholders in their campus communities
Shape their virtual career center to reflect the evolving initiatives that matter to their institution and stakeholders
Establish career services as thought leaders on campus about all-things employability and the future of work
The new version will be priced at a rate more than 30% lower than our inaugural virtual career center platform. Career leaders adopting the lighter-weight version of our virtual career center will also benefit from a radically streamlined implementation and minimal maintenance requirements.
2. We're launching a new DEIB-focused product
The future of higher ed will be about inclusivity and not exclusivity. The institutions that succeed will focus on expanding capacity and improving support for a greater diversity of students.
uConnect is investing heavily into capabilities that make it easy for career teams to proactively engage all students, especially those historically underserved, in a way that considers their unique backgrounds, circumstances, and needs.
Many schools consider DEIB initiatives a top priority, although little has been done to create truly equitable experiences for underserved populations. Students from underrepresented backgrounds will say more clearly and directly than others that their main interest in pursuing higher education is to achieve social and economic mobility. With that in mind, who better to lead the effort in improving their experience than career services?
Enabling career services teams to be at the forefront of DEIB efforts on campus will go a long way to not only giving career services the support and resources they've long deserved but the recognition and respect to go along with it. Stay tuned in 2023 for a new product that addresses exactly this.
3. We're making high-impact professional development available to all career leaders
At uConnect, we believe strongly that to improve access to career services, we must invest in advancing the career services profession and enabling those with their boots on the ground.
That's why we've recently formally launched the Career Everywhere movement to help career leaders scale the impact of their work and embed career exploration and planning into all facets of the student journey, from enrollment through completion.
The launch included the Career Everywhere Resources Hub, a professional development destination for all career services leaders stocked with actionable articles, case studies, webinars, a soon-to-be-launched podcast, and more. Additionally, we also announced the inaugural Career Everywhere Roadshow, where we'll bring Career Everywhere-related programming and events to you in a handful of locations across the country in 2023, with a focus on those areas overlooked by other industry events.
The Resources Hub and Roadshow are both part of a bigger effort, from uConnect and our partners, to showcase the work of the most progressive and effective career leaders in higher education. We hope to inspire, motivate, and inform the next generation of career services to own students' career pathways and outcomes and move the industry forward. To help with this, we've created an advisory board of diverse top minds in our space to guide our thinking.
Conclusion
If you work in career services, know that your work is critical and valuable, not only to student success and institutional effectiveness but to society. Continue to have conviction about the impact you can have and continue to fight for the resources and support you deserve. And of course, we'll be right alongside you to support you however we can.
Happy Holidays! We'll see you in the new year.