When you serve over 3,500 students across 17 master's degree programs and 15 certificate programs, it can be extremely time-consuming trying to effectively communicate with them all.
Then there's the additional hurdle of integrating all the different resources for each group into one location, so students get a curated experience without having to go on a scavenger hunt.
After all, students in the Applied Analytics masters degree program aren't necessarily going to be interested in the same content, jobs, and resources as students in the Sports Management masters program or the Sustainable Finance certification program.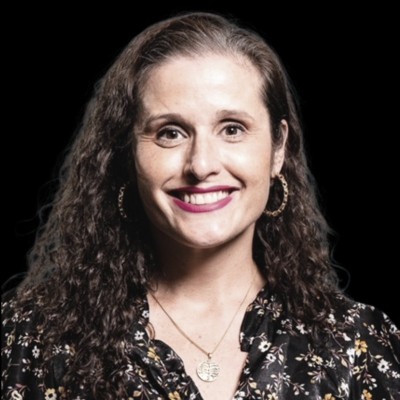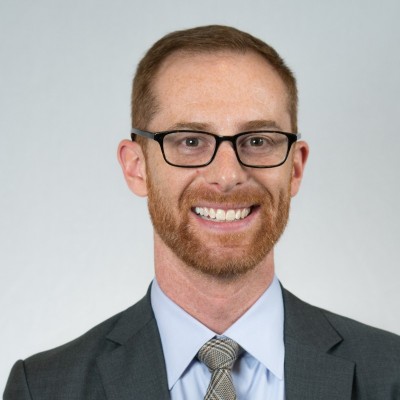 These were the exact challenges faced by Greg Costanzo, Kat Castro, and the rest of the Career Design Lab team in the Columbia University School of Professional Studies. They serve a unique mix of online and in-person graduate students, adult learners, and even some high school/college prep students—all spread across dozens of programs.
Then there's the 10,000+ alumni, faculty and staff, and other stakeholders who look to the SPS career services team for guidance and career resources.
With such a diverse audience, the SPS Career Design Lab knew they needed a solution that would allow them to put all of their resources in one place, streamline communications, and ramp up their marketing efforts.
That's where uConnect came in.
Building an all-in-one hub for career resources
Since launching their new virtual career center via the uConnect platform in August 2021, the Columbia SPS Career Design Lab has seen a massive increase in engagement across the board. This includes a 316% increase in average monthly pageviews and a 202% increase in average monthly users.
The secret? According to Costanzo and Castro, it's all about populating the virtual career center with relevant, curated, and up-to-date content. Where their previous website was largely static and infrequently updated, their new career center website includes:
Blog posts (from a variety of internal and external sources)
Videos
Jobs and internships from 12Twenty
Upcoming events
A large resource library (addressing common topics like resumes, cover letters, interviewing, etc.)
Labor market insights (powered by uConnect's partnership with Lightcast)
And more
Everything a student could need is all in one place, and there are specific resources for everyone. All of that content is regularly updated, and in many cases, automated via uConnect's numerous integrations. The result is a reliable powerhouse of a virtual career center that Costanzo, Castro, and other CDL staff members are confident in.
"Before uConnect, we seldomly directed students to our website. Now, I'm using it on a daily basis when I meet with students to show them where the resources are, how to navigate to the different career paths and identity communities, how to use the labor market insights tool, and so on. It's very visually appealing, and everything is all in one place," said Castro, Associate Director of the Career Design Lab (CDL) and career coach for the Applied Analytics masters program.
"It's now more of a tool that our students and stakeholders can dive into and really get something from," said Costanzo, Director of the CDL.
316% increase in average monthly pageviews, 202% increase in average monthly users
Since launching their new virtual career center in August 2021, the Career Design Lab has seen a massive increase in engagement.
Streamlining communication with automated, curated emails
In addition to building a one-stop-shop virtual career center full of useful content, the CDL team has also focused on effectively distributing that content.
Currently, most of that distribution happens via automated weekly newsletters built with uConnect's platform. When new users create profiles on the CDL website, they can set up their preferences to control what kind of content they receive in their weekly emails. This could include blog posts, upcoming events, jobs and internships, etc.
Their preference selections correspond to tags within the uConnect platform. uConnect's automated newsletter feature then uses those tags to build a personalized weekly email for each user based on their preferences. This ensures that every student or alumni—regardless of degree program, identity, etc—will only receive information that is relevant to them.
The best part? The entire process is automated. In fact, switching to uConnect's platform saved the CDL team 80 hours (and $1,600 in hourly wages) a week because they used to build these emails manually. Interns would spend hours each week searching for articles, job postings, and events relevant to each of the 17 different audience segments.
Now, uConnect does that automatically.
This has freed up CDL's 16 part-time interns to work on other content for the CDL site, including blog posts, how-to videos, and new marketing campaigns like Project Success, which celebrates student and alumni career achievements.
In addition to saving the CDL staff time and money, investing in these automated, curated newsletters to students has driven a significant amount of traffic back to the virtual career center. In fact, about 40% of CDL's users come from the weekly newsletters.
This indicates that students are responding to the content they see in the newsletters and want to learn more. So they visit the virtual career center and find a treasure trove of helpful career information.
We've been really focusing on curating great content for all of our students, both on the website and via weekly newsletters.

It's validating to see that the time and energy we've invested in getting the right resources in front of the right students are paying off.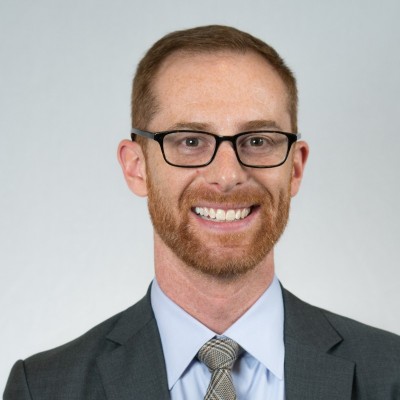 Greg Costanzo
Director, SPS Career Design Lab
Columbia University
Ramping up marketing efforts
One of the CDL team's main goals when they partnered with uConnect was to use the platform to improve their marketing efforts. How could they get their content in front of more students? How could they inspire more usage of the labor market insights and outcomes data tools? How could they increase attendance at their events? And how could they drive more traffic to their 12twenty job board?
Most of these marketing initiatives fall to the five-person tech and marketing committee within the larger CDL team, which includes Castro and Costanzo. Together, they work to plan and execute marketing campaigns to promote CDL's many resources.
Emails are one major way they've improved marketing—both with the automated weekly newsletters and one-off custom emails (which can also be built in uConnect). Another tactic has been to simply use the website itself as a marketing tool.
For example, if they need to announce a new resource or an upcoming event, they can advertise it in one of their scrolling banner images at the top of their homepage. Or they could write a blog post about it, include it in the weekly email, or send a separate custom-built email dedicated to that one topic.
Castro said she often uses the custom email builder to advertise events and drive attendance. Recently, she used a custom email to increase attendance for an event from 12 people to 80 in less than a week.
"uConnect makes it really easy to handle those last-minute marketing pushes," Costanzo said.
They've also drastically increased traffic to their 12twenty job board. In fact, comparing February 2021-July 2021 to August 2021-February 2022, CDL saw a 114% increase in the number of student and alumni profiles created on 12twenty.
Costanzo and Castro have seen such success from their marketing efforts that their CDL colleagues consistently reach out for help marketing their content. Requests come in so frequently that Castro put together a flowchart to help her colleagues with next steps.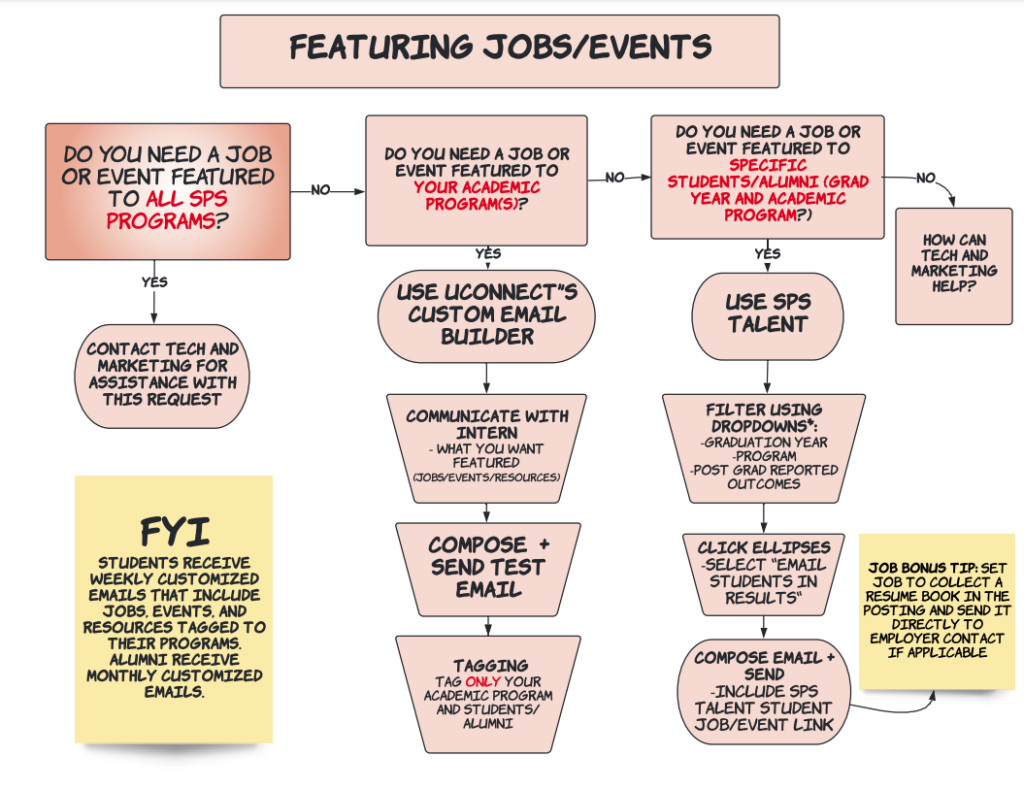 And if the CDL team has any questions along the way, Castro knows she can turn to uConnect for advice, guidance, and technical support.
"uConnect support is amazing and very responsive. That's been a huge help, because I know if I don't have the answer to something, I can use the chat feature in the uConnect platform and get a fast, helpful answer. We're so grateful for that," said Castro.
Conclusion
Supporting thousands of students across a wide array of degree and certification programs is no small feat. With uConnect, the Columbia SPS career services team has been able to put all their resources in one accessible location and get those resources in front of more students via automated newsletters and effective marketing.