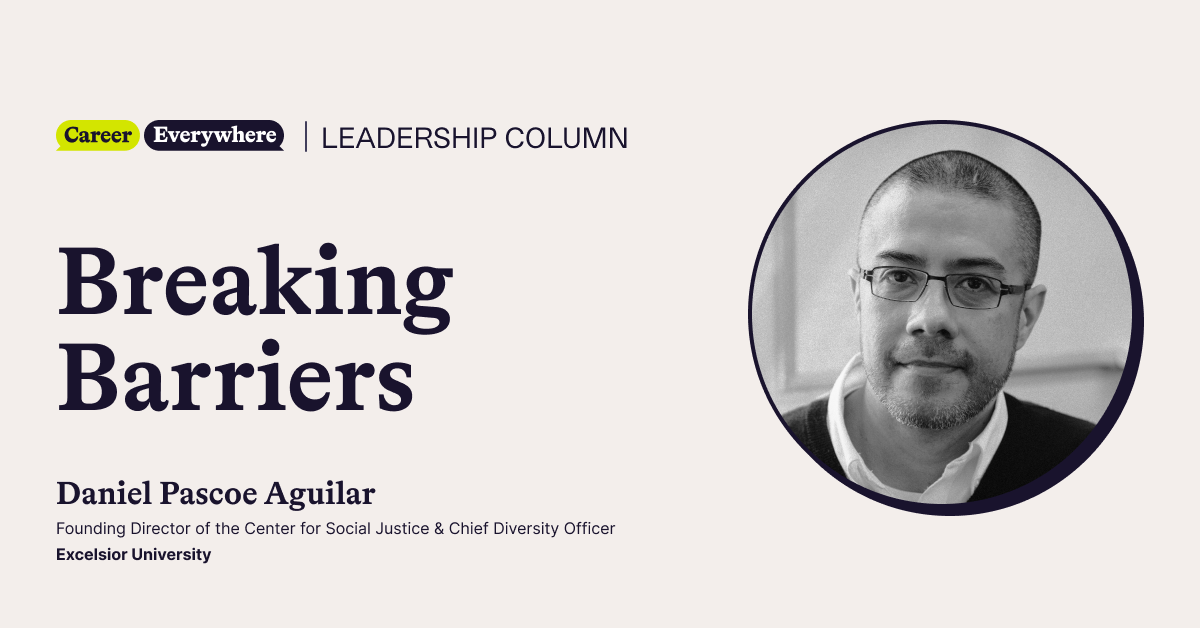 My last three columns discussed the importance of leading systemically through the design thinking emphases of empathy, collective definition and ideation, and prototyping and testing. My argument for this key focus of our systemic leadership efforts is if research and intuition are clear about the positive impact that leveraging the diversity of experiences, perspectives, ideas, and skills around us has on the effectiveness of our efforts, then harnessing our collective, diverse intelligence should not only be a moral responsibility but also a strategy for the richness, interdisciplinarity, and quality of our work.
In addition to this argument and to the design thinking concepts I have had the opportunity to discuss in my recent columns, my leadership experience has humblingly taught me what I believe to be the most powerful application of design thinking in my systemic leadership efforts. Fundamentally, design thinking is a systems approach to the design process, so its strength is not in the phases of the model, but in their interconnections, interrelationships, and interdependencies—and in our ability to see and mutually leverage the parts, processes, inputs, and outputs of the human systems we lead.
An example of this systemic focus on design thinking and our leadership is Bela Banathy's brilliant systems analysis approach. He argued that to understand a system we need to assess it through three key lenses:
The "still picture lens" or the parts, components, and/or members of the system
The "motion picture lens" or the processes, interrelationships, and interdependencies between the parts, components, and/or members of the system
The "bird's eye view lens" or the subsystems, sister systems, and suprasystem of the system and its corresponding inputs and outputs
Our experience and Banathy's lenses remind us of the high level of complexity of the systems with which we interact and lead. And to add one more layer of complexity, his lenses require us to scope or define the system we are leading every time we engage with it. For example, consider how the system with which we are working often needs to be redefined or resized based on whether we are working with students, alums, employers, faculty, staff, university leadership, and/or donors—let alone based on the key interrelationships or interdependencies among them for the effectiveness of our programmatic and leadership outcomes.
If you notice, intentionally I have been using the word "emphasis" for each of the commonly labeled phases or stages of the design thinking process. Based on today's conversation, I will transition into calling them design thinking lenses, hoping that this emphasizes the importance of our definition and scoping of the system with which we are working, as well as of the critical interrelationships and interdependencies among its parts, relationships, inputs, and outputs. The design thinking process is not linear or a finite sequence of five steps. Design thinking is our organic assessment and scaffolding of the strategic evolution of the complex systems we have been charged to lead.
For instance, the critical importance of the empathy lens of the design thinking process we discussed in my seventh column calls for careful strategy and assessment of our effectiveness. We know we all arrive to our systems with unconscious biases and that the inclusion and justice of our interactions and leadership depend on our awareness of these biases and on our efforts to intentionally work on and reduce or eliminate them. The systemic nature of the design thinking process poses a fantastic opportunity to interconnect the prototyping and testing lenses we discussed in my ninth column with the empathy lens by preventing our naive assumption of the effectiveness of improvised empathy. What if before engaging with others, we work on determining criteria for the effectiveness of our empathy efforts, and then approach our interactions and leadership as empathy strategy prototypes we test intentionally and regularly?
For example, I recommend considering empathy strategies such as:
Approach others assuming and eliciting the same level of complexity in their stories and perspectives as you see in yours.
Approach others assuming that you need to learn, change, and further develop your intercultural sensitivity as part of your interaction with them.
Approach others to open the conversation rather than to close it, e.g. meeting them where they are to learn about, not challenge, their perspective.
Then, immediately after your interaction, assess the effectiveness of your effort on a scale of 0-4, where each number could mean the following:
0 is "I tried, but I could not apply the strategy throughout."
1 is "I applied the strategy throughout, but I had major challenges along the way."
2 is "I did it, but see how I have significant space to grow."
3 is "I believe the strategy worked, although I see how I can improve my effort next time."
4 is "I will continue testing it, but I believe the strategy worked this time."
You could even request the support of an observer or even of the person with whom you interacted to assess your approach based on their own assessment of the criteria above.
Another example of the impacting interdependencies across design thinking lenses is the importance of empathy as an effectiveness strategy when leading the collective definition of your system's challenges or opportunities, or when leading the collective ideation of solutions or innovation. One way of approaching this is by normalizing or at least regularly conducting empathy mapping, mentally or, if possible, explicitly or collectively as part of your interactions.
Whether you're working with allies, opponents, fans, or adversaries as we discussed in my third, fourth, fifth, and sixth columns, you are strategically attempting to lead systemically through a design thinking approach. Conduct comparative assessments of what participants and their perception of what those affected might say, do, feel, and think of your collective definition and of the solution or innovation you are considering. Debrief and focus on input that points to gaps, missed perspectives or new opportunities, and work on developing outcomes that are as inclusive, collectively intelligent, and effective as possible.