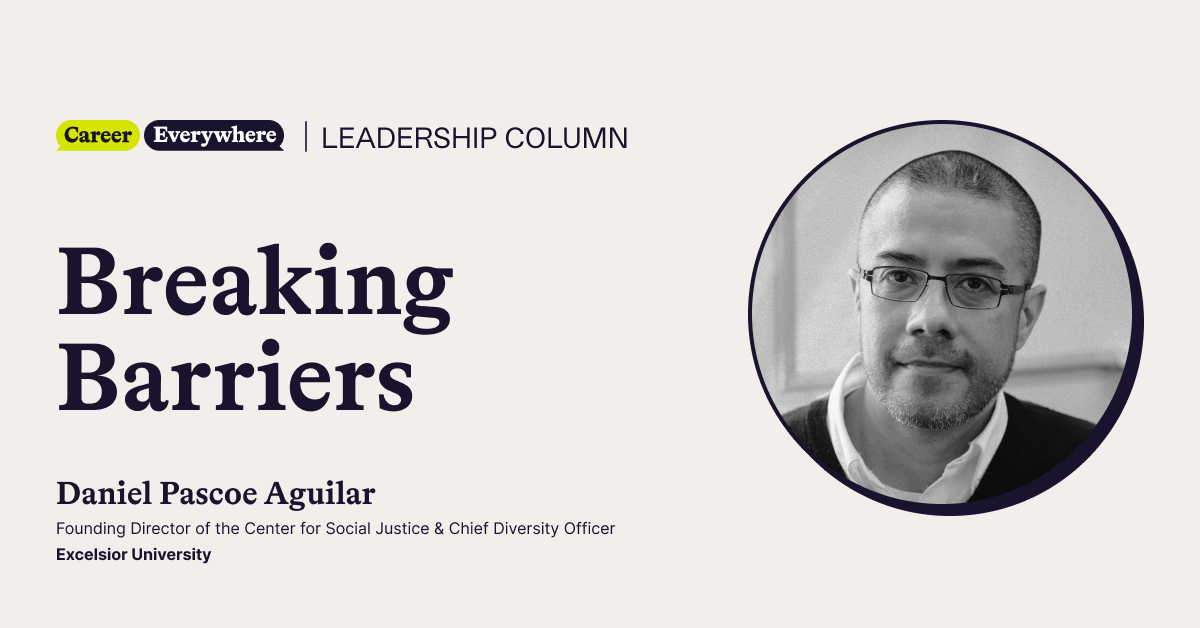 My third column focused on the opportunity and impact of collaborating with your "opponents" in the ecosystems in which you lead. As we discussed, according to Peter Block, opponents are key stakeholders in your ecosystem with whom you share trust but not agreement. In other words, both of you trust that the other has the development and success of a ready next generation of leaders at heart. However, you do not agree, perhaps fundamentally, on the best approach to do so.
If you agree with my belief that a strategy generated through collaborative empathizing, definition, and ideation will always be stronger than one we've developed on our own—regardless of how many times we've implemented it or how effective it has been in previous or current settings—you likely understand the powerful value of working with opponents, with those you trust and who bring with conviction different perspectives, experiences, and ideas to the decision-making table.
Now, I would be remiss to not admit that leading in collaboration with the opponents in our systems is a complex and often challenging and delicate process, at least for me. It's sometimes one of the most stretching but also enlightening aspects of systemic leadership. Unfortunately (and we will discuss this in-depth in a future column), we have been taught to look for, feel more comfortable with, or even force agreement or agreeable interactions rather than explore and engage differences.
To support my recommendation to collaborate with opponents, I will share an anonymous example of what working with opponents has looked and felt like in my personal and professional experience.
I was leading career and professional development efforts at one of the institutions in which I have had the privilege to serve. At this wonderful institution, there was an academic leader who, as soon as I assumed my role, presented themself diligently as a clear and explicit opponent of my leadership. This academic officer had laudable political weight in the system, which this colleague had earned through strong leadership and impressive academic, program, and financial outcomes for the institution overall. Let's call them Dr. Y. and use she/her pronouns.
One great aspect of my interaction with Dr. Y is that she approached me early and directly as a clear and key opponent in the system. I recommend paying diligent attention to proactive opposition as it can be the foundation of great potential in your leadership, collaboration, and goals. About six months after I had assumed leadership, Dr. Y called me into her office to go through pages of notes about concerns she had developed about my leadership, the strategies I had begun to lead, and the preliminary outcomes we were beginning to reach. In my confusion at the time, I listened patiently to her input—as a pattern, I was not given much space to respond. Admittedly, I paid attention with troubled emotions; I was trying to understand why Dr. Y, who was not my supervisor, was watching my leadership so closely, making so many judgments and notes about my work, calling me to her office for 1:1s that would last more than one hour, etc. Based on follow-up conversations with my supervisor, I suggested to Dr. Y that we bring him to at least one of our interesting 1:1s, but that was not an option to her. Dr. Y wanted to meet with me alone.
One day, reflecting on this and on my belief in the value of working with "opponents," I realized that I had an opportunity more than a challenge. Based on Dr. Y's engagement in my work and leadership, there was no doubt that she cared deeply about student development and success and about what I and my area accomplished in this regard. As such an important, busy, and influential leader in the system, she was deciding to focus her attention on my leadership and work, to spend a significant amount of time assessing it, making pages of notes, and taking time to meet with me to share her thoughts. Her unparalleled engagement and her vast feedback couldn't have made it clearer that I could trust that she had the preparation of a ready next generation of leaders and the success of our efforts at heart. She just had different contextual, experienced, and academically-focused ideas on how to accomplish this.
I could trust Dr. Y. We just disagreed on our approach.
Therefore, I decided to have a conversation with Dr. Y at our next 1:1, one of the simplest and most impacting interactions I've had in my career. I started the meeting by thanking Dr. Y for all the thought and time she had invested in my leadership and our work. I told her how much I admired her leadership and accomplishments, and how much I valued her expert, contextual, experienced, and academically-focused perspective and ideas. I asked if I could listen quietly to her concerns and make as many notes as I could to work with my team on an approach that could allow us to develop a joint overall strategy and tactics we could then implement with her team to accomplish our critical work together: our shared facilitation of the preparation of a diverse, authentic, purposeful, and ready next generation of leaders.
This particular interaction felt like someone had taken heavy rocks off both of our shoulders. She went ahead and shared her thoughts with me. I took pages of notes and a couple of weeks after I came back to her with a process proposal on how to develop together, her area and ours, a shared overall strategy and tactics for our work. During the next six months, Dr. Y's team and my team met a number of times. Soon after, we began prototyping a joint strategy and shared tactics that, with our mutual trust and now agreement, allowed us to reach outcomes beyond what we ever thought possible. Dr. Y and her team became not only one of our strongest and most valuable allies, but we also joined efforts to pursue critical goals for our students, our areas, our institution, and society.
Opponents are some of your most valuable colleagues and one of the most important levers in your system. I don't promise an easy or comfortable path to collaborating with system opponents. But our responsibility to facilitate the preparation of future leadership is too important to look for comfort or shy away from a challenge or an opportunity to enhance our impact in the development of our students and in the engagement of a diverse, authentic, purposeful, and prepared next generation of leaders.