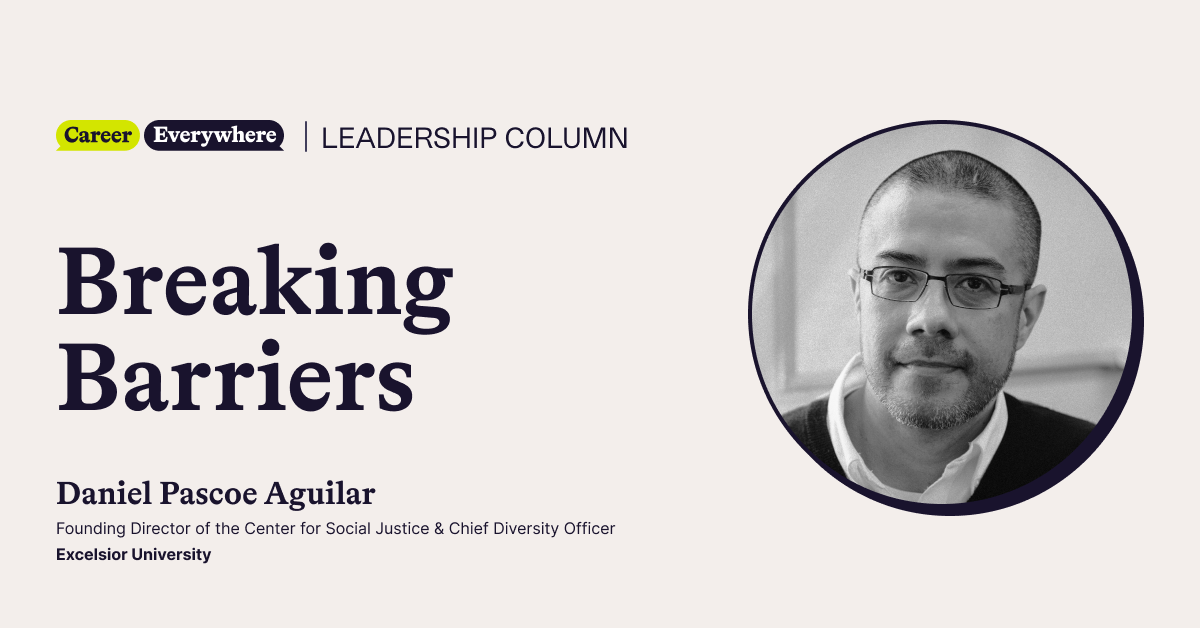 My first and second columns promoted our systemic approach to leadership. My argument is that our charge—scaffolding the preparation of a diverse, authentic, engaged, and ready next generation of leaders—is one of our most important societal endeavors. How our future looks matters to all of us and should thus engage everyone in our on/off-campus communities.
Subsequently, my third, fourth, fifth, and sixth columns focused on our assessment of the stakeholders of our ecosystems. This analysis is important so that we may strategize our collaborative leadership with key members of our human systems and know, meet, and engage each of them where they are. This approach allows us to empathize with them, to collectively define our challenges and opportunities ahead, and to ideate together the solutions or innovations we should pursue.
I have come to greatly appreciate that the design thinking approach begins with a focus on empathy. However, I believe that, as leaders, we are responsible for exploring the meaning of this empathy and the depth of investment it requires. From my perspective, our challenge begins with the traditional design culture we have developed. The ubiquitous ADDIE model (i.e., analysis, design, development, implementation, and evaluation) under which our human systems have operated for a long time has unfortunately turned the key initiation of our leadership—of our engagement in challenges and opportunities—into an often transactional phase. It focuses the criteria of our decision-making into de-personalized or standardized data, and, sometimes worse, into assumptions based on which our solutions or innovation too often inequitably impact diverse members of our communities.
For example, if we think of applications and implications of the ADDIE approach in our educational systems, we could explore how curricula and instructional methods are designed and subsequently facilitated. One argument I often make is how, when I recall how many of the courses I completed in four higher education degrees have elicited or asked me about my story, I can count them on one hand. Even the concept of designing curricula or instruction based on or at least related to the stories of our students commonly feels too costly to even consider and thus standardization prevails. This is a simple but critical argument: How can we hope or claim to be inclusive and equitable in our design of educational solutions or innovation if our systems do not have time for the stories of our students?
My second column focused on the importance of defining the "why" of our leadership through the exploration of our paradigm, which includes:
The origin from which we part to lead
The truth that guides our leadership
What we believe to be worth our investment
How we believe we should lead
Let's apply this paradigm breakdown to our conversation about empathy by flipping the coin: Do we know or have we asked the members of the teams we lead about their paradigms? Have we invested time in learning about where they come from, what they believe to be true, what they think is worth their investment, and how they believe they should lead the efforts we have entrusted to them? What about the on/off-campus stakeholders with whom we are partnering or with whom we should collaborate? Or more importantly, do we know or do we ask about, as a key lens of our approach, the paradigms of our students and alums in order to empathize with them as a premise of our scaffolding of their development and success?
Remember that research and intuition argue that how much we value and leverage the diversity of experiences, perspectives, purposes, and approaches of the human systems we lead impacts the effectiveness of our efforts. For instance, see Catalyst's metastudy findings on the positive impact valuing and leveraging diversity has had on organizational talent, innovation, and group performance; financial performance; and reputation and responsibility.
The empathy our leadership requires for the solutions and innovation we lead to be systemic and inclusive should reach this level of depth, not only as a moral responsibility but as a strategy for the richness, interdisciplinarity, and effectiveness of our work. I believe this to be a fundamental challenge of our approach, not only to our work but even to our interactions with others in our communities and in society in general. How much do we care about—and how often do we thus inquire about and learn from—the origin, truth, purpose, and approach of those with whom we interact, even of those we love, in order to interrelate and collaborate with them respectfully, inclusively, equitably, and productively? Could we see this key empathic approach not as a cost to our efforts or as a loss to our production time, but as an investment in the complexity of our intelligence, the comprehensiveness of our design, and the effectiveness of our systemic leadership?
Our systemic leadership requires meaningful and strategic empathy as the first step of our design thinking process. Let's value it and make it count!