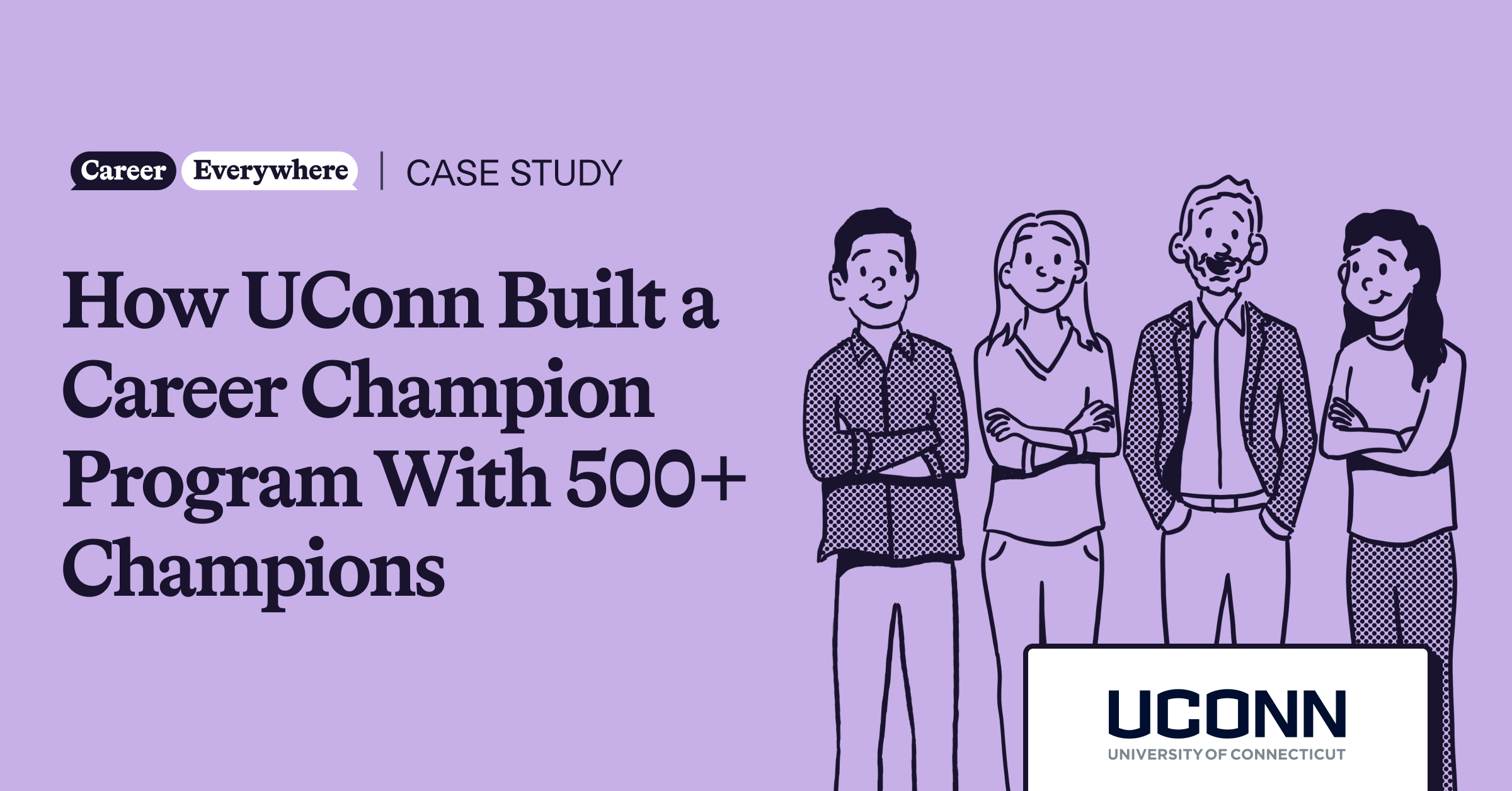 Update: UConn's Career Champion program now has over 700 participants (November 2023)
Career conversations happen all across campus—not just in the career center. In fact, many students initially seek out career advice and information from faculty, staff, alumni, or even their parents. But not all of those groups have the resources and training to provide meaningful, accurate career support. At least, not like a career services team does.
That's why it's so important for career centers to shift their role from providers to facilitators, enabling other groups on campus to have impactful career conversations with students. Because let's face it, many students won't walk into a physical career center (for a variety of reasons). And it's impossible for any career services professional to have 1:1 conversations with thousands of students with diverse backgrounds, interests, life circumstances, etc.
So how can we close the career information gap? How can we embed career conversations into daily campus life to make sure all students get helpful, accurate information, regardless of who they talk to? (We call this concept "Career Everywhere!")
For the University of Connecticut, the answer lies in their highly successful Career Champion program.
To learn more about UConn's Career Champion program, listen to our Career Everywhere podcast episode with Nancy Bilmes, Director of the Center for Career Development at UConn.
What is a Career Champion program?
In short, a Career Champion program is a community of faculty, staff, alumni, and employers who volunteer to help students with career exploration.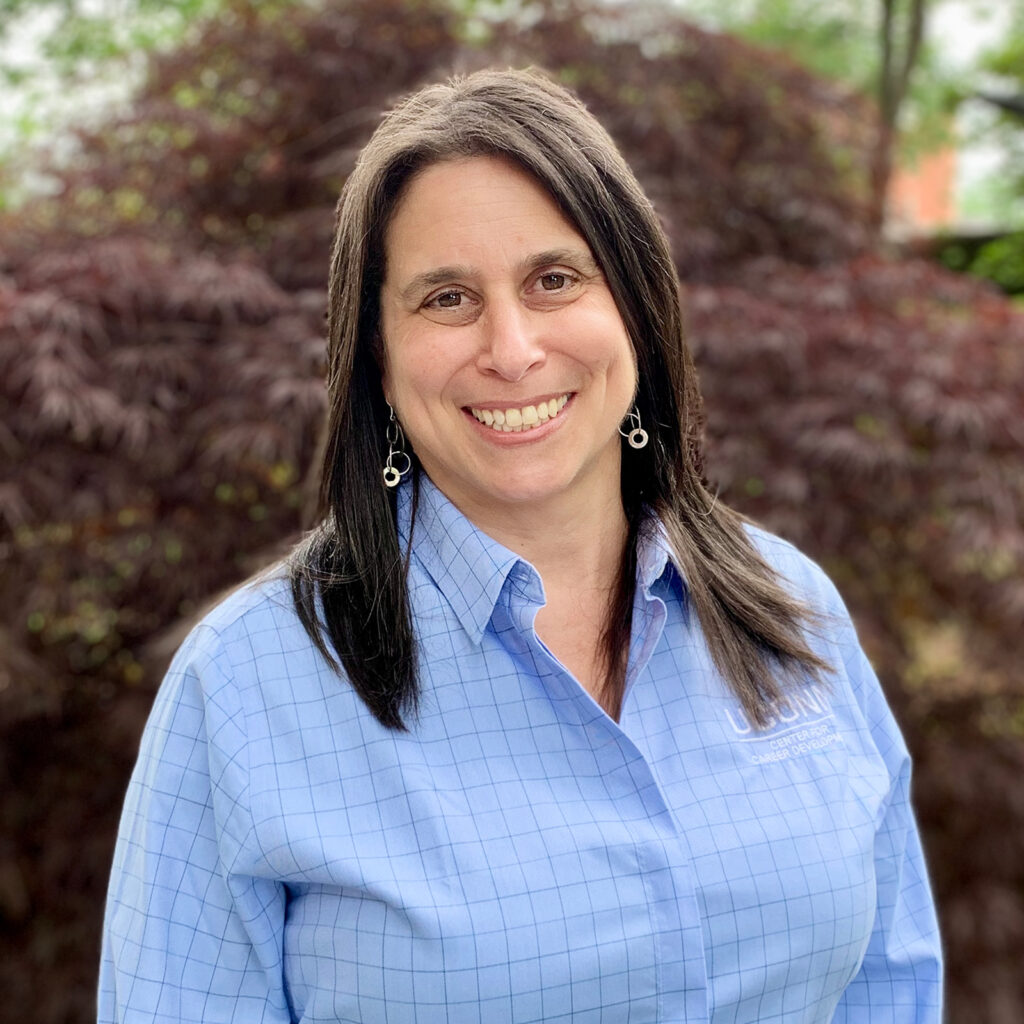 In UConn's program, when Career Champions sign up, they receive ongoing access to 2-3 virtual training sessions a month, career center staff, monthly newsletters, and other helpful content and resources to empower them to have more detailed career conversations with students. UConn's Center for Career Development is also hosting its first in-person conference for Career Champions in September.
"We knew that students were having these conversations already, and we wanted to help prepare our faculty and staff with resources they could share with students, including current trends in career data, information about our department, and more," said Nancy Bilmes, Director of the Center for Career Development at UConn.
"We don't expect our Career Champions to be career advisors. We just expect them to read our newsletters and/or attend our training sessions where we'll talk to them about the value of Handshake, the value of our website, etc. so they can refer students. That way, if they don't know the answer, they'll know how to help students find that answer."
In most cases, those answers can be found on UConn's virtual career center (powered by uConnect). The site includes everything from job market insights and career outcomes data, to jobs and internships, industry guides, videos, advice blogs, and more. And all of that info is curated in community pages for different career interests and identity/affinity groups. As a result, the virtual career center is the perfect resource for Career Champions to learn from and refer students to.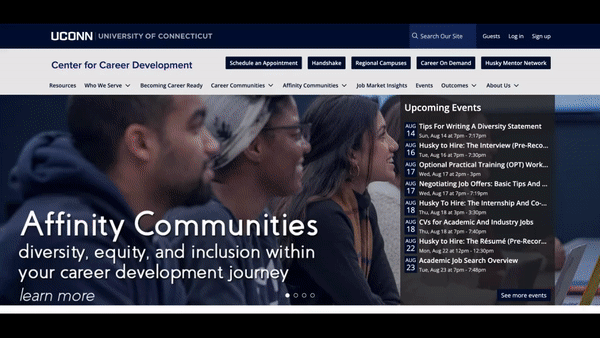 How UConn recruits Career Champions
Bilmes and her team first launched UConn's Career Champion program in September 2019, initially only recruiting faculty and staff. Later, in 2021, they expanded the program to include alumni and employers.
Now, the program boasts over 500 Career Champions, including 179 faculty members, 237 staff members, 48 employers, 69 alumni, and eight graduate assistants. (Note: Some champions identified with multiple categories, which is why the total does not add up to 500.)
"We just crossed that 500 mark. It was above and beyond what our goal was for this academic year. Our goal was to increase the number of Career Champions by 20%, and we increased it by 61%. We're doing that through intentional outreach to the different populations. So we have different recruitment strategies for faculty, staff, alumni, and employers," Bilmes said.
Bilmes said faculty are the most challenging group to recruit, by far—mostly due to time constraints. So she and her team strategically designed a recruitment strategy that is quick and easy.
The enrollment form takes about two minutes to fill out. Once enrolled, Career Champions are encouraged to attend a welcome session and other training sessions, but they're not required. If Champions can't attend, they can read the monthly newsletter or visit the Career Champions resources page, which houses training recordings and other important information.
"We really try to honor the busyness of the folks that we're recruiting by not making it an extra workshop or an extra event that they are required to attend," Bilmes said.
Bilmes and her team have also formed a Career Champion advisory board and a faculty subcommittee to help spread the word about the program and create resources for faculty.
For example, the faculty subcommittee launched a Blackboard site this summer full of draft language and examples of how faculty can include career info in their syllabi. That way, if faculty don't have time to actively talk about careers, they can at least include it in their syllabi. And now they don't have to start from scratch.
What is the impact of a Career Champion program?
Bilmes said it's difficult to determine exact outcomes of the Career Champion program, aside from the growing number of participants. But that's something her team is focusing on this year, starting with sending a survey to Champions this month to gather feedback and data.
On an anecdotal basis, here's what two faculty Champions have said about the program:
"As a faculty member, students and advisees often seek career insight and advice. The Career Champion program, as well as the Center for Career Development, provide critical support to faculty and staff so they are best positioned to support students in terms of career readiness. There are a multitude of ways to engage with the Career Champion program, allowing staff and faculty to receive tailored information on best practices and trends in career management," said Danielle DeRosa, Clinical Instructor, Sports Management.
"Being a part of the Career Champion program was an easy decision for me. I have long been committed to helping my students get their careers started while still at UConn – but now, I feel my efforts are being fully supported. Being a Career Champion has provided me with access to resources and support systems that help provide valuable perspective on how to make this process easier and more effective. Just knowing that I'm a part of a larger group of faculty and staff that are dedicated to helping students embark on their career journey is a great feeling," said Rory McGloin, Associate Professor, Communication.
In addition to helping faculty, staff, employers, and alumni have better career conversations with students, UConn's Center for Career Development also encourages Career Champions to help create content for their virtual career center. For example, Champion Katerine Rodriguez Pais recently wrote an article on career tips for Latinx students and published it on the virtual career center's blog.
Bilmes said they use the guest contributor portal in uConnect's virtual career center platform to streamline this process. This includes sending a step-by-step handout to Career Champions to show them how to use it.
"Our goal with all of these initiatives is to build a university culture of career readiness," Bilmes said. "We want everyone in our university community to be able to have informed, comfortable career conversations with students and know where to direct them for additional information."
Advice for other career centers who want to launch a similar program?
After three years of building UConn's Career Champions program, Bilmes has two pieces of advice for other career services teams who may want to follow suit:
1. Begin with a focus group of faculty and staff
Before she launched the Career Champions program, Bilmes held focus groups to learn from faculty and staff what would be most helpful for the program, what challenges they anticipated, etc.
"We really used that as a framework to develop our program. Of course, the biggest challenge was time. That's one of the reasons we decided to use a quick enrollment form and not require some other types of workshops or things that were like hoops they needed to jump through," Bilmes said.
2. Create a Career Everywhere team
Like uConnect, UConn has adopted the concept of "Career Everywhere"—a.k.a. the idea that career conversations should be embedded into daily campus life. The Career Champions program is part of that larger initiative.
Once the Career Champions program started to grow, Bilmes realized she couldn't manage it on her own. So she built a Career Everywhere team.
"We needed marketing assistance. We needed somebody who could work more with faculty. So we added just a little more to several plates to create a Career Everywhere team. They're doing work that is already part of their job description, just expanded a bit. It really helps to create that space to have a team come together to look at all these components and develop the program that might work for your university," Bilmes said.
Want to learn more from Nancy about how she built UConn's Career Champion program? Listen to this podcast episode where Nancy gets into more details and answers questions in a Q&A.
Looking to better engage and support faculty in college-to-career discussions? Fill out the form below to schedule a demo and learn how uConnect can help.