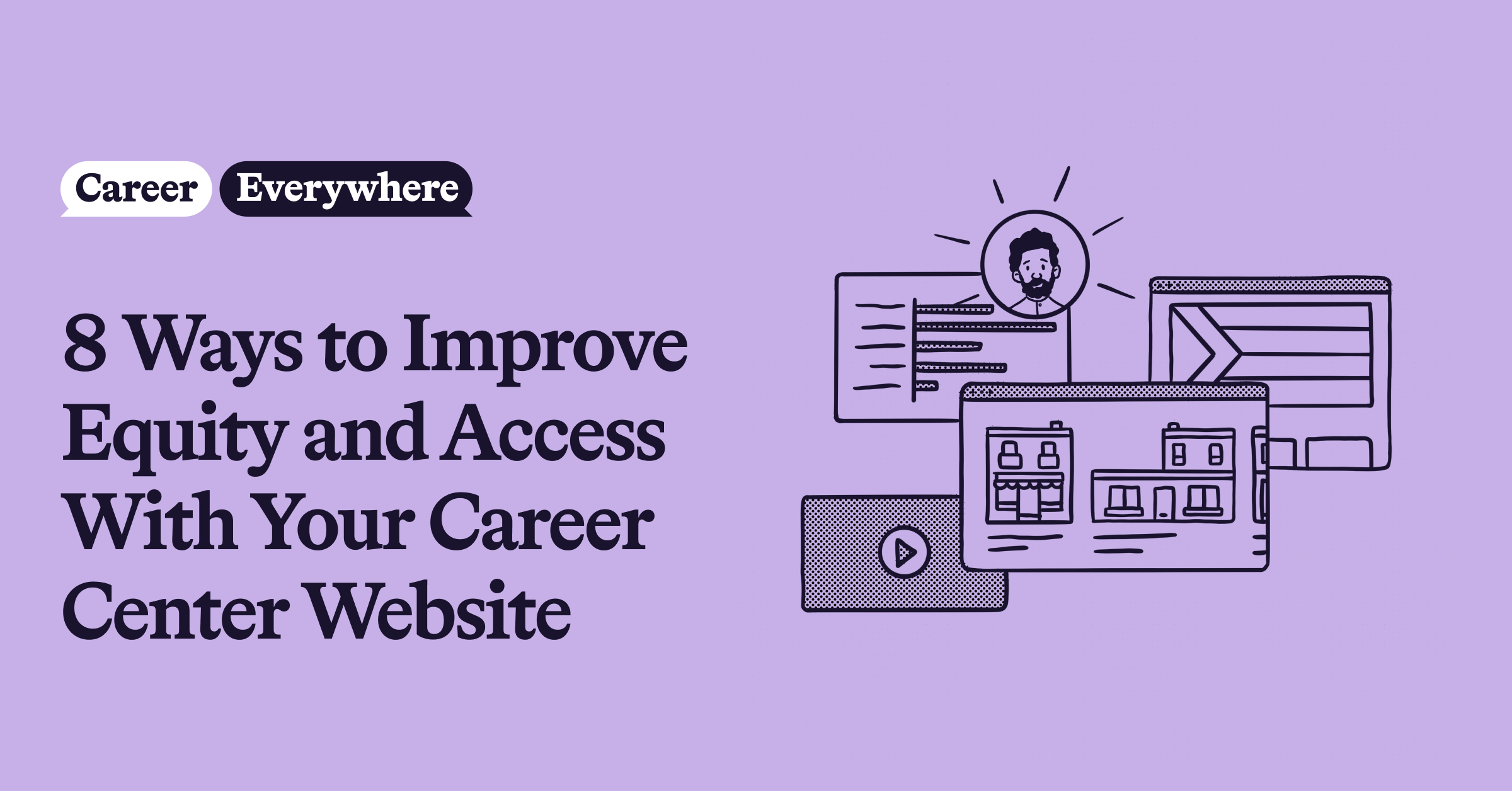 "A digital-first approach to career services is inherently more accessible and equitable."
Briana Randall, Executive Director of the Career and Internship Center at the University of Washington, said this in a recent webinar about her team's digital-first approach to DEI. And we couldn't agree more!
After all, not every student can (or knows to) take advantage of the resources in a physical career services office. For example, students who work and/or have families might not be able to get there during business hours. First-generation students may not know career services even exists. Others may simply prefer to do a little career research online first, at their own pace and on their own time.
Regardless of the reason, the students who most need career services often aren't the ones walking through the doors. That's why it's so important to build a powerful virtual career center, with all of your resources in one place.
That way, every student (and alumnus) can access all career resources anywhere, any time. Plus, it gives career services teams a chance to be proactive, rather than reactive, in their outreach and support of students. Imagine being able to continue serving students and alumni 24/7, even when you're out of the office or asleep!
Here are eight ways you can leverage your career center website to improve equity and access to career resources:
1. Create identity pages
If you want to scale up your support for underprivileged students and alumni, an important first step is to add identity pages to your website. Each page should be dedicated to a specific identity/affinity population (LGBTQIA+, BIPOC, first-generation, veterans, women, etc.) and filled with resources tailored to their interests and needs.
This will help you:
Communicate that the institution cares about them, regardless of who they are.
Build a one-stop-shop of all the opportunities, connections, and resources that are relevant to how they identify.
Offer underrepresented students and alumni what they need—based on what matters to them—at their own time, place, and pace.
Then populate those community pages with curated resources, like articles, videos, podcasts, events, LinkedIn Learning courses, Forage virtual job simulations, student stories, jobs, internships, and more. If you're a uConnect user and don't have time to find, vet, and curate those resources yourself, you can use uConnect's Identity Kits to do it for you.
In the GIF below, you can see how the University of Washington Career and Internship Center built out their LGBTQ+ community page. Note how they pulled in internal resources (like blog posts written by their team and webinars) and external resources (like LinkedIn Learning courses and Candid Career videos). More on that in the next section.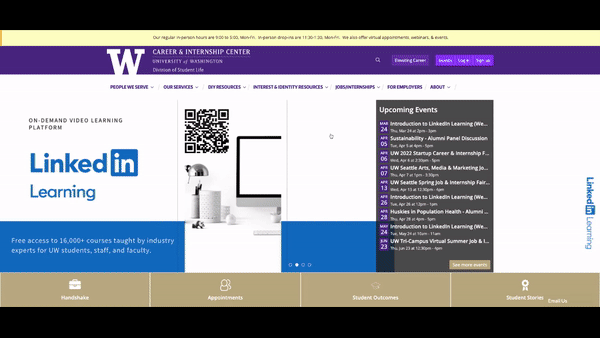 After launching their eight community pages in early 2020, UW's Career and Internship Center saw a 66% increase in overall users from 2020 to 2021. Several of their identity pages also saw massive increases in that time frame, including:
International students (107%)
Students of color (132%)
LGBTQ+ students (239%)
Powered by uConnect, the eight UW Career and Internship Center identity pages now have more than 820 subscribers (and counting).
Note: Make sure you partner with the communities and subject matter experts you're making identity pages for. Connect with relevant student organizations, alumni affinity groups, interested faculty and staff, etc. And be purposeful in how you name these communities (e.g. person-first vs. identity-first language).
2. Bring in content from a variety of sources
Another key way to make your virtual career center more inclusive is to bring in content from a wide variety of internal and external sources.
Internal sources could include blog posts, webinars, videos, podcasts, etc. created by career services teams, faculty and staff, students, alumni, and more. For example, if you're looking for content for your student veterans identity page, consider reaching out to the veterans center on campus. Chances are, they probably already have some great content you can help amplify or they can refer you to veteran-focused content providers they trust.
Sourcing content from a diverse group within your institution not only ensures that you'll get a lot of great content, but it also helps build bridges and awareness among other university stakeholders. The more they know about your work, the more they can help spread the word.
External sources could include:
External sources can also help bring a broader perspective to identity pages. Plus, piping in that content helps you scale your work (especially if you have a small team).
Fun fact: uConnect integrates with all of the external sources above (and more). Learn how you can use uConnect to build a more accessible and equitable virtual career center.
3. Integrate labor market insights
One of the best ways you can set students up for success is by giving them access to labor market data.
If you're using a regular CMS, you can link out to data from the Bureau of Labor Statistics. If you're using uConnect, you can pipe labor data directly into your website with uConnect's labor market insights (LMI) module, powered by Lightcast (formerly Emsi).
With the LMI module, students can search for job titles or occupation areas they're interested in and find the top skills, top employers, employment trends, annual earnings, and more associated with each one. They can make informed decisions about the majors they choose, the classes they take, the internships they pursue, the skills they learn, etc.
They'll know what jobs are most in-demand, which employers are hiring for those jobs, what skills are required, how much the jobs pay, where they're located, etc. They can even use the compensation data to negotiate salaries when they're interviewing for jobs or asking for a promotion.
By integrating labor market insights into a virtual career center (and making it available 24/7), career services teams can make sure all students, regardless of their background, go into their careers with a major competitive advantage.
Here's what the uConnect LMI module looks like on the University of Massachusetts Amherst Isenberg School of Management's virtual career center. Below, you can see what data is available for students interested in technical writing.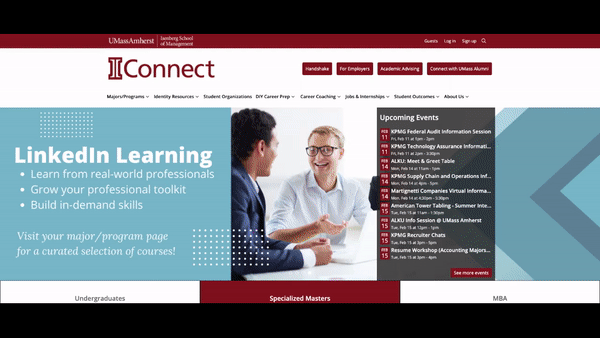 4. Pipe in skill-building courses
Not all relevant skills can be taught in the classroom. And sometimes, traditional curriculum has a hard time keeping up with the rapidly changing labor market and constantly evolving employer demand. That's why skill-building resources like LinkedIn Learning, Udemy, Coursera, and more are so important.
Many institutions leverage LinkedIn Learning courses within the uConnect platform to help students (and alumni) round out their skill sets and be more competitive in today's job market. If they also have access to the uConnect LMI module, students can search job titles that interest them, learn what technical and soft skills are most in-demand, and then use LinkedIn Learning to fill in any skill gaps they have. And they can do all of that in one place.
Schools that don't have uConnect can use hyperlinks to direct students to relevant skill-building courses. For example, if you have a marketing career page, add a hyperlinked list of five to 10 of the most relevant marketing-related LinkedIn Learning courses.
When all students have free, 24/7 access to last-mile skill-building resources like LinkedIn Learning, it helps level the playing field.
5. Curate hub pages for experiential learning
Unfortunately, traditional college ecosystems have made it difficult for students to access resources for experiential learning, mentors, and other key resources. The most persistent and involved students have to go on a scavenger hunt across different university websites to find what they need. Meanwhile, students with more limited time and awareness get left out completely.
To combat this, and make these opportunities more accessible to all students, career services teams should curate experiential learning hub pages. Put everything in one place.
With the right integrations (and the uConnect platform), you can feed in:
Virtual job simulations from Forage
Internships and jobs from Handshake
Student jobs from your student employment database
Volunteer opportunities and civic engagement from Anthology Engage
Mentors from PeopleGrove
Community-based learning or volunteering opportunities from their corresponding database
Research opportunities from your course schedule
And more
Then, using uConnect's tagging system, you can map these opportunities to your career or identity communities, so students can search for key resources in the communities that matter to them.
If you don't have uConnect (or even if you do), you can also source content from your colleagues across campus. Talk to faculty, academic advisors, and other staff, and encourage them to share ideas and content you can embed on your website or link to.
Did you know you can integrate Forage virtual job simulations into your uConnect platform for free? Learn more here.
6. Fill your community pages with people and stories
What better way to celebrate and highlight your identity community pages than to plaster them with real-world, human stories?
Interview students, alumni, faculty, staff, and employers who identify with your communities, and showcase them conspicuously and pervasively on your community pages. If you have uConnect, you can use uConnect's guest post feature to invite those stakeholders to easily publish directly on your platform.
As a result, your community pages will turn into real communities, and you'll lift the voices and stories of your community members for further representation and engagement. Win-win!
7. Highlight employers that are committed to DEI
Give your students a leg up by pointing them in the direction of companies that truly care about diversity, equity, and inclusion. You can base this on personal experience or knowledge, resources and databases like the Forbes "America's Best Employers for Diversity" list, feedback from your institution's DEI office, and more.
Include logos or call-outs for those companies on your career center website and on identity pages. Invite them to sponsor your virtual career center. For example, Spelman College added Wells Fargo (one of their sponsors) to their financial services community page after identifying Wells Fargo as an employer with strong, aligned DEI initiatives.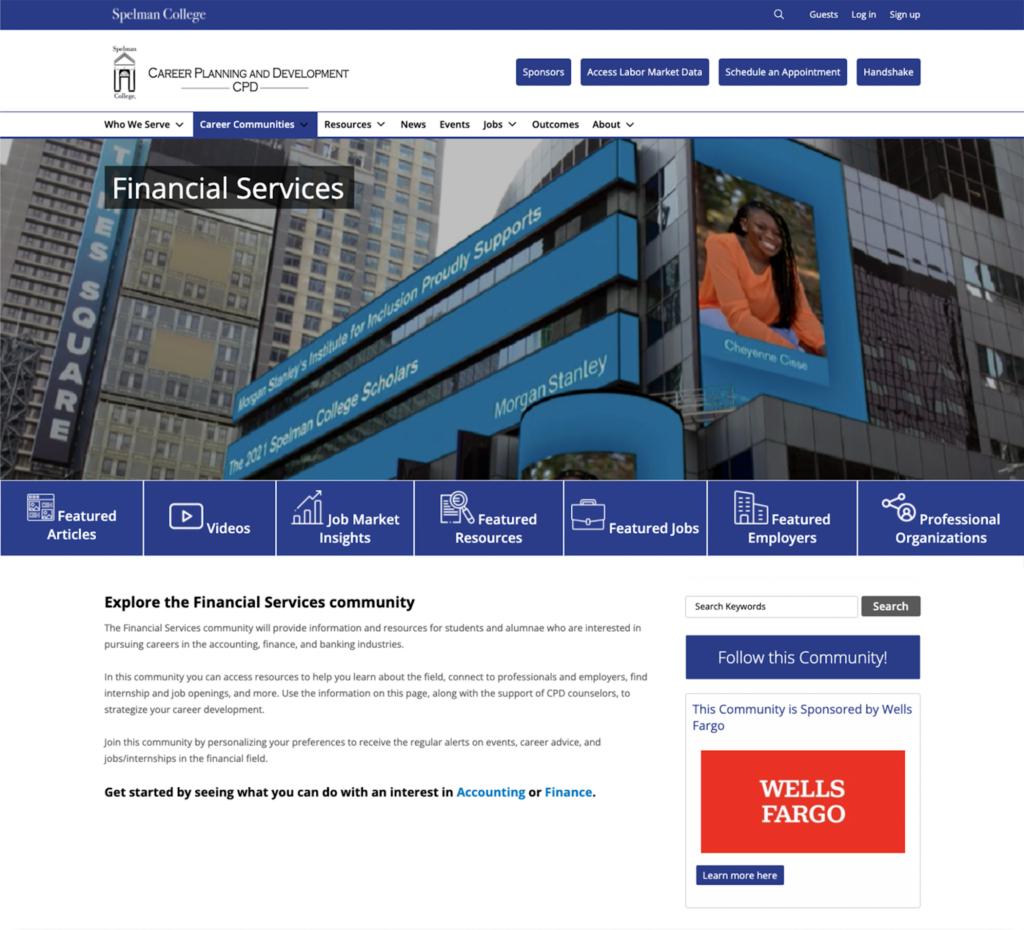 8. Promote your website across campus
If you build it, they will come… right? Not necessarily. That's why it's so important to make sure everyone on campus knows about your virtual career center. Send your website link to faculty, staff, and student leaders across campus. Send it to the enrollment management and alumni teams.
Ask them to share the link with their stakeholders, and/or ask them to include it on their websites. For example, the philosophy department could include a call to action on their website that says "Check out career resources for philosophy students" and links to the philosophy career community page on your virtual career center.
The more other groups on campus know about your virtual career center, the more likely it is that students will find it.
Conclusion
The world has gone digital in education, work, and beyond. It's now more critical than ever for career services teams to invest in a virtual career center and leverage it in a way that improves accessibility and equity. 
Looking to curate content for students based on their interests, identities, or backgrounds? Fill out the form below to schedule a demo and learn how uConnect can help.