For many years, the University of Washington faced a challenge that nearly all schools face: a student body with diverse career interests, aspirations, needs, and affinities – paired with a limited and often overextended team of career services professionals tasked with helping each student find a fulfilling outcome after graduation.
Add to that the ever-expanding field of potential career pathways and the rate of change in the job market that never seems to slow, and the University of Washington team recognized that finding a way to scale the support they offer was critical.
To scale the impact of all of the resources they were already offering by facilitating self-guided engagement, UW partnered with uConnect in 2016, and rolled out their virtual career center that Fall to their 48,000+ students. 
The way our uConnect platform has allowed us to scale our work is so powerful.

The virtual career center, now more than ever, is central to our team's success, and to the success of our students.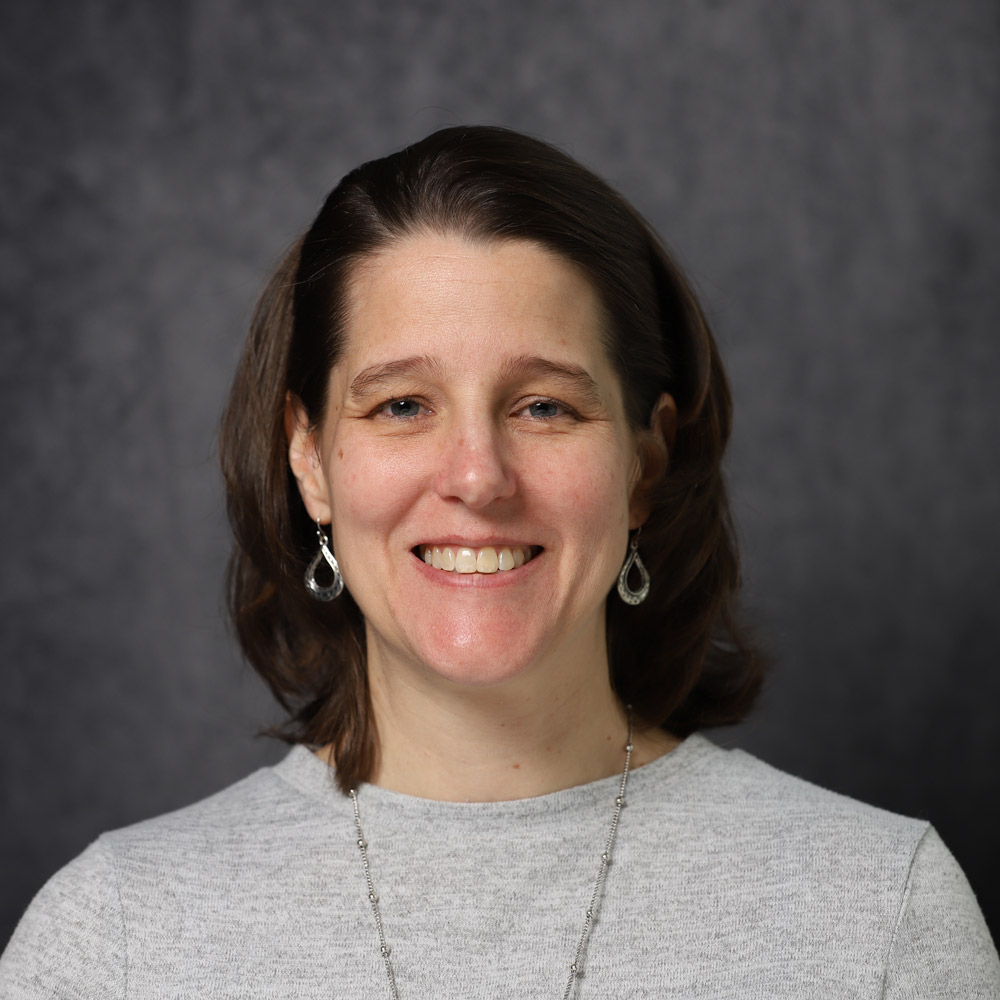 Briana Randall
Executive Director, Career & Internship Center
University of Washington
Consolidated resources, curated in communities
The new virtual career center serves as a single, online access point for all of UW's career services, sourced from multiple career tools implemented across campus, to bring together resume review tools, interview preparation resources, internship and job opportunities, and career exploration advice and insights through dynamic digital content like blogs and videos.
This wealth of content is available to students anywhere, anytime.
"Students want to access information on their own time," said Susan Terry, who served as the Executive Director of the Career Center at the time of UW's uConnect launch. "Through our website, developed by uConnect, we have this fabulous opportunity to reach students at any time of day or night."
Content on the virtual career center is organized into digital communities, within which students can browse the full range of content, all curated around one interest, such as consulting and business, or affinity and identity, such as LGBTQ+ or student veterans. This method of organization greatly enhances the scale of UW's career services, allowing students to easily conduct self-guided search and discovery based on their unique aspirations and identities.
175,662 visitors racking up 874,754 pageviews in the first academic year alone – an instant success
Scaling the power of student outcomes data
The early and continuing success of the virtual career center inspired UW to add more resources to the digital hub, leveraging uConnect's wide range of integrations.
In the fall of 2019, UW embedded their historically aggregated NACE First Destination Survey data into the platform, allowing visitors to access filterable, dynamic data visualizations showcasing the career pathways and outcomes of recent UW graduates. This data, which is incredibly valuable in myriad ways for prospective students, current students, and the institution, was previously available only when requested – in spreadsheets or static PDFs which required manual creation and distribution by staff. By adding the data in a dynamic, publicly available format to their virtual career center, UW made this powerful information readily available to all stakeholders, so as to scale its benefits and increase transparency.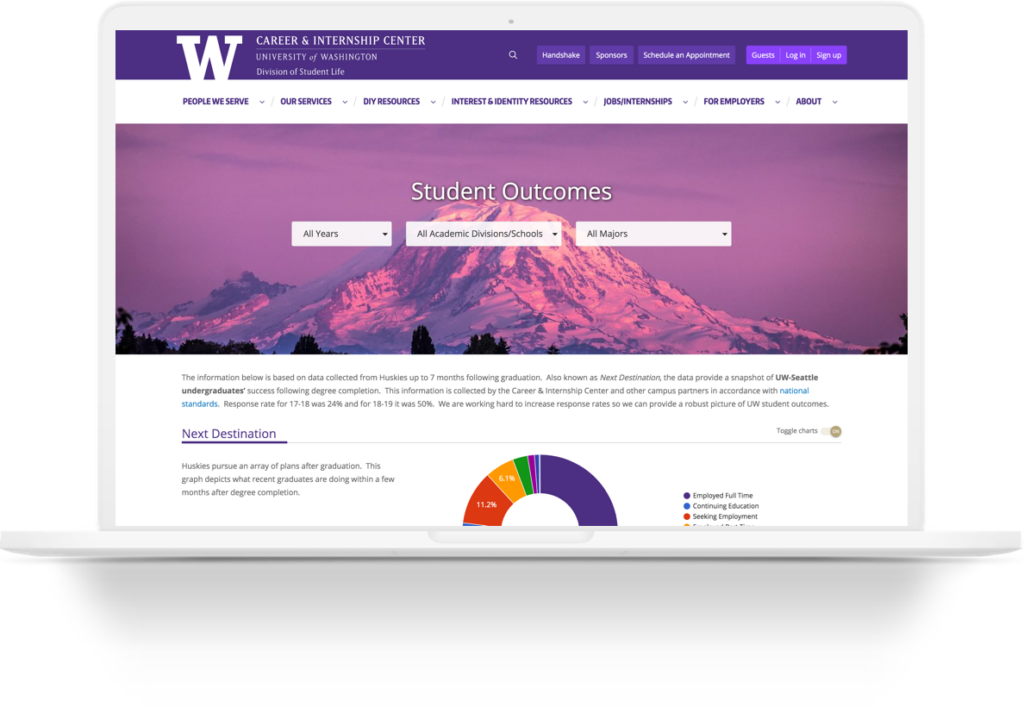 Building a library of career content, data, and opportunities
In an effort to provide students with a wide variety of career resources, UW has leveraged many of uConnect's key integrations, including alumni mentors from PeopleGrove, industry guides from Firsthand (formerly Vault), and more internship and job postings from Handshake.
When the pandemic set in, the team's commitment to curating digital content (in their communities and elsewhere) grew even further. Here are some of the additional steps UW took to expand the content available in their virtual career center and enhance the career exploration experience on their virtual career center:
Blogs and advice
Briana and her team were intent on enabling their staff to share more recommendations and advice digitally, in essence ensuring those insights could add value in perpetuity, as opposed to those shared in-person that rarely extend beyond the moment they're delivered. To do so, they enhanced their use of uConnect's content management tools to create content in-house, and also took advantage of the extensive library of content from trusted third-party sources such as The Muse and WayUp that is available within the uConnect dashboard.
Videos
With video consumption at an all-time high, UW has invested heavily in video content. While some of their videos are created in-house, much of UW's video library is populated by career information videos from Candid Career. Candid Career's videos, powered by interviews with subject matter experts, explore different careers, industries, skills, workplace best practices, and more.

"Candid Career videos have been an incredible resource for our students, giving them in-depth information—directly from the source—about hundreds of different job types and industries. And uConnect has helped us improve student engagement by making it easy for our team to strategically curate all of our digital content, including Candid Career videos, into our career interest and identity pages," Randall said.

In fact, since UW began adding Candid Careers to their platform in October 2020, they've seen a 219% increase in video views. (Comparing embedded video views between January-October 2020 and January-October 2021)
DIY resource pages
Briana and her team curated 6 new "DIY Resource" communities, organized and titled strategically to plants seeds about the tasks in which they want students to engage, such as "Find Purpose" and "Build Relationships."
Labor market insights
Leveraging uConnect's Labor Market Insights module (powered by Lightcast, a leading provider of labor market data), visitors to UW's virtual career center can now explore dynamic, filterable, and up-to-date data on the salaries, demand, education and skill requirements, and more for specific careers, through data aggregated from across the nation. 
LinkedIn Learning
To help students complement their classroom education and skill-building, UW added LinkedIn Learning to their uConnect virtual career center in 2021 using uConnect's LinkedIn Learning integration. Now, UW students and alumni can now choose from thousands of online courses for everything from mastering common interview questions to building a LinkedIn profile to learning Python, and more.
533% increase in pageviews across communities
After getting feedback on the initial version of their interest and identity communities, UW expanded and re-launched their communities in 2020—to massive success. Comparing the 2019 and 2020 academic years, UW saw an astounding 533% increase in pageviews across communities.
Continued evolution
In the seven years since the University of Washington partnered with uConnect, the two teams have worked hand-in-hand, continuously evolving to enhance UW's delivery of customized, high-impact career services to all students, at scale.
And engagement with UW's virtual career center has continued to grow year-over-year since their launch in 2016. For example, comparing 2017-2018 to 2020-2021, UW saw a 56% increase in users on their site. Comparing 2020-2021 to 2022-2023, they saw a 40% increase in users. From 2020-2021 to 2022-2023, they've also seen a 66% increase in pageviews.
Clearly, UW's students, alumni, faculty, staff, and other stakeholders continue to find value in the virtual career center—powered by uConnect.