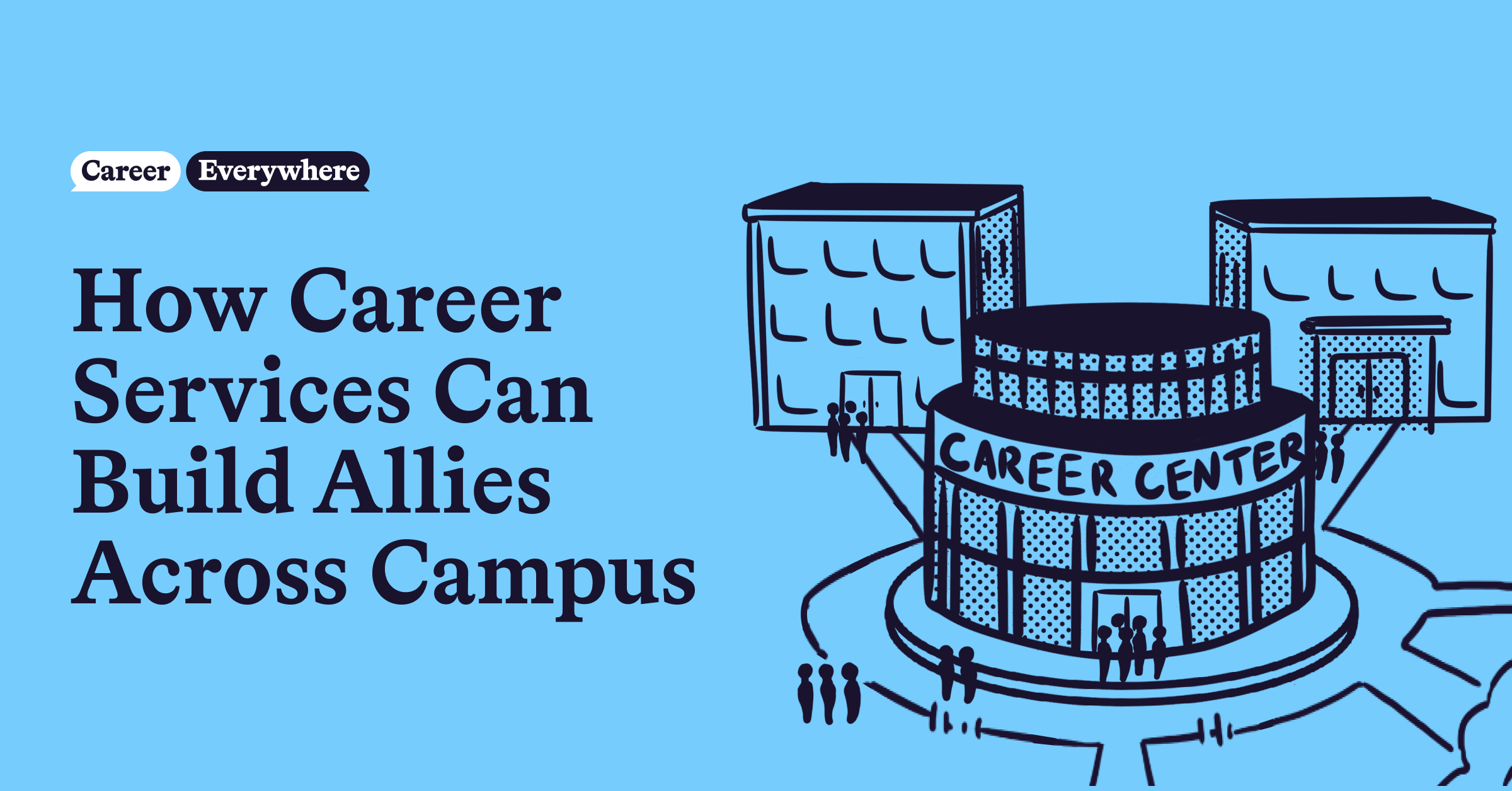 While every student on campus has a major and individual interests, most have one thing in common: the desire for a great career after graduation. Because of this, career services is a critical function to student success, yet it's often underresourced, understaffed, and relegated to the proverbial (or literal) basement on the outskirts of campus. Out of sight, out of mind.
To build visibility and viability, relationships with other teams and departments across campus are critical to the success of career services. Career center teams can't reach thousands of students on their own! They need help and support from other groups on campus, like admissions, alumni relations, academic affairs, faculty, staff, senior leadership, student clubs, athletics, etc.
However, it can be difficult to build cross-campus relationships. Expanding one's network takes time and intentionality, there's always that fear of rejection, and it can be hard to know where to start (or who to start with).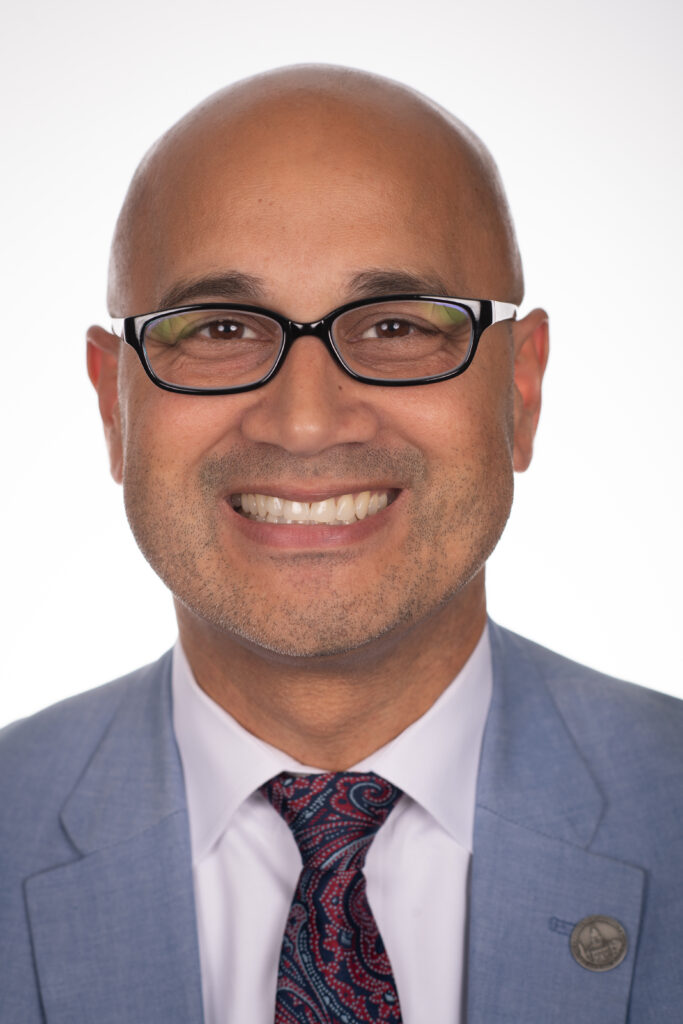 Junior Delgado, the Director of the Career Center at Westfield State University, knows this better than anyone. After 20+ years at Westfield, Delgado has honed his process for building allies across campus and leveraging those relationships to build a campus-wide culture of career readiness (also known as Career Everywhere).
As a result, more students are walking into the physical career center or engaging with Westfield's new virtual career center. And more faculty and staff have a better understanding of what the career center can offer. That's why we sat down with Delgado in a recent episode of the Career Everywhere podcast to get his best advice for building strong allies across campus.
Here's what he had to say.
Why is it important for career services to build allies across campus?
We know students often turn to faculty or staff first for career advice—especially faculty. But faculty and staff aren't always equipped to have meaningful career conversations with students. That's why it's critical for career services to build relationships across campus and empower others with the knowledge and resources they need to have those conversations with students. That way, anyone who could potentially come in contact with a student is better prepared to talk to them about career.
"We're building a career network. It isn't just the four or five staff members in the career center selling the message. It becomes a university-wide message," Delgado said. "We want to build as many allies on campus as possible so their message spreads to all of their students in every facet. Whether you're an art student or you're a health science student, or you're the PA student, you understand that the institution is there for your success."
How career services can build allies across campus
Over the years, Delgado has built up a toolkit for recruiting allies to his cause. Here are a few of his favorite strategies:
1. Be genuine
In an age of social media, a lot of interactions seem manufactured, and people can see through that. Delgado has found that genuine interactions, both big and small, make a big difference to building relationships.
"What I mean by genuine interactions is actually taking the time to care about those around you, whether that is a colleague, a coworker, a student, a prospective student, or a prospective family," said Delgado.
In his experience, even simple questions such as, "Good morning, how are you doing?" or "How was your weekend?" or "How was that test?" or "How was your athletic contest?" can make a big difference in forging relationships. What's important is taking an interest in people.
This also means listening to what they're saying. The necessary complement to asking questions, Delgado said, is "Being able to genuinely listen, but more importantly, actively listen, to what people are saying. This is no surprise. Being present in the moment with that individual is also important to genuine interaction."
2. Lean into your interests
While it's important to build relationships across all academic units where possible, the ally-building approach can really shine when you lean into your own interests. Delgado, for example, is particularly interested in athletics, so he often goes to sporting events on campus and will introduce himself to potential allies he sees at the games. Then he'll follow up in more detail via email. (Because nobody wants to talk shop at an extracurricular event.)
"There is a value in students seeing you in places that are outside of a classroom," Delgado said. This goes for faculty and staff contacts, as well.
Aside from athletic events, other ideas include special programs around campus, theatre or music performances, undergraduate research events, faculty research or creative presentations, award presentations, or gallery/museum openings.
3. Get to know your team and their networks
Whether you're brand new to a position or 20 years in like Delgado, it's just as important to get to know your own team as it is to reach out to others on campus.
Partly, knowing the strengths, weaknesses, and interests of those on your team can help you strategize workload and become a better leader. But getting to know your team also capitalizes on network effects, since your team is out building relationships on campus as well. The people they meet become part of your overall impact.
"You're not going to know who's being impacted or who are the people that you're working with if you don't have those conversations with your own staff," said Delgado. "So getting to know who your team is, is to find out who their network is—because you're always trying to expand and grow your own network."
4. Prioritize which groups/departments you want to reach out to first
While it can be tempting to lay ambitious plans to reach out to 100% of campus groups and departments in the first year, that isn't always sustainable.
Instead, Delgado recommends picking three departments to reach out to in the first year. Then, once inroads have been made and relationships developed, you can evaluate what went well. In the second year, use those insights to build relationships with three-to-five more departments. And so, you slowly begin to build that network.
How do you prioritize which departments to reach out to first? Since you're likely going to reach out to several faculty members and individuals in that department, Delgado focuses on departments where the faculty members themselves have wide networks based on interests.
"You might take a department like business and you could have faculty members that have varied interests from their field of research," he said.
5. Reach out to potential allies in-person and via email
When reaching out to new potential partners, Delgado uses a combination of in-person conversations, stopping by offices, attending events, and email. In-person conversations are often short and focused on the other person's academic or campus interests. Then Delgado follows up via email.
Emails, Delgado has found, must be tailored and to the point. Don't waste people's time by delivering a "fancy" email. Tell people what you want and be direct, because if it's not clear, then it's not a priority for people to answer.
"Another tactic I have found to be effective is when another individual on campus introduces you to that new person," he said. Again, the network effect pays off.
How career services can leverage their allies across campus
Once you've cultivated relationships with faculty and staff across campus, you create additional access points for students. These can include:
Creating opportunities to meet students where they are. For example, you could hold office hours in the veterans center or with student-athletes. This gives students a chance to learn about your offerings without the intimidation factor of heading directly to the career center.
Speaking in classrooms. Delgado's team has developed several presentations that are easy to take "on the road." Through collecting student questions via notecards, Delgado found that many students have the same questions regarding careers and the career center, making it easy to put together a master presentation.
Partnering with student clubs and organizations. Often, there are student organizations on campus that are interested in a specific career area. These clubs are eager to learn more about how to progress into their chosen profession.
Start a Career Champions program. Some career centers will formalize these allies/relationships into a Career Champions program, such as the one developed by Nancy Bilmes at UConn.
Partnering with admissions. Building inroads with the recruitment and admissions units can provide opportunities to introduce career conversations from the beginning of a student's time at the institution. For example, Illinois Institute of Technology's career team partners with admissions to center the university's entire recruitment strategy around career readiness. As a result, Illinois Tech drove its highest enrollment in decades last year. Delgado also occasionally goes out to regional high schools to talk to students about Westfield, either with admissions or on his own as a representative of the university.
Conclusion
Ultimately, recruiting a wide net of allies positions career conversations, and the career center, in a more visible role across campus. Building relationships with everyone from faculty members to athletic staff to even the person emptying the trash in a student lounge ensures that career conversations can happen everywhere on campus.
"It's important for me to understand that the message we share isn't just for students, isn't just for faculty, isn't just for staff," Delgado said. "Because we all have a part to play in educating our students and making sure that when they leave this university, they are at least prepared for life or ready to undertake whatever they're going to do when they move on."
For more Career Everywhere ideas, check out our podcast.
To learn how uConnect can help you engage faculty, staff, and other stakeholders across campus, fill out the form below to schedule a demo.