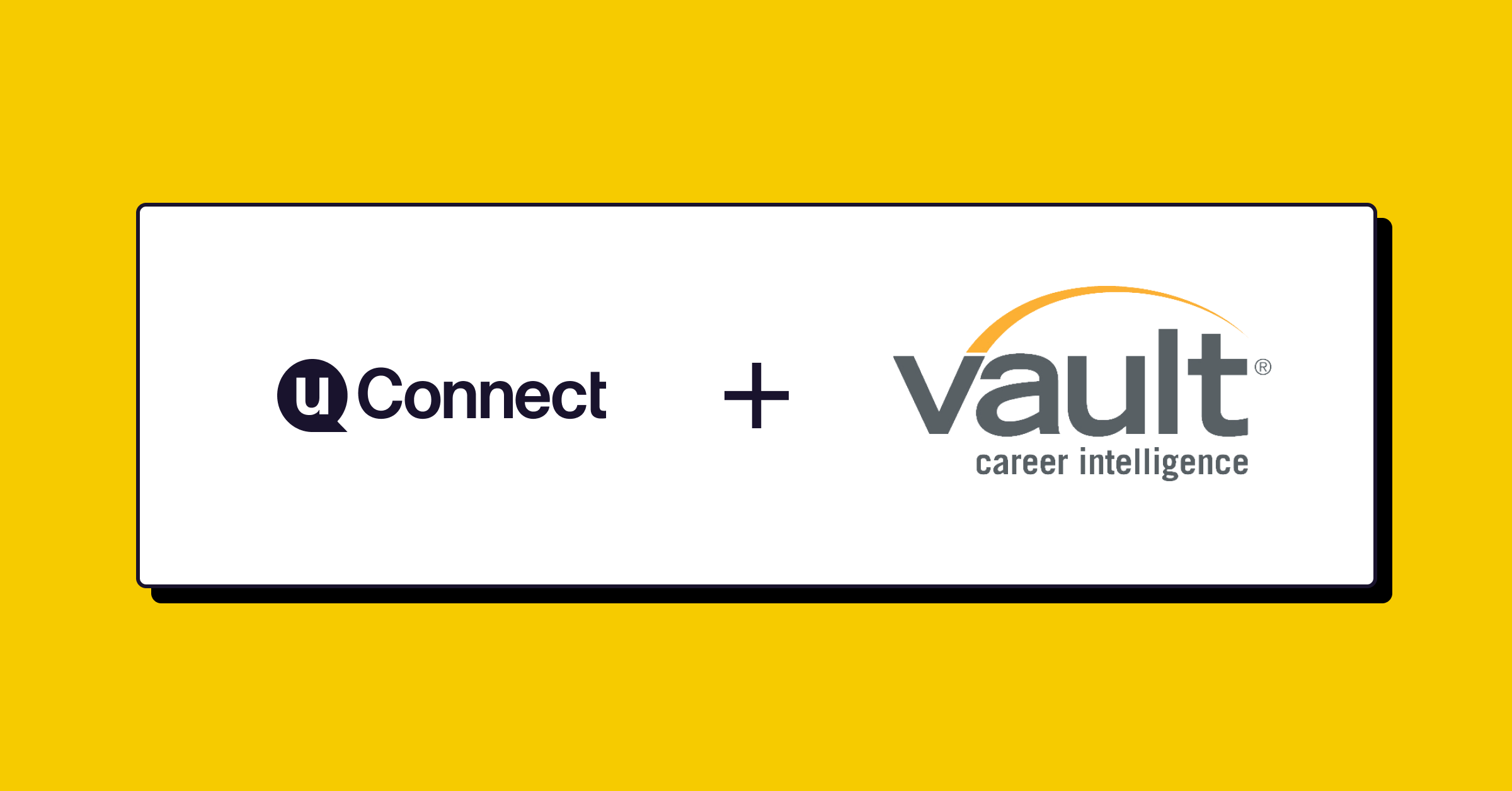 Career development has become one of the dominant consideration for colleges and universities across the country. In a recent survey conducted by Gallup and Strada Education Network, 86% of students said career advancement was a primary factor in their decision to enroll in higher education. Yet, only a third of students feel confident they will be successful in the workplace upon graduation.
Two companies on a mission to improve career development and outcomes for students have joined forces in an effort to ensure more students have the information they need to make informed career decisions.
uConnect developed the first and only career services marketing system for higher education. Schools use uConnect to make their career resources, data, and information more visible, accessible, and universally effective in guiding students to meaningful outcomes.
"We're really excited to welcome Vault to our partnership program to help our mutual university partners showcase the great career information from their Vault subscription, to inform and inspire more students and alumni," said David Kozhuk, uConnect's Founder and CEO.
Vault is a research and publishing company that provides in-depth intelligence on what it's really like to work in an industry, company, or profession; as well as practical career development advice.
"At Vault, we help students and professionals succeed by equipping them with accurate and up-to-date career and workplace information. Through our partnership with uConnect, not only will more students be able to access this information, but it will be easier for them to do so, leading students to better and more intentional outcomes," says Frank Siano, Vault's Associate Director of Enterprise Licensing.
Career content is aggregated and presented on the uConnect platform using a 'Community' model, in which resources, news, opportunities, advisors and mentors are curated into digital Community pages, where visitors can browse all genres of career development content aligned to a specific career or identity interest. The platform is open access, which means that finally, referring students to the right resources at the right time is straightforward and easy for faculty and advisors—they need to visit just one website. The platform drives engagement with all of the valuable tools and resources offered on campus, which provides a benefit to both the student and the institution. Students develop greater confidence that they will succeed in the workplace upon graduation, and engagement drives persistence, retention, and career readiness.
"By integrating Vault guides into our uConnect platform, we've increased student awareness and usage of these valuable resources," said Kim Austin, Director of the Mays Business School Graduate Career Management Center at Texas A&M University, the first institution to combine the forces of their uConnect platform and Vault guides. "This is not an insignificant accomplishment, as it means that more Mays business students are making thoroughly informed career decisions, and are entering the working world with an in-depth understanding of what to expect when working in their industry of choice."
The new integration between Vault and uConnect automatically pulls Vault's guidebooks into the uConnect platform where they are positioned among other relevant career development content, in the appropriate career communities. This approach contextualizes and increases the visibility of the Vault guides, in turn boosting student usage of them. Importantly, integrating the Vault guides into career communities also encourages students to take action on the industry insight they've gained from the Vault guidebooks by surrounding them with opportunities and career development tools that can help students take tangible steps towards a career of their choice.
"At uConnect, we believe engagement with campus career resources can have a transformational impact on a student's pathway to and through college. So our goal is to make sure the career resources schools offer their students are more visible, accessible, and universally effective in guiding students to meaningful career outcomes," said David Kozhuk, founder and CEO of uConnect. "Vault's guides provide critical exposure to a variety of jobs and industries, introducing students to career paths they never knew existed. This can be a powerful motivator for students, especially those who haven't had this influence in their family or personal lives."
See the integration in action on one of the University of Pennsylvania's career communities.