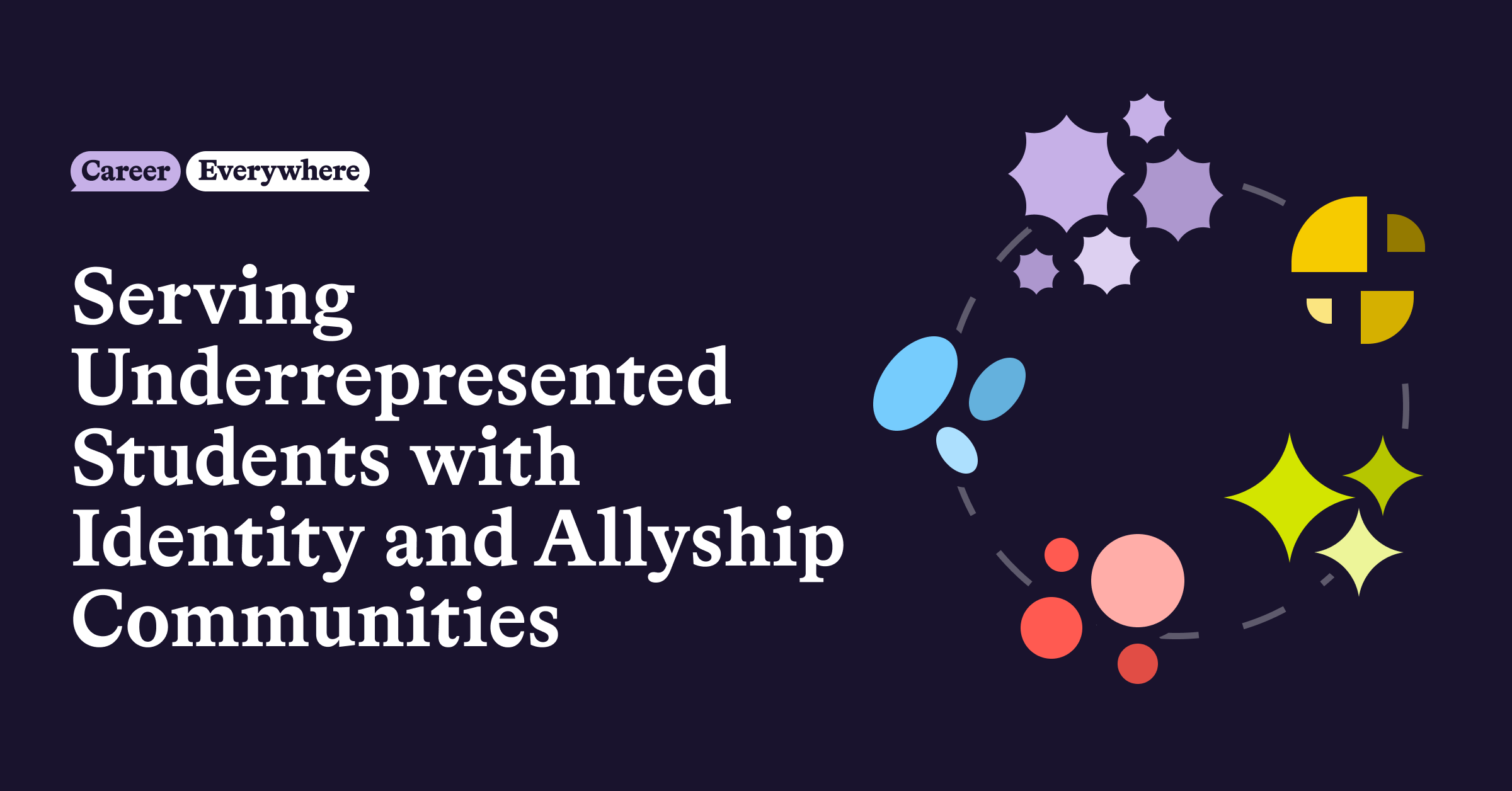 For Daniel Pascoe Aguilar and his colleagues at Excelsior University, working in career and professional development in higher education is a form of social justice.
It's about ensuring all students have equitable access to the resources they need to build meaningful lives and careers. In fact, according to a Gallup survey, 87% of the world's workforce is struggling to find meaning in what they do.
That's a staggering number.
A longtime career services leader, Pascoe Aguilar is now the Founding Director of the Center for Social Justice and Chief Diversity Officer at Excelsior University. Excelsior is a private online institution that "provides educational opportunities to adult learners with an emphasis on those historically underrepresented in higher education."
As part of that mission, Pascoe Aguilar launched nine identity and allyship communities last year via Excelsior's website (powered by uConnect) to help support underrepresented students. We recently sat down with him to learn more about what the communities are, how they were built, what resources are offered, why they're so important, and more.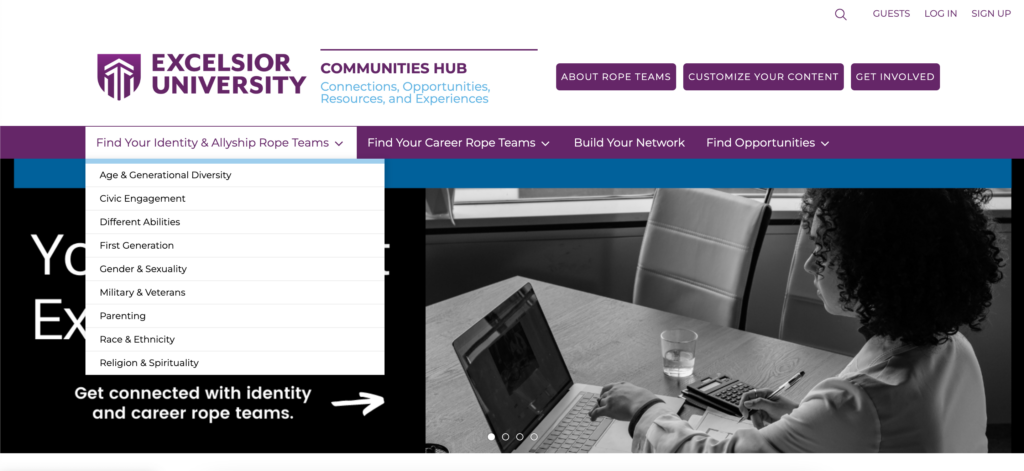 What are identity and allyship communities?
Identity and allyship communities are webpages (and often physical communities, too) designed to help students find career and life resources relevant to how they identify and what's important to them. These communities provide resources, connections, peers, opportunities, labor data, and experiences to put a scaffold in place around all students in their development and to prepare them as the next generation of leaders.
Excelsior's identity and allyship communities are largely based around identities, although there are additional groups centered around career interest. Excelsior's current nine identity and allyship communities are:
Because Excelsior is an online institution, so are the Community Hub webpages. Each page includes interactive widgets to help students find resources, events, community connections, career and internship opportunities, podcasts, and more. The pages are designed to get students interacting, which includes encouragement to check out other groups that may intersect with their primary interest, a way to share their story (and view stories from other students), and customize their space with recommended content tailored for their interests.
"We're trying to build a community around the student," Pascoe Aguilar said. "And keep in mind, at Excelsior, students don't have the opportunity to walk on campus and come across a faculty or a staff member. We're an online institution. So this allows us to create an online campus for them. It's a village that they otherwise wouldn't have except for the interactions they have in the classroom and the interactions they have with their advisors."
The main focus for Pascoe Aguilar is to encourage students to get involved and contribute to the identity and allyship communities.
"We have conversations and events and activities that allow for each community to flourish and to feel like an actual community, not just a webpage," Pascoe Aguilar said.
Learn more from Pascoe Aguilar about how he built Excelsior's identity and allyship communities in his episode of the Career Everywhere podcast.
Why are identity and allyship communities important?
According to Pascoe Aguilar, when we think of the future challenges we need to solve, and why we're preparing our next generation of leaders, it becomes imperative to engage everyone in this work.
"Our future talent will determine what our world looks like, our planet, our society, our democracy, our international relations, poverty, hunger, all the systemic issues that we're facing," Pascoe Aguilar said.
From his perspective, there is not enough diversity of perspectives, backgrounds, experiences, and skills at our decision-making tables. As a result, interdisciplinary decision-making, or the ability to think in multiple ways about the solutions that we need to generate, becomes one of our most important societal endeavors. We can see Career Everywhere as a mandate that requires us to be leaders in our communities.
To do this, colleges and universities must support diverse students on campus. Merely recruiting students from diverse backgrounds is not enough—all higher education professionals must also work on scaffolding an experience that helps underrepresented students learn and trains them for future leadership.
Pascoe Aguilar knows this first-hand, as he was an international, neurodiverse college student.
"I grew up with dyslexia," he said. "The education system wasn't designed for me. And figuring out how to circumvent the system to try to survive, it was a challenge. I would've loved to have something like [these communities] that told me, 'You matter. We care about you. We're scaffolding your experience, and there are many others who are here ready to support you and with whom you can walk this difficult journey.'"
Pascoe Aguilar has been guided by the observation that ​​as soon as someone in the United States earns a bachelor's degree, their unemployment rate drops to half and their wage doubles. The day they get a diploma, they enter a different bracket. That's what makes higher education in general—and identity and allyship communities, in particular—so important. It's a transformative opportunity for anyone who has access.
That's why the identity and allyship communities (along with the rest of his work) are now part of Excelsior's strategic plan.
"We're facilitating the university's process of becoming a multicultural organization. We're building an application sandbox in which everyone can engage and, at the same time, enhancing the robustness of the village that we're building around our students and alums," Pascoe Aguilar said.
In the future, Pascoe Aguilar said he plans to launch a full portfolio of 20 communities (nine identity and allyship communities and 11 career communities).
Conclusion
How do you get started building out greater equity in career services at your own institution? Whether it looks like identity and allyship communities or another framework entirely, Pascoe Aguilar has two major pieces of advice:
You're not in this alone (reach out to colleagues at other institutions)
Just get started
"When you identify concrete ways of highlighting and elevating the student experience—particularly our underrepresented student experience, our underprivileged student experience, our marginalized student experiences—when you find concrete and attractive ways of engaging the community and building that village, take it and run with it," he said.
Learn more from Pascoe Aguilar about serving underrepresented students in his episode of the Career Everywhere podcast.
Looking to better engage underrepresented students? Fill out the form below to schedule a demo and learn how uConnect can help.