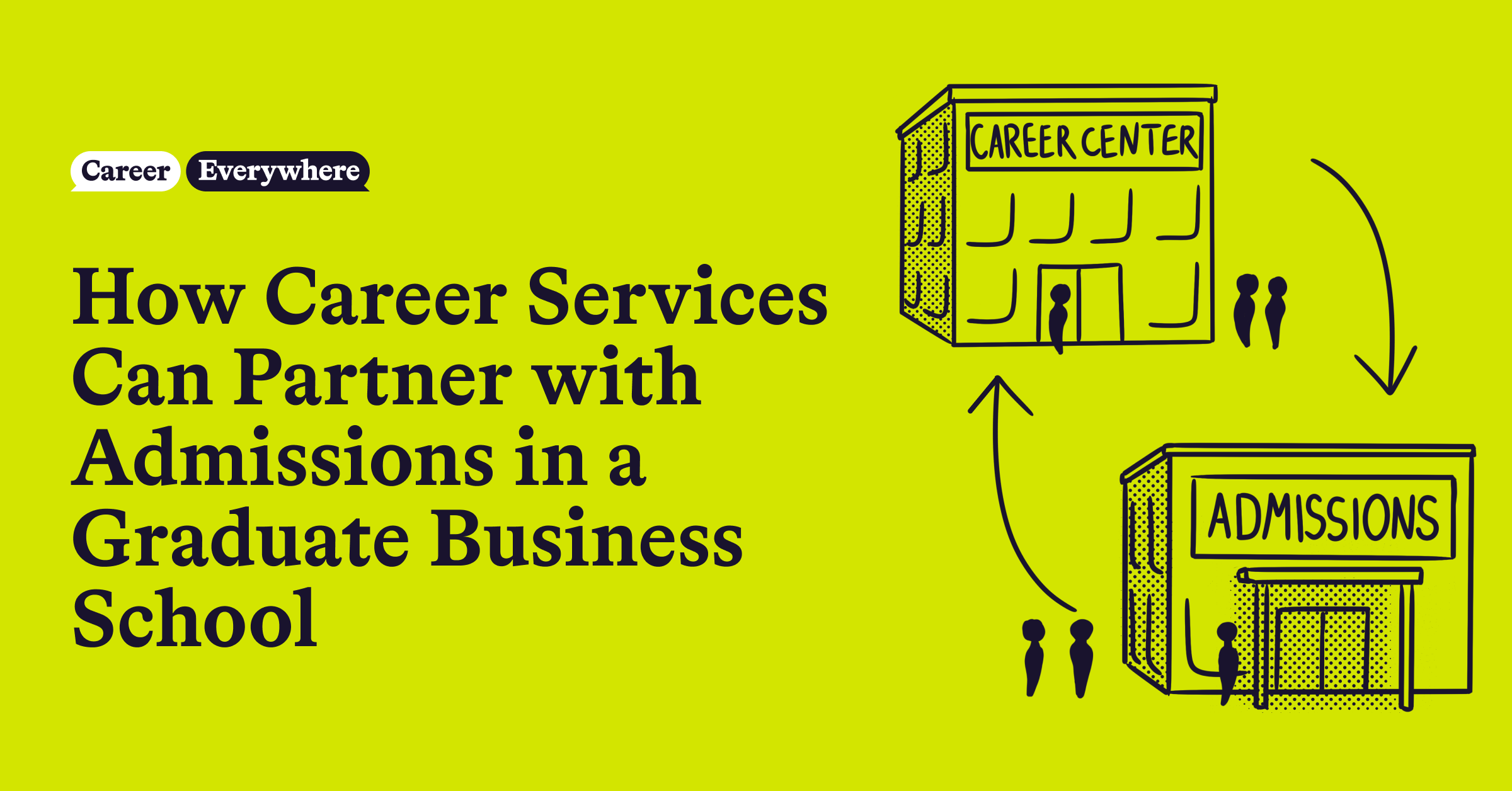 When it comes to building partnerships between career services and admissions in a graduate business school, Toni Rhorer has the experience.
As the current Executive Director of the Career Management Center for the UC San Diego Rady School of Management and formerly of Duke and Arizona State, Rhorer's 15 years of working and leading in career services, mostly in graduate business programs, have given her a wealth of knowledge on building partnerships with the admissions team.
In a recent Career Everywhere podcast episode, Rhorer shares why it's so important for career services and admissions to work together, what interview questions she asks potential students, and how a strong partnership can benefit any graduate business program.
Why is it so important for career services to partner with admissions in a graduate business school?
It's no secret that rankings and career outcomes play a significant role in a student's decision about where to get a graduate business degree. After all, anyone seeking a professional degree is likely doing so to advance their career, increase their salary, make a career pivot, etc. A clear ROI is important.
Great career outcomes lead to great rankings, which leads to more applicants, which ideally leads to more great outcomes, and so on. It's a cycle that every graduate business school is familiar with. And the schools that are most successful in maintaining this positive cycle are the ones with a strong partnership between admissions and career services.
"What makes a good student profile on paper might not necessarily make the most competitive applicants in the job pool. So the benefit of admissions partnering with the career team is we are out in the market," Rhorer said. "We're talking with employers. We're meeting with hiring managers. We're talking to alums about their experience, and we're able to bring that perspective back to the admissions team to say, 'Yes, here's maybe a profile that's going to make someone successful in the academic program. But here's what the market's looking for, and how can we make sure those two things are aligned.'"
Because graduate business programs are such a targeted interest, class sizes tend to be small and cohorts tend to form tight bonds over the (typically) two-year-long program. When admissions and career services work together, they can be especially mindful and purposeful about how they build those cohorts.
Plus, a strong partnership gives candidates a more streamlined experience with the school and the process of applying overall. Having those diverse perspectives in the admissions process will attract students who are not only successful in the program but can also be successful in the workforce.
"A good partnership requires support and buy-in from the leadership in understanding that both admissions and career services are important to building the right profile of the class," Rhorer said. "The admissions team and the career team may have our own metrics for measuring success, but we also need to come together to make sure we all have the same shared goals for the program."
Three ways career services can partner with admissions in a graduate business school
How might an enterprising career services professional start building partnerships with admissions? It starts by earning trust.
"Coming in in a new role, building a new team, I knew I needed to build trust with people pretty quickly," said Rhorer, who joined the Rady School of Management about a year-and-a-half ago. "And I think in order for people to allow you to come in and help advise and help with those processes, they have to see you as credible in what you do."
This can include not making assumptions about what others know (or don't know), bringing data, and demonstrating how career services experience and information can benefit admissions.
From there, partnerships can look as unique as the people and programs in your specific educational environment. Here are three ideas to get you started.
1. Embed career services professionals into the candidate interview process
As you work to build relationships with the admissions team, consider including one or more members of the career team in candidate interviews (if the career team has the capacity for that). With this approach, you can influence the interview process to include career-related questions. And with one of your expert team members on the committee, they'll be able to get a better sense of how a candidate thinks about career and life after graduation.
2. Add a member of the career services leadership team to the admissions committee
While this approach may take some time to accomplish if you're starting from scratch, it's helpful for career services leadership to have a seat at the admissions table. Not only does this approach make career services more visible, it provides more opportunities to explore partnership opportunities or other ways to enhance the recruitment process with career information.
3. Make sure a career coach and/or career leader are present at admissions events (in-person and virtual)
Because the prospective students who apply to a graduate business program tend to be more career-focused, they'll often ask career support questions at admissions or recruitment events. Having one of your career services team on hand to give presentations and answer questions will do a lot to proactively meet prospects' needs. This information helps prospective students feel supported and confident they'll get the career support they need.
To learn more about how career services can partner with admissions in a graduate business school, check out Rhorer's episode on the Career Everywhere podcast.
Five questions career services leaders should ask candidates in a graduate business school admissions interview
The reason graduate business schools exist is to provide business talent to the business community. That's why faculty and program directors work closely with business leaders through advisory boards or alumni to shape the curriculum so programs reflect what employers want to hire.
Rhorer took a similar approach when addressing admissions criteria and interview questions. To research the main competencies requested by employers, she took a sample industry (consulting) and compared the competencies requested on their career pages to the competencies promised by peer institutions. Eventually, she ended up with five competencies that aligned with what the market said it wanted, what students are interested in, and what graduate business schools can teach.
The five competencies are: business aptitude, motivation and goal setting, problem-solving, inclusion, and impact.
While Rhorer can't publish the exact questions she asks in an admissions interview, here are five example questions she shared, along with the competencies they evaluate.
1. Imagine you are the CEO of your current company. What are three things that keep you up at night?
What it measures: Business aptitude
While not every student in a graduate business program needs to have a business background, they do need to be interested in "the business of business." Rhorer said she asks this question to assess intellectual curiosity and to gauge if the candidate has been paying attention to what's going on in the economy.
"Have they done their research? In their own company they're working in, do they know what's happening and how different trends in the industry are affecting their business, their products, their customers? Can they think broadly?" Rhorer said.
Rhorer said she then follows up with more probing questions to gauge coachability and see how the candidate takes direction.
2. Why do you want to get a graduate business degree? Why do you want it now?
What it measures: Motivation
Unlike an undergraduate education, which allows time for exploration and major changes, a degree from a graduate business school requires focus. With a compressed time period and specialized curriculum, students have to make decisions and set goals quickly in the program.
Rhorer said this set of questions helps her assess whether an applicant has really considered how this program will help in their career. A follow-up question might be, "Do you understand what this degree can help you do?" Rhorer said students don't need to have a specific job or title in mind, but they should have a clear motivation for why they're pursuing the degree.
3. Tell us about a time you solved a difficult problem.
What it measures: Problem-solving
Digging into a candidate's problem-solving process can reveal a lot about how they might perform in a graduate business program. How do they approach problem-solving? Who do they ask for advice? What information do they consult? Do they include perspectives from their team?
Much like the workplace, graduate business programs are rigorous and involve a lot of teamwork and problem-solving. This is a great question for career services leaders to ask to ensure they're building a cohort of students who can translate those problem-solving skills into the workforce.
4. Tell us about your proudest accomplishments and the impact you made along the way.
What it measures: Impact
"Companies are looking for people who are results-oriented. They want people who are interested in making an impact in their work," Rhorer said. "And it's the same in a business school. We want people to make a difference, and we're not looking for students who just want to come in and get a degree and leave."
By asking applicants about their previous impact, career services leaders can gauge their level of interest and commitment to what they do. Will they join clubs? Will they be active participants in the program? What kind of legacy will they leave as alumni? This ensures an active student body and thriving programmatic ecosystem.
5. What does it mean to you to work with a diverse team?
What it measures: Inclusion
Applicants will encounter diverse teams in a graduate business program and on the job. Building a good team, and being an inclusive team member or leader, can be the difference between success and failure on a project.
So asking questions about working with diverse teams, especially how applicants advocate for members of their team, can be a revealing prospect. Good follow-up questions include, "How do you make people feel heard?" and "How do you encourage varying points of view on your team?"
What are the benefits of career services partnering with admissions in a graduate business school?
A partnership between career services and admissions benefits both teams, students, and ultimately, the graduate business program as a whole. Here are a few key benefits.
1. It helps with programming and content creation
Career services gets to know students earlier in the process, which can give them more time to adapt their content and programming based on the specific needs of the incoming class. For example, if they know they'll have more younger students coming in, they might need to focus more on early decision-making and helping them explore.
2. It's a differentiator during recruitment
When prospective students inevitably ask about career outcomes, career and admissions leaders can certainly share outcomes data (if they have it). But Rhorer also suggests responding with a message like, "What you really should be thinking about is how the career team's going to support you while you're here." Then she shares a link to the Rady School of Management's virtual career center for a taste of what they can expect.
Those digital resources, plus the career team's physical presence at recruitment events, gives prospects something to assess across the board when they're comparing schools.
3. It improves integration and communication across the program
When two major components of a graduate business school are partnered, it becomes easier for other departments to come together, as well. For example, at Rady, there are weekly meetings involving executive directors, admissions reps, advisors, and career services personnel.
Conclusion
When career services and admissions work together in a graduate business program, students are more supported and successful (before, during, and after the program). This, in turn, leads to a more competitive applicant pool and an overall more successful degree program.
"Career doesn't happen in isolation. So students don't come into a program and do their academics and then, at the end, do career," Rhorer said. "It's something they need to be working on the whole time they're in the program. We can help them connect the dots and understand how the things they're learning in the classroom, and from being part of a team, are going to affect their own career management."
To learn more, check out Toni Rhorer's episode on the Career Everywhere podcast.
To learn how uConnect can help you engage faculty, staff, and other stakeholders across campus, fill out the form below to schedule a demo.