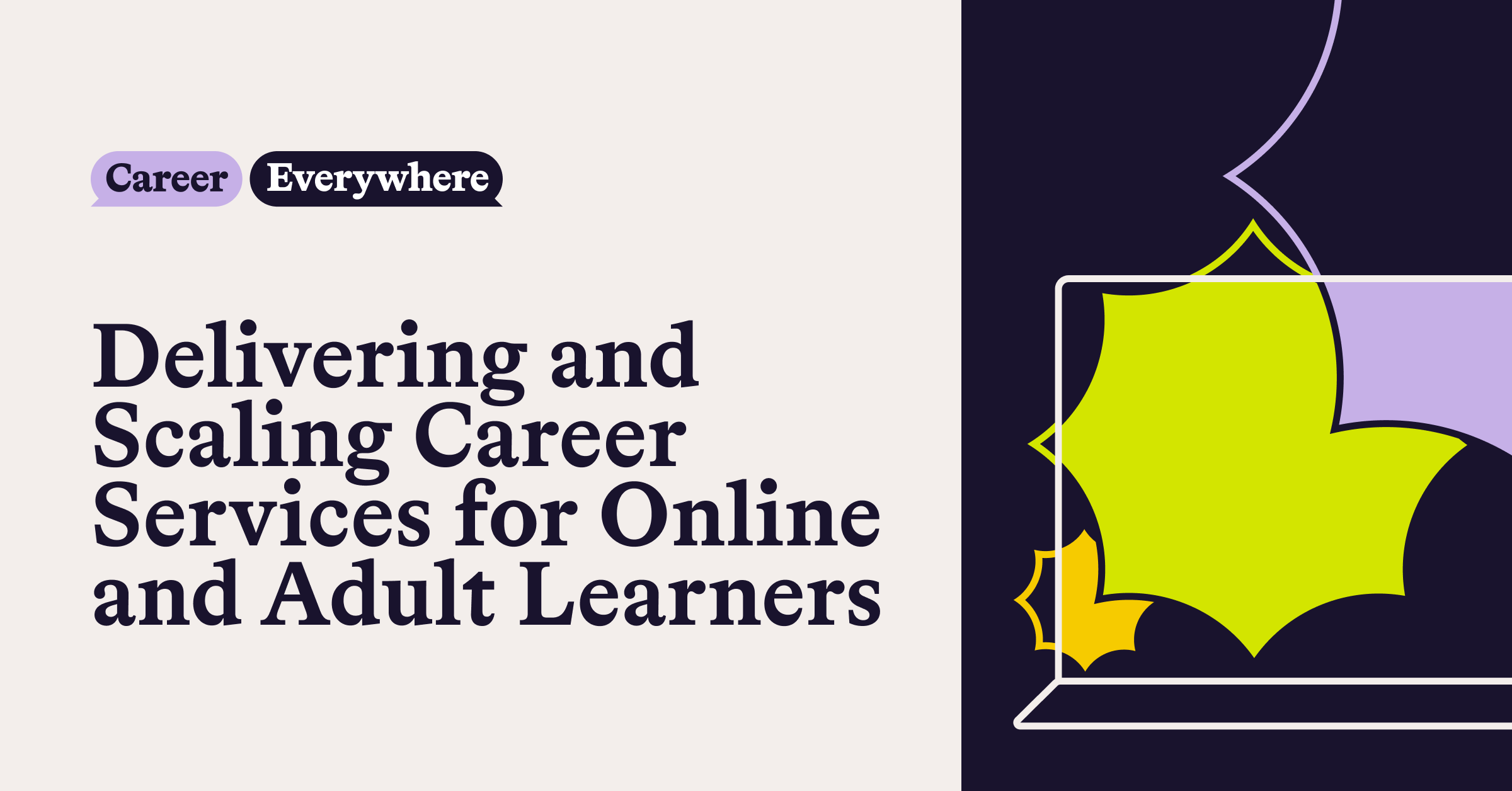 The vast majority of students who pursue professional, continuing, and online education enroll for career advancement purposes.
Yet, most institutions struggle to provide sufficient career support to their professional, continuing, and online learners. Often, the majority of resources allocated to career services are used for supporting 'traditional' on-ground students. And many PCE programs enroll a large number of students (many of whom never set foot on campus) who all have unique needs, interests, and aspirations—making it feel impossible to even find a starting place for offering meaningful career services to PCE students.
On March 19th, we held a virtual leadership lunch and focus group to discuss strategies for delivering and scaling career services for online and adult learners. Nearly 100 PCE leaders from institutions across the country joined to share their thoughts. Here is some of what we learned in the focus group:
11.4% of participants said the career services they currently offer adult and online learners are suitably effective
82.2% of participants said that career services for PCE learners are a priority for their institution. However, only 11.4% said the career services they currently offer these learners are suitably effective.
When asked, "If you could change or add one thing about your current career services, what would it be?" the most common responses were:
Improve services for professional working students – address students who are mid-career with significant career experience prior to earning a degree
Enhanced virtual options
More ability to scale smartly, especially with limited staff and budget
Clearly, the time to find new solutions for providing PCE students the support they need is now.
For the past seven years, we've been working with a wide range of higher education institutions to help them scale individualized, digital career support for their students. Here are a few ways our professional, continuing, and online partners—such as UCLA Extension, Champlain College Online, University of Calgary Continuing Education, and Capella University—are addressing the need to provide dedicated career support for their PCE learners, and the challenges that come with it.
Enhancing the online student experience
Though most career resources and opportunities are already available online, more often than not they're scattered across disparate portals, websites, and applications. For a PCE student, likely learning from home while juggling job and family responsibilities, having to dig around different websites and remember different logins is discouraging, time-consuming, and not productive. Aggregating the institution's full range of career content in one easy-to-use digital space makes a world of difference. It saves students time, prevents them from getting frustrated and giving up, and most importantly, ensures that all students will be able to explore the full scope of career support available, not just the resources that they happen to find on a lengthy and winding treasure hunt.

Using the uConnect platform, our partners have brought all of their career content together in an organized and user-friendly digital space, making it easier and faster for their students to find the career support and opportunities they need, from wherever they are.

Building digital career communities
Even with career content aggregated into one online space, it can be hard for students to find the specific resources and opportunities that are relevant to them based on their career interests. Additionally, a list of online resources and opportunities has no human support element to it, and will not be as valuable or feel as meaningful to students.
uConnect's Community structure allows university staff to easily tag and organize career resources by career interest or topic, automatically pulling them onto digital Community pages for students to explore. Career Communities feature relevant news and advice, tools and resources, events, jobs and employers, career advisors, and mentors. With the digital Career Community format in place, students can conduct self-guided career search and discovery, finding a diversity of career content related to their interests all in one place.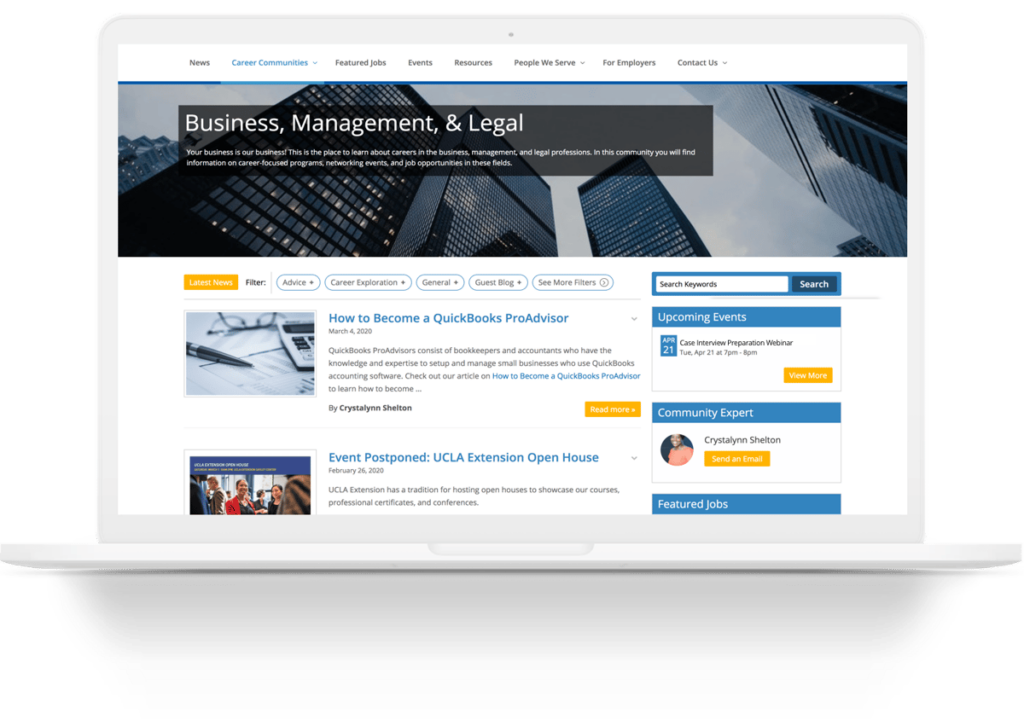 Proactively engaging students with career content
Typically, career services staff who wish to proactively send career content to students are forced to make a decision: either spend countless hours customizing different emails manually or send out a general email blast that will reach students full of information not necessarily relevant to them.

With uConnect, the community tagging system facilitates automatic newsletters sent to each student from inside the uConnect platform. These newsletters contain only the career information relevant to each individual student based on the communities they've identified interest in. That means that even with a student population of over 40,000, like UCLA Extension's, each student is receiving a completely unique newsletter. Bringing relevant career information into each student's inbox, at scale, increases student engagement with the resources that will help them succeed.

Engaging the community
Many PCE programs have tens of thousands of students, but just a few or even no staff dedicated to supporting the career development of these learners. Career center staff are busy supporting on-ground students, and PCE program staff are occupied managing enrollments and classes. This leaves little human career support for PCE students.

In building a dedicated, highly accessible online space to aggregate and organize career resources for PCE students, our partners are not only making it easier for students to find what they need, but they're also creating a space for faculty, staff, and community members to get involved with career development. Members of the university community can easily contribute through the Guest Portal, to share expertise, advice, resources, and opportunities with students, which can then be published to relevant career communities. Plus, with everything career in one place, faculty and advisors can finally send students to just one site to find career support, and can quickly and easily refer students to the right resources at the right time.