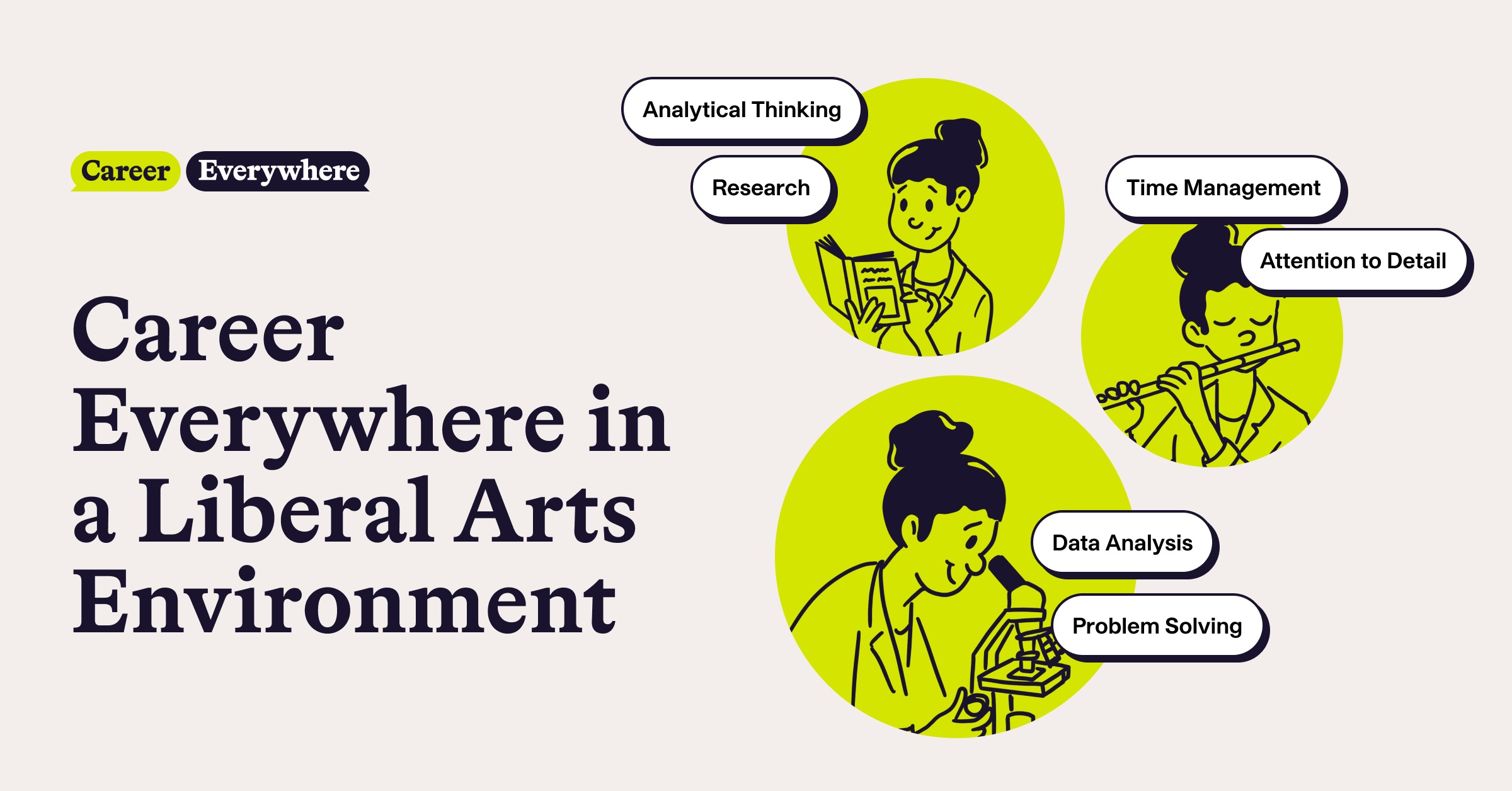 Anyone who's worked in career services on a liberal arts campus knows it can be a significantly different environment than many large, public institutions. The curriculum is different, the overall approach to education is different, and there can be fewer requirements for students in terms of participation in career services (or in events like orientation where career services might be present).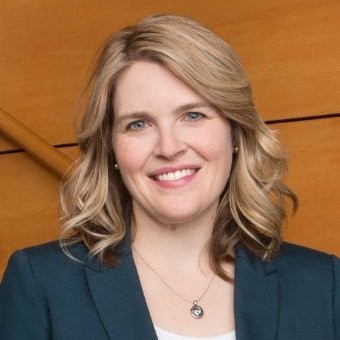 As a result, career services leaders in liberal arts institutions must get creative to reach students. That creativity often manifests itself as partnerships with other departments on campus and empowering all stakeholders to have meaningful career conversations with students (or what we call Career Everywhere).
After all, no career services team can do it alone.
In this article, we'll hear from Sharon Belden Castonguay, the Executive Director of the Gordon Career Center at Wesleyan University, a 3,000-student liberal arts institution in Connecticut. In her 10 years at Wesleyan, she's built partnerships with the admissions, academic affairs, and advancement teams on campus to embed career beyond the walls of the physical career center. (Granted, it is a beautiful career center! More on that below.)
Here's how Belden Castonguay has built those partnerships and used them to implement the concept of Career Everywhere at Wesleyan.
What does Career Everywhere look like in a liberal arts environment?
According to Belden Castonguay, Career Everywhere on a liberal arts campus means that the community helps students make sense of what they're learning—in the classroom and outside of it.
"We're helping students connect the dots so they come out with a coherent narrative about why they chose the course of study they did, why they chose to do all of the other things they did. The Korean dance class, the medieval poetry class, why they played intramural lacrosse, why they were involved in activism, why they were volunteering in their community," Belden Castonguay said. "We're thinking about how they are putting all of that together in a way that is meaningful to them."
Belden Castonguay added that liberal arts institutions typically attract students who want to be broadly educated. They see the value of studying subjects that might not, on the surface, be directly tied to certain career outcomes. However, that means many liberal arts students only have a vague idea of the utility of their majors.
"I think that's led to this public notion that broadly educated, liberally educated students aren't actually prepared for anything after graduation. We argue the opposite, which is that in a world where jobs are disappearing and being invented every day, students are best served with a curriculum that teaches them how to think analytically, creatively, and more importantly, just how to learn new things quickly. Learning how to learn is the number one skill you can learn right now," Belden Castonguay said.
On a liberal arts campus, career services must help those students translate those learning and critical thinking skills into a language that gets the attention of hiring managers.
Learn more about how to implement Career Everywhere in a liberal arts environment in Belden Castonguay's episode of the Career Everywhere podcast.
Building a partnership with admissions
To scale the reach of career services at Wesleyan, Belden Castonguay and her team have built three key partnerships across campus with admissions, academic affairs, and advancement.
When it comes to the admissions partnership, Belden Castonguay said, particularly among schools with high selectivity, there was a time when career services wasn't involved in the conversation at all. Many of the students attracted to liberal arts institutions like Wesleyan came from families with other liberal arts graduates who had gone on to find success. They didn't need career services to help convince them of the value of a liberal arts degree.
But as campuses have diversified, Belden Castonguay said career services now plays an active role in the admissions process. She said it's far more common now for career services and admissions to partner on things like events, messaging, strategic vision, and more.
"It is incumbent upon us to make sure that families who aren't familiar with our educational model not only understand what it means academically, but are assured that their child won't be living in their basement playing video games six months after graduation. That's the common trope," Belden Castonguay said.
She said partnering with admissions on events, in particular, is part of the career services team's overall marketing strategy of getting students aware of the career center early and often. She also does not shy away from talking about career outcomes and includes plenty of data in her presentations (much to the appreciation of parents!).
Most importantly, working with admissions and speaking to parents and students at admissions events gives her a chance to encourage students to start using the career center in their first year. At a liberal arts institution, early engagement is especially important.
"It's not because we expect them to know what they want to do for the rest of their lives. It's actually the opposite. We want students to come in lost and confused because we know that most of our students did not start college with a specific career goal in mind," Belden Castonguay said.
"What we're trying to do with students is to force them to question some of those assumptions they came in with. Push them a little bit on how they've reached those decisions. Not to dissuade them, but to help broaden a student's perspective on what they could be doing."
Building a partnership with academic affairs
At Wesleyan, career services is part of academic affairs, so this partnership came naturally to Belden Castonguay, who also noted that this reporting structure is relatively new. Before that, career services was part of advancement.
"It doesn't mean we're part of the academic curriculum. I report to the provost, but we're fully separate from the academic curriculum. Students are in no way required to use our office. They are in no way required to complete an internship. They're not required to work on campus. They're really not required to do any of those typical levers that people pull to try to get students engaged in their career conversations," Belden Castonguay said.
She said that makes Career Everywhere and the philosophy behind it even more important because the career team needs to make students aware of the career center and what it can offer.
When career services began reporting to academic affairs in 2020, Belden Castonguay reorganized the office to create "pods" of two to three people—each led by an associate director. Each pod handles different aspects of career center operations, including liaising with one of Wesleyan's three academic divisions (arts and humanities, social sciences, and science and mathematics).
Another pod handles the campus employment program, employer relations, alumni, and operations.
"This organizational structure makes it clear who is responsible for building new and maintaining existing relationships with faculty," Belden Castonguay said.
Those relationships often look like faculty working with alumni to create programming or panels for students and then contacting career services for help with the marketing. Since investing in uConnect's virtual carer center platform, Belden Castonguay said her team's marketing is now more effective and sophisticated.
"It's about building those relationships with the academic division deans, too, and making sure they're then telling their departments, 'Oh, hey, have you thought about partnering with the career center?'" Belden Castonguay said.
Building a partnership with advancement
At Wesleyan, advancement includes fundraising, grant management, and alumni/parent relations. Belden Castonguay said her team works with all of those areas on various initiatives, including:
Raising money for summer grants for unpaid or low-paying student internships
Raising money for Wesleyan's career development grant program to help students pay for things like a suit for an interview, travel to an academic conference, etc. Each student can access up to $500 during their four years at Wesleyan.
Targeting alumni to host career tracks at their workplaces or participate in the career center's online job shadow program
Hiring students for jobs and internships
"The idea there is that if you have a really tight relationship with alumni/parent relations in particular, then you're helping smooth the road for students that are looking at different paths where you might have a critical mass of alums," Belden Castonguay said.
Another major way the career center has partnered with advancement at Wesleyan (even before Belden Castonguay joined the institution) is raising funds for a new physical career center. In fact, Wesleyan opened their new $11 million career center in February 2012, as a direct result of that partnership with advancement.
Belden Castonguay said her predecessor worked directly with advancement to raise the money, create a strategic plan, work with the architect on how the space should look and function, and more.
"As career centers have become a bigger and bigger part of the admission messaging, it's also become important to have a physical space that is representative of the new importance as part of that messaging and as part of the campus community," Belden Castonguay said.
Wesleyan's two-story career center not only serves as a place for students to meet with career advisors, but it's also an event space, a study space, and a general gathering space with lots of natural light, a coffee bar, and a convenient location right next to the dining hall.
"We're trying to really pave the way to make it easy for students to be engaging with us, even if they're not quite ready to have a difficult conversation or even update their resume yet," Belden Castonguay said.
Conclusion
On a liberal arts campus, it's especially important to engage students with career services early and often. For Wesleyan, that level of Career Everywhere engagement requires an all-hands-on-deck approach through partnerships with admissions, academic affairs, and advancement. When all of those departments are on the page, especially when it comes to messaging, students experience a more seamless, successful college experience.
Learn more about how to implement Career Everywhere in a liberal arts environment in Belden Castonguay's episode of the Career Everywhere podcast.
To learn how uConnect can help you engage faculty, staff, and other stakeholders across campus, fill out the form below to schedule a demo.