Hear directly from Susan Brennan about how and why she implemented uConnect to elevate the role of career services at Bentley.
Increasing Access, Improving Utilization
Bentley had developed a strong reputation for career services, but Associate Vice President of Career Services Susan Brennan wasn't satisfied. The Career Services department had developed internally, and procured valuable resources, but Susan wanted more engagement. She wanted to make career services a part of the culture and daily student experience. In 2014, Bentley met uConnect founder David Kozhuk and knew immediately how she was going to achieve her goal. Bentley licensed the uConnect platform to give students an easy online access point for all their career resources.
Branded as CareerEdge, the uConnect platform integrates Bentley's existing content, resources and third-party career tools into one place and curates it in a way that makes it easy for students to find Bentley's dedicated job board, mentoring tools, one-on-one peer career advising, and career education courses. Since launching uConnect, there has been tremendous and continued growth in the utilization and engagement of career resources.
12x
Since launching with uConnect, Bentley University Career Services has experienced a 12x increase in online resource engagement.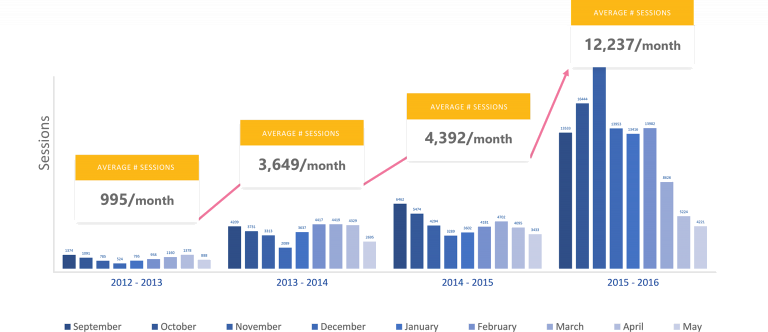 Shining a Light on Bentley Career Services
Centralizing resources was a big step to strengthening the role of career services, but Susan and her team also understood how important effective marketing is to driving engagement and showing the value of career services to students and the broader Bentley community. Utilizing uConnect's marketing and communication suite, the career services team is able to customize engagement with students and key stakeholders. uConnect allows the team to automate the delivery of highly relevant information to their many stakeholders through both email and social media. Implementing uConnect has had a major impact on both student success and institutional success. In 2018, Bentley reported 99% engagement with career services, a 96% retention rate and the school was ranked the #1 Nationally in Career Services by Princeton Review.
Building Awareness, Boosting Engagement
The Bentley brand of consistency and success is recognizable to current and prospective students, and key stakeholders and has consistently received national recognition.
In 2018, Bentley was ranked #1 in Career Services by the Princeton Review.
We've completely changed how we engage students, alumni and employers in career services, helping us increase visibility and elevate our brand, both on campus and across the industry.

Susan Brennan
Associate Vice President, Bentley Career Center
Promoting Career Pathways to Prospects and Parents
Because CareerEdge, the Bentley-branded uConnect platform, is a public-facing portal, its resources are visible to everyone in the Bentley community. This includes prospective students and their parents, a major stakeholder for Bentley's institutional marketing and enrollment teams.
The CareerEdge platform makes it easy for admissions professionals to provide real time access and insight about how Bentley delivers high-touch career services. And because career is such an important factor in many students' decision to enroll in both undergraduate and graduate degree programs, Bentley is able to use their Career Services as an effective marketing tool to impact enrollment.
With uConnect, admissions and marketing have a dynamic, brand-aligned portal to direct prospective students and parents – further aligning the Bentley brand with career outcomes and advancement. So impressed with the story Bentley's CareerEdge is able to tell, the marketing and communications team put a link to "Career Services" directly in the main navigation bar on the Bentley institutional homepage.
Want to learn more? Enter your email and a member of our team will get in touch!